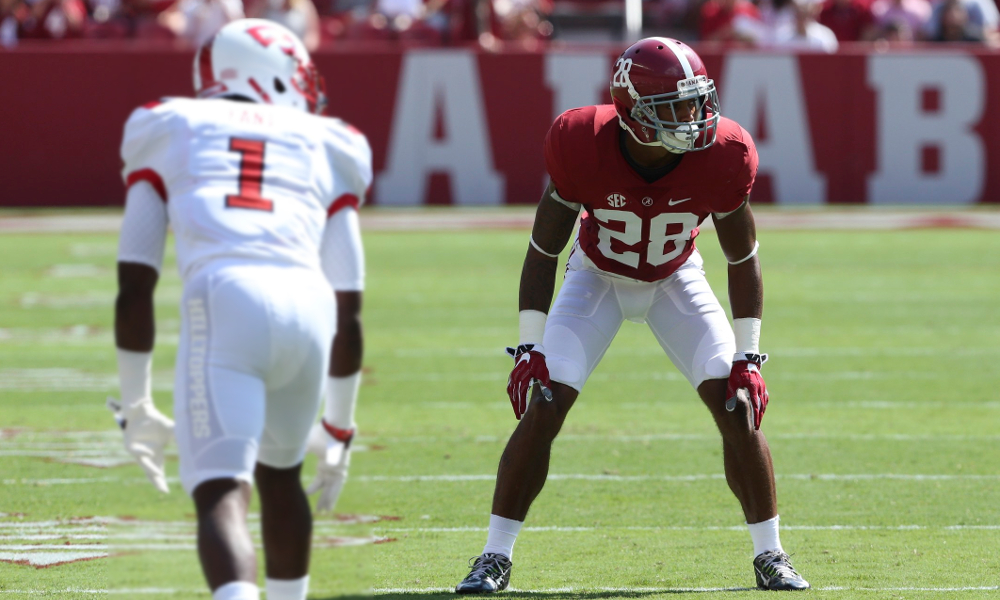 Widely projected as a second-to-fourth-round prospect, defensive back Anthony Averett will be a pleasant surprise for whoever picks him up.
He measured in at a healthy 6'0″ and 185 lbs. during last week's combine, and turned in an even more impressive performance. His 40-yard time of 4.36 was good for sixth-best among all defensive backs and he tested out in the above average range for nearly every other category.
Anthony Averett runs a 4.36 in his second attempt in the 40 pic.twitter.com/F3teFjzaAE

— Tony Tsoukalas (@Tony_Tsoukalas) March 5, 2018
What will hurt Averett's stock the most, however, is that his stats are fairly limited and he lacks the length of a Minkah Fitzpatrick type. In his two seasons as a starter in Tuscaloosa, Averett posted 96 total tackles, 7.0 tackles for a loss, a pair of sacks, a pair of forced fumbles, and 16 pass deflections. Those are good numbers for two years, but he also managed only one interception through those 29 games.
Since becoming a starter two seasons ago, it seems clear that Averett is a connoisseur of the game. At times, he can get beat one way or another, but his technique and speed allows him to recover. Though he sometimes gets caught staring down receivers instead of the ball, his film shows he does have the natural ability needed:
https://twitter.com/NFL_drafthub/status/952998427822034946
With the proper coaching at the next level, Averett's natural abilities should help him transition well. The fact that he has covered a multitude of NFL talents throughout his college career bodes well for him in that department. In fact, his teammate, Calvin Ridley, is expected to go early in the first round and there's little to no doubt that he has spent hours upon hours covering the speedy receiver in practice.
Defensive backs are in high demand in today's pass-happy NFL, and it is a near certainty that every NFL team would be glad to have a talented, Saban-coached corner fall into their laps anywhere outside of the first round. Guys like Mark Barron, Dre Kirkpatrick, Marlon Humphrey, HaHa Clinton-Dix, and Landon Collins have helped carry a positive moniker for former Alabama DB's in the pros, and that is certainly expected to continue with this class.