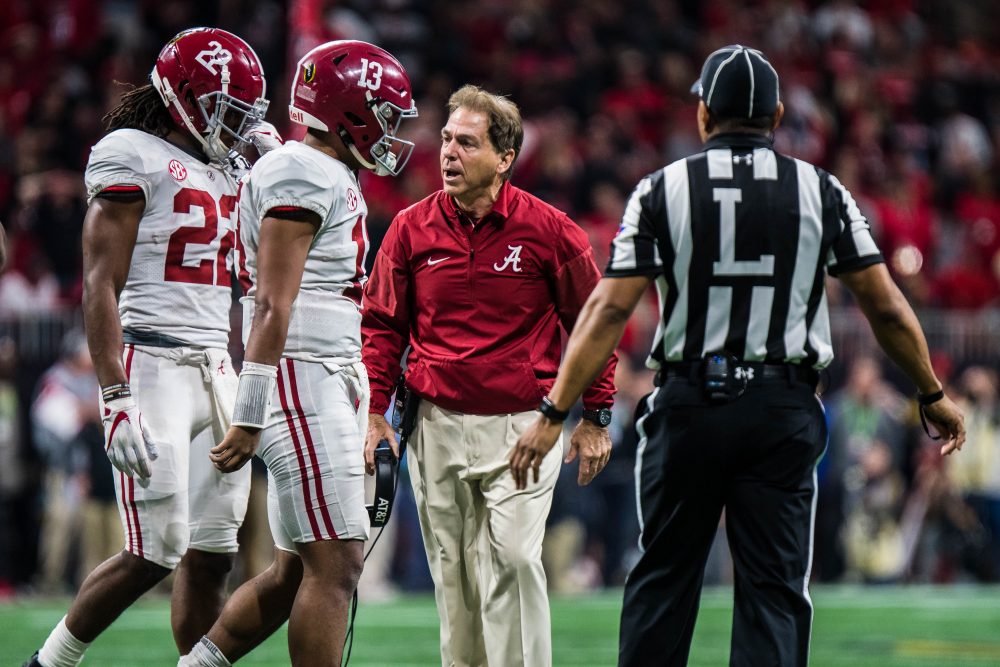 A recent trip made me realize that you have to remind people that it's not just all about Nick Saban, but the rest of the items that make this a winning recipe.
It's Not Just Saban or Alabama That Make This Team Great, It's the Combination
By: Larry Burton
By now, everybody who reads my articles over the years know I love to travel the world. What's interesting about it and ties it back into Alabama football is that I travel usually in clothing that has some kind of Alabama logo on it and it always invites conversations with people all over the world. Some of those conversations turn into articles because of the ideas that are shared in those conversations with people I meet in distant places.
One day a few days ago I was on the Celebrity Cruise Line ship Equinox on a sea day from Iceland to Scotland when I had two men sit with me at lunch to discuss football. Jack was a Mississippi State fan and fellow passenger from Jackson, Mississippi and Tom was a rabid Michigan fan from Dearborn, Michigan. Both said they saw the Alabama shirt I was wearing and knew they could talk football.
Many topics were covered, such as whether Jim Harbaugh was way too overrated to life at Mississippi State without Dan Mullen to who could be a surprise team in 2018. But both men from different parts of the country did agree on one thing, both felt that Alabama's success was based only on the assumption that Nick Saban was the coach there. Both said, without Saban, where would Alabama be?
Being the guy who likes to get others brain cells working, I flipped that assumption and said, "Where would Nick Saban be without Alabama?"
You see, as much as I love Nick Saban being the head coach at Alabama and just as much admire what he stands for and the kind of man he is personally. Alabama made him the legend he is today quite as much as he put Alabama back on the map again. One could not have done it without the other. Alabama needed Saban, that much is true, but perhaps Saban needed Alabama just as badly. And in the end, the combination of the two made both greater than either would could have been alone.
"Naw, Saban would have dominated where ever he would have gone", both men agreed. "You were just lucky he picked Alabama."
But in truth, Nick Saban was a journeyman coach who never really achieved a ton of greatness anywhere else outside of one season at LSU when he won a national championship with a team that was lucky to have made the big game. It was the only season he had at LSU without at least three losses and his overall record there was just 48-16. By all accounts, prior to Alabama, Nick Saban's career could be more closely compared to Gene Chizik's than anyone great. That's not opinion, it's just fact.
As hard as it is to believe now, except for that one breakout season at LSU, he was just like Paul Dietzel who also won a national championship at LSU and without Alabama, maybe Nick Saban would have been remembered in history about as well. Before Alabama, Nick Saban's winning percentage was about 68%. At Alabama his winning percentage is over 86.
Yes, in the years before Saban, Alabama has some respectable years too, but overall, didn't set the world on fire. Alabama had up and down seasons but few elite ones.
But the combination of the two was the recipe that each needed. Nick Saban gave Alabama the headlines that attracted some of the top athletes and started the recruiting wheel spinning. Alabama gave Nick Saban a marqee name and history to tout and attract those athletes. Mal Moore made the promises that LSU failed to deliver in facilities a reality to Nick Saban and now he had all the shiny new state of the art attractions that even further spun the heads of possible recruits.
Alabama had the money ready to move from a once great program back to the limelight. They had the aura of a sleeping giant needing just the right coach and just the right players to become great again and Nick Saban was the determined hungry coach just waiting for such an opportunity to finally show what he could do if he had such a place with those kinds of facilities to do it in.
Alabama was the car and Nick Saban was the driver. One couldn't do much without the other, but combined the two were unstoppable. Each seemed to feed off the other, make each other a brighter / shinier object than anything else in college football. Each made the the other not only reach the summit, but stay there for more years than anyone dared dream possible when the hire was made.
I was fortunate to know Mal Moore and count him among my friends. He personified class and common sense but with a twinkle in his eye and a ready funny story and smile. What he told me once has certainly come to be the truth when he said, "You know, anything I may have ever done that didn't seem like a good decision will all be forgotten because I got Nick Saban to finally say yes. That one decision is the biggest thing they'll always remember about me and you know, I can live with that just fine." Mal said with that a wink and a smile. Indeed, there was much pressure on Mal to make a hire. The president didn't want more delay in waiting out the NFL season, but somehow Mal stalled long enough to get what he knew would be the match to make both parties great.
On their own, both were good, together they made and continue to make history. In just a period over a cruise ship lunch, I convinced two men of different beliefs. I hope this article has swayed you the reader as well. So while we all heap praise on Nick Saban and it's certainly warranted, let's not forget the other half of the equation, the great leadership at Alabama that made it happen, the donors that helped build the facilities and the school itself with all that lore and legacy going for it. It's not just a Nick Saban thing, it's an Alabama thing too.
Larry has been published in almost every media outlet for college sports and now primarily writes here for Touchdown Alabama. Follow Larry on Twitter for inside thoughts and game time comments at https://twitter.com/LBSportswriter
THANKS FOR SHARING THE LINK TO THIS STORY ON YOUR FACEBOOK PAGE OR A FACEBOOK GROUP YOU BELONG TO, FACEBOOK RESTRICTS HOW MANY PLACES WE CAN POST IT ON, SO PLEASE SHARE!