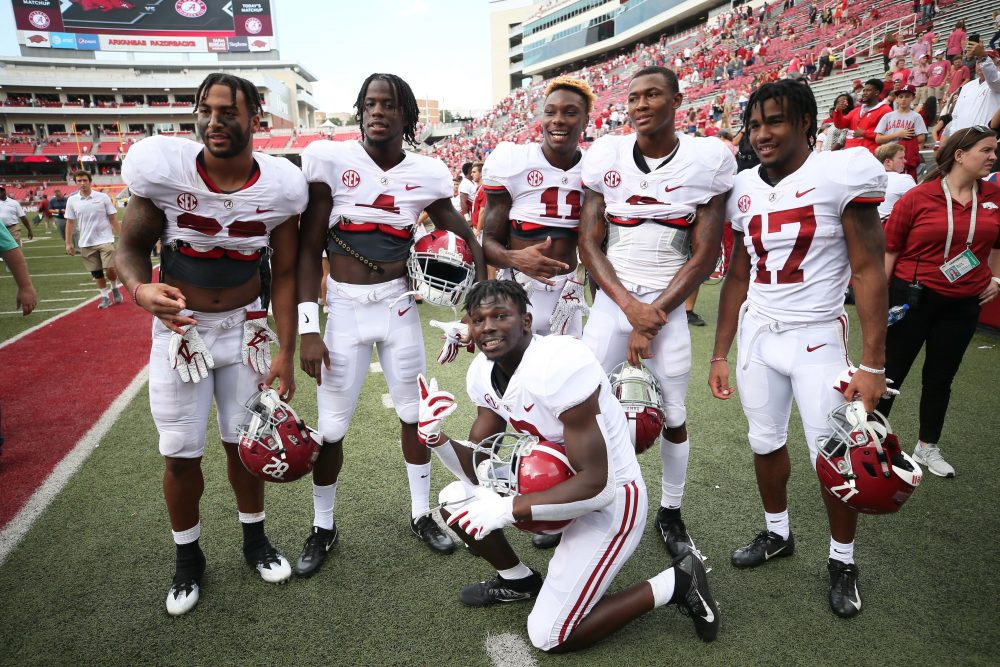 Alabama played a dominating game Saturday at Arkansas. While there are some things that Saban would like to change there are several to be proud of as well. Following the Arkansas win, Alabama coaching staff named six players as players of the week. On offense, Damien Harris, Jerry Jeudy, and Tua Tagavoiloa were recognized while Deionte Thompson and Quinnen Williams were featured as defensive players of the week and Jaylen Moody on special teams.
Harris had his first 100-yard rushing game of the season after sharing the role with Najee Harris and Josh Jacobs. Damien Harris showed his significance in the offense rushing for more than 100 yards and two touchdowns. Jerry Jeudy caught four passes for 135 yards with two of his catches going for touchdowns. Jeudy now has eight touchdown catches on the season and leads the team in receiving yards. Tagavoiloa completed 76.9 percent of his passes on 10-of-13 passing for 334 yards and a career-high tying four touchdown passes. All of his touchdowns came in the first half and Tua has yet to play in the fourth quarter of a game. For the season Tagavoiloa has thrown for 18 touchdowns and no interceptions.
Deionte Thompson continues to be a ballhawk in the secondary setting a career high in tackles with nine, breaking up a pass and recovering a fumble. The Tide defense forced three fumbles and Thompson continued to play like the next best Alabama safety. Quinnen Williams continued his strong season by accounting for four tackles, 1.5 tackle for loss and half a sack. Williams has been one of the most dominant defensive linemen this year aside from Isaiah Buggs.
Jaylen Moody continues to see time on special teams and continues to be in line for playing time as the season comes to the halfway point. Moody has been selected as a player of the week for the second time and has seen time in six games on special teams.