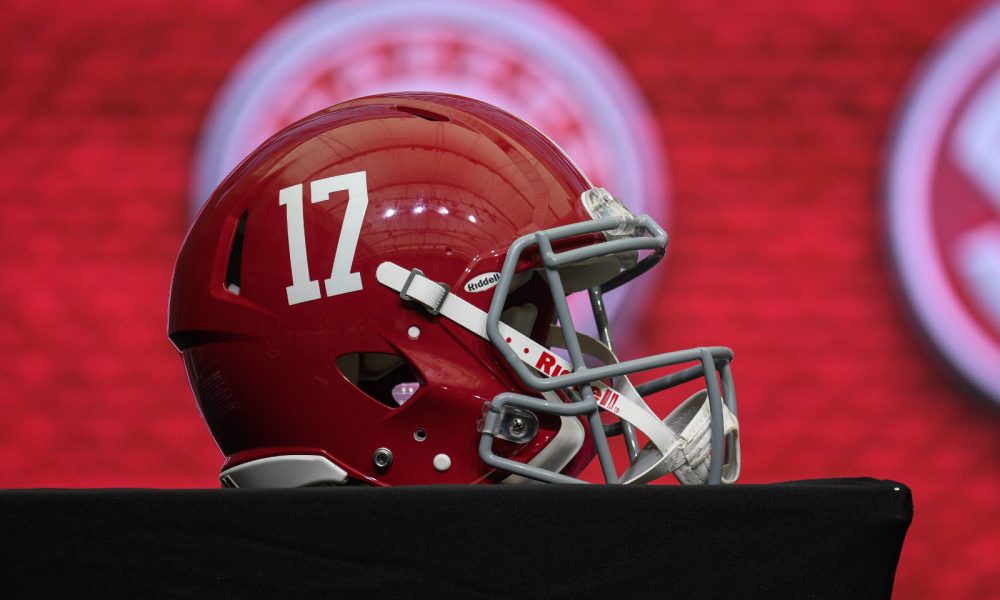 Mother, behold your son and would she ever be proud. 
Of all the history between Alabama and Tennessee, one of the biggest and most inspiring storylines will have nothing to do with history or headline names. Instead, the best news will come from a young man that has given his all to the Crimson Tide and finally gets rewarded for it. 
Due to the struggles of true freshman Skyler Delong, sources have confirmed with Touchdown Alabama Magazine that walk-on Mike Brenier will start at punter for Alabama this weekend versus the Volunteers. Bernier, a native of Madison, Ala., enters the matchup in playing for something bigger himself. The senior and product of Bob Jones High School will perform his role as a specialist in the honor of his mother, who recently died due to breast cancer. 
Prior to his arrival in Tuscaloosa, Brenier accepted a scholarship to Eastern Illinois University and played in 12 games as the starting punter in the 2015 season. He averaged 37.7 yards per attempt and dropped 22 of his boots in the opponents' 20-yard line. Brenier earned Special Teams Player of the Week honors via the Ohio Valley Conference for his performance against Southeast Missouri that year. He averaged 40.6 yards per kick – including a long punt of 54 yards to help the program earn a 33-28 win. 
His lone season away from home was the toughest of his life, as he learned that his mom was diagnosed with cancer. He never wanted to leave her, but she encouraged him to pursue an education and take advantage of his athletic scholarship. Despite the pain, Brenier heeded his mother's words and then fate would intervene.
While he was expecting to return to the Panthers' roster for his sophomore year, a phone from the legendary program in his home state was made to him. 
The individual on the call was Alabama's special teams coach, Bobby Williams.  
Brenier was offered an opportunity to return home as a preferred walk-on. In thinking about his mom, he immediately embraced the moment and came back. Patience is a hard trait to master, especially when there are a lot of things happening in one's life. Bernier wanted to be the starting punter and he wanted his mother to see him excel; however, there was one slight problem. 
JK Scott was a generational talent and his leg destined Bernier to the shadows. 
For two years, no one thought the Tide had a backup punter. Scott had an All-American leg, a humble personality and a national championship mindset that helped the program earn a pair of College Football Playoff national titles in 2015 and 2017. 
After Scott's departure to the National Football League, the general thought was that Skyler Delong would pick up where he left off. As the nation's top punting prospect in the 2018 signing class, and pairing him with a guru in Jeff Banks at special teams' coach, the idea was for Delong to instantly dominate. Regardless of these notions, he is simply not ready yet for the big stage. 
Bernier was so grateful to be home that his numbers started to grow.  
He would draw attention in spring practice, summer workouts and fall camp. Even with Delong starting the season, everyone looked at the 219-pounder as the best guy for the position. 
His smile, confidence and attitude lit up the locker room. It seemed as though Bernier has reached a place of joy, until tragedy struck. At the beginning of Alabama's 2018 season, his mother lost her fight with cancer in his senior year. For the man that never wanted to leave home, he has depended on the love of teammates and coaches through the first seven games. 
Upon taking to Neyland Stadium, Bernier will also depend on the support of the fans as he intends to make his No. 1 fan very proud. He may not be on scholarship, but seeing this silver lining for a for him is amazing.
Stephen M. Smith is the managing editor and senior writer for Touchdown Alabama Magazine.  You can "like" him on Facebook or "follow" him on Twitter, via @CoachingMSmith.