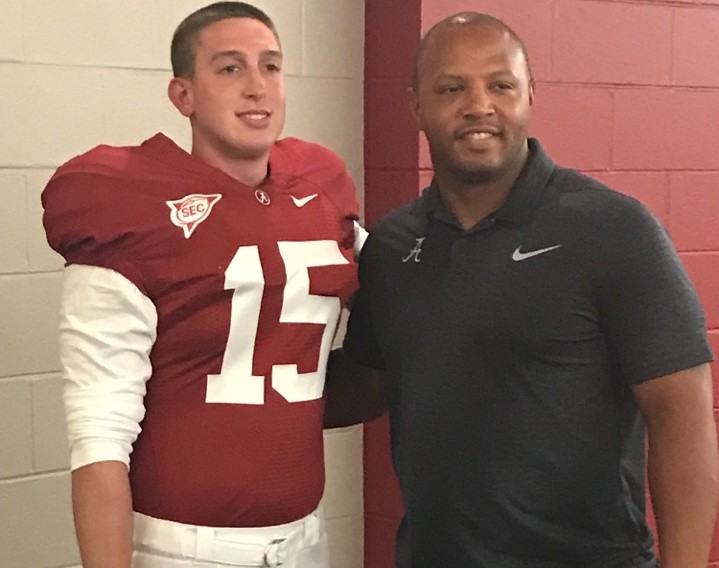 Alabama walk-on quarterback commit, Stone Hollenbach, is changing lives in the midst of a championship run with the Southern Columbia Tigers.
Phillip Kerstetter, who is suffering from stage four cancer had one request on Tuesday. That was to meet Stone Holllenbach. Kerstetter has always been a huge fan of Southern Columbia High School football and wanted to meet the signal caller that lead the Tigers to a 2017 state championship.
"It is pretty cool that he wanted to meet me out of all people," Hollenbach said. "It makes you realize what football can do for you."
Members of the Kerstetter family made this moment possible. They reached out to Hollenbach's mother via Facebook and ask if Stone would be able to come and meet one of his biggest supporters.
Kerstetter and the rest of the Tiger faithful are hoping that Hollenbach and company can continue their championship run with a win in the 2018 PIAA Football Championships against York Catholic. The Tigers are coming into the matchup 13-0 with a healthy Hollenbach. He missed several games this season with a hand injury, but now he is back and feeling better than ever.
York and Southern Columbia will kickoff their matchup at 1 p.m., which means Hollenbach will not be able to see most of the Iron Bowl. He planned on visiting Tuscaloosa for the storied rivalry. Although he will not be able to watch a large portion of the game; he is confident the Tide will take care of business.
"I was a little upset about our game being on Saturday," Hollenbach said. "I hope everyone stays healthy. It's a huge game for the state, the fans and the alumni of both schools, but Alabama should be just fine."