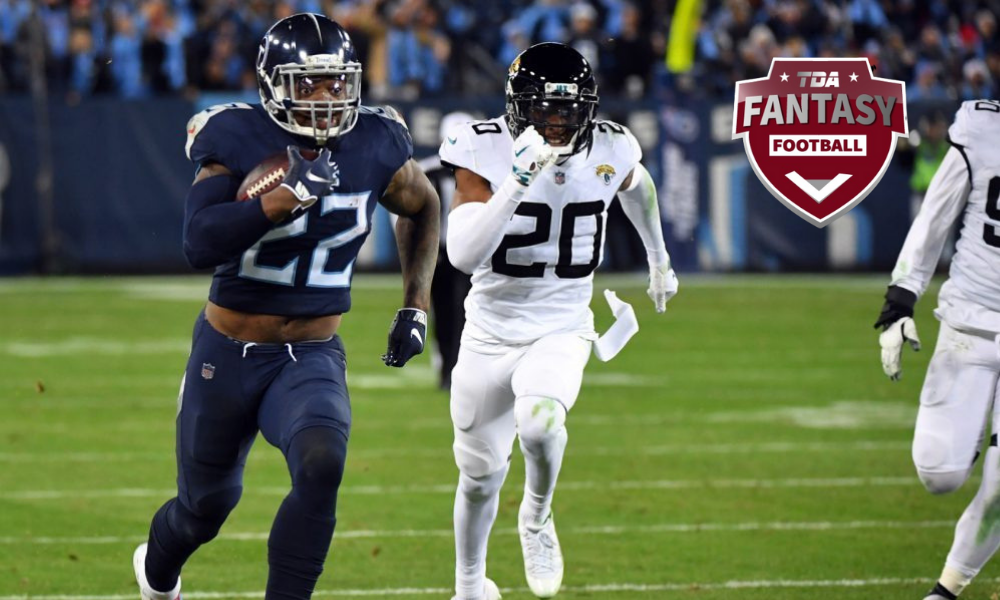 He is a runaway freight train in the open field. You hardly see former Alabama Crimson Tide running back Derrick Henry go down after one hit. In fact, Henry evaded the fourth most tackles last season and was the hottest running back in 2018 down the stretch. Is this the year Henry competes for a rushing crown? And more importantly…will Henry be poised to be a top Fantasy RB?
The Stats
Most of Derrick Henry's 2018 season was largely forgettable. The third year player didn't crack 60 rushing yards through the first 12 weeks of the season. On 128 rushing attempts through 12 games, Henry rushed for 474 yards, with a measly 3.7 yards per carry. The 2015 Heisman Trophy winner began to hear doubts about whether he belonged in the NFL, and hearing Titans fans wonder if he was worth the 45th overall pick in the 2016 NFL Draft.
But then something clicked on a Thursday night game against the Jacksonville Jaguars.
Derrick Henry ran wild on the Jaguars defense, who was considered one of the top units the year before. Henry rushed for a whopping 238 yards on 17 carries with 4 touchdowns, including a sensational 99 yard score! Henry put the NFL world on notice.
[yotuwp type="videos" id="tlZvgdcIXvI" ]
And the next week was no let down either. Henry followed up with 170 yard performance against the Giants, along with two touchdowns. Henry rushed for 585 yards on 87 attempts in the last four games, scoring 7 touchdowns in that span. That was good for 6.72 yards per carry.
Henry finished his season with 1,059 yards, 7th most in the NFL, and 12 touchdowns, tied 3rd in the NFL, while averaging 4.9 yards per carry. All were career highs for Henry.
Fantasy Implications
Henry finished the season with 186.36 points in standard fantasy. For those who play in PPR leagues, Henry was good for 201.36 points. For the list of full points for different leagues for Derrick Henry, go to Fantasy Data's website.
I expect Henry to hit the 200 point mark in every single league. The Tennessee Titans found something that worked for that offense late in the season: feed the beast that is Derrick Henry. It should be another 1,000 rushing season for Henry, and expect Henry to be a 3rd-5th round pick in Fantasy draft. Henry is that special of a player.