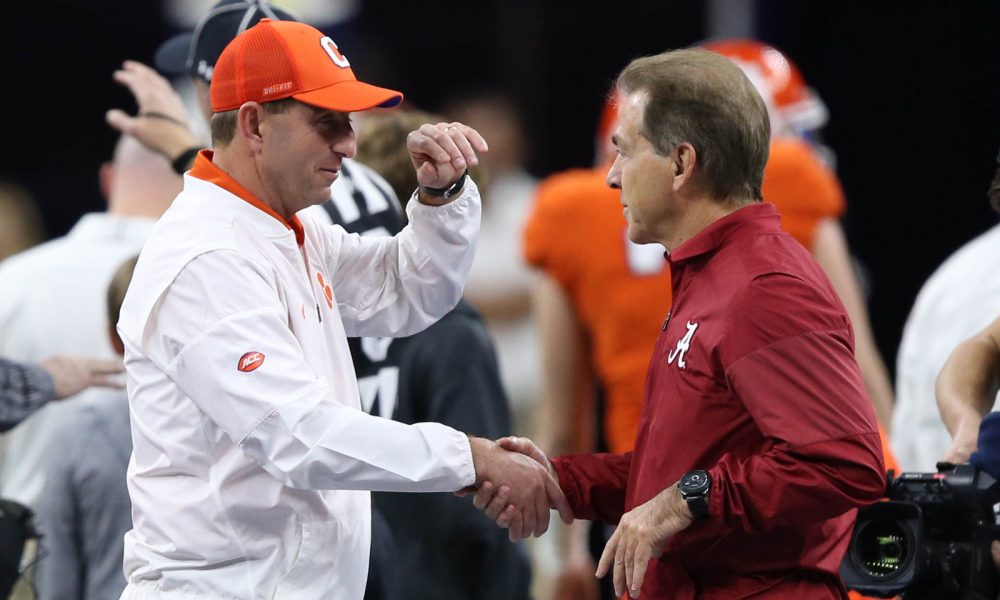 I will guarantee you parts of this article will surprise most, upset some but inform all who read it. You don't really know this subject without this read.
Highest paid college coaches… Who's worth what they're paid?
In the simplest of terms, college coaches are like antique cars. When it comes to determining what the selling price should be, the simple answer is, whatever anyone is willing to pay.
Now with the simple part of the equation out of the way, explaining how they got the pay they did, the harder part of the question arises and is harder to answer. That question is are they worth what they're being paid? And the answer to that varies between coach to coach and is quite debatable and subjective.
But this article is going to look at the highest paid ten coaches in college football and determine at least from this writer's wit and wisdom who is worth the money they're being being paid and why.
Starting at number 10: Dan Mullen – Florida Gators – Last year's salary 6.1 million dollars – 12 million buyout
To start, he's won just over 80% of his games for Florida. His record there is 21-5 and all five losses have been in tough SEC play. Going by his salary last year they paid about $580,000 per win, a bargain as you will see as you go down this list. He appears to be building a solid contending program there and has his team pointed upward. He may just be a stellar quarterback away from having a title contending team again in Florida.
In his two years at Florida he's brought in two top 10 recruiting classes and that will certainly help justify his pay. He's had Florida contending for the SEC East title both years too while still trying to build the program in his own image. That's also a bright spot to consider.
He finished both seasons strongly by slaughtering the Michigan Wolverines and soundly defeating a good Virginia team. He represented his school and conference well in post season and left folks feeling optimistic about the future, especially recruits.
Florida has a deal in Dan and his salary will soon go up right along with the fortunes of the Gators. He is defiantly worth the money he's being paid.
Number 9: Lincoln Riley – Oklahoma Sooners – Last year's salary 6.4 million dollars – 21 million buyout
Winning over 85% of all the games he coached at OU certainly is a good start. His record there is 36-6 after posting three consecutive 12 win seasons. That is great in anyone's book. Using last year's salary as a bench mark, OU paid just  about $530,000 per win. The program is solid, does not appear to be anything but solid for the future and he has his team in title consideration every year. So far so good.
His first two recruiting classes were top ten classes and this year's slipped to number 11 but still, his recruiting helps justify his pay as does his three 12 win seasons.
But there's a bad taste in everyone's mouth at the end of the season as Riley has lost all three post season games he's coached, two in blowout fashion that seemed to show that their record was simply inflated by playing in a poor conference and cushy teams.
He finishes the season by badly representing his school and conference and leaves you wondering if they were really as good as the records they post. You have to wonder just where the program is headed as it's uncertain by their finishes.
But in all, his salary seems justifiable given the results and he is worth the money he's being paid. However that bad taste in mouth in how he finishes seasons makes you wonder.
Number 8: Jeff Brohm – Purdue Boilermakers – Last year's salary 6.6 million dollars – 27.7 million buyout
Are you freaking kidding me? Winning just over 44% of his games, this is a laughable price for a coach. His record at Purdue is 17-21 due in part to last season's 4-8 nightmare season in his third year in charge when changes were supposed to be showing. Oh they showed alright. Based on his 2019 salary, Purdue paid over one million dollars per win. Need we really say more?
His 33rd rated 2020 recruiting class doesn't add hope for a brighter tomorrow nor does his lack of even making a bowl appearance last season.
Purdue bought a shiny used car with no warranty and it blew an engine after the first year. The program has been in a nose dive for the last two years. Purdue, drop the buyout to .50 cents and pray you can unload this guy on another program where the waters aren't so deep.
He's nowhere near what they're paying him and he reminds me of the nickname of the first Saturday Night Live troup, the "Not yet ready for prime time players".
Number 7: Tom Herman – Texas Longhorns – Last year's salary 6.8 million dollars – 20.4 million buyout
Tom Herman was the "must hire" coach of 2017. Texas would have paid more to get him but in three years, with plenty of time to show that he was worth what they paid, Herman hasn't delivered the Longhorns to anything close to the promised land. He's won just over 62% of his games, nowhere near what a coach of this salary should do and he won two less games last year than the year before, so the trend isn't headed in the right way. Based on last year's salary, each win has cost the Longhorns about $820,000. Not a bargain in today's market at all.
He did have a top ten recruiting class this season and a top three class in 2019 and 2018, so what is he doing with all that talent? Apparently not a lot. But as these top recruiting classes mature, will he continue to squander good talent or leave the shelves full for his successor? That is the question to be answered.
A great turnaround season may justify his salary this year, but that doesn't seem to be in the cards. Right now he's not worth his salary but with the recruits he's brought in, he's at least close. He really shined as a head coach in a small pond but isn't proving to be a big pond performer.
Number 6: Gus Malzahn – Auburn Tigers – Last year's salary 6.83 million dollars – Buyout 27.1 million
Auburn has tied itself to Gus Malzahn for the foreseeable future much to the delight of Auburn's usual opponents with a contract that goes until 2025. He is guaranteed to be one of the nation's highest paid coaches until then and has quite the golden parachute should Auburn come to its senses and dismiss him.
For their money, Malzahn is 71-34 for just over a 67% winning margin. At his 2019 salary, each win has cost the Tigers over $673,000 dollars a game. That's a lot more than folks below him on this list and certainly not worth the money. But over the last five years that cost has been over $813,000 per game.
Ironically, since his first year success and making it to a BCS championship game, that they lost, and winning 12 games, the Tigers have foundered every year since and he's managed to win 10 games only once since then.
As an SEC school, he can bring in recruits however. He's had a top ten class this year and been close in preceding years. The talent has been there, not just the results.
So how does Malzahn get such a dazzling contract? It's all tied to Auburn's "little brother complex" with Alabama. Should he pull off a miraculous win against Alabama, they reward him by throwing money at him like drunken sailors on payday at a strip bar. Yet even in those years when a win over Alabama should build momentum, they founder like a fish out of water at season's end.
In his seven years at Auburn, he's only managed to win two bowl games, the lowly Birmingham Bowl and equally unimpressive Music City Bowl. Still not as stupid as Purdue, Auburn manages to be one of the top teams in squandering good money for lukewarm coaches.
Number 5: Kirby Smart – Georgia Bulldogs – Last year's salary 6.87 million dollars – 24.2 million buyout
Since taking over a drifting Georgia team in 2016 and posting a respectable 8-5 first year mark, Smart has had the Bulldogs in title contention each of the last three years while winning the SEC East to boot. His winning percentage is over 78% with his 44-12 record. Using his last year's salary as a base, each win has cost the Bulldogs just over $624.000 dollars. That's high, but the results have justified it.
Smart's last three seasons averaged 12 wins a year, not many coaches reach that kind of success and his team is built to maintain that kind of ratified air for the foreseeable future. Smart has always been an excellent recruiter, finishing first this season in the recruiting polls and near the top in all the others.
To sound cliche, he was indeed a "Smart Buy" for Georgia. His recruiting prowess makes his win per game seem not so high after all.
He ends the season strongly winning three of his four bowl games with his only miss being a one score loss.
Georgia has been oh so close and only great Alabama and last year a dominate LSU team kept them from maybe winning it all. Smart is worth every nickle Georgia has given him and more.
Number 3: (Tie) – Jim Harbaugh – Michigan Wolverines – Last year's salary 7.5 million dollars – 11.7 million buyout
Now here's a laugher, at least Malzahn did have Auburn playing in one championship game, Harbaugh on the other hasn't even been close to winning his own conference, not even once. Winning just over 72% of his games with a 47-18 record one has to wonder why Michigan hasn't demanded a pay cut. Based on last year's salary, each win has cost the Wolverines almost $800,000 per win. That's more per win than Bama has paid Nick Saban! That's simply a bad joke since they've had no real success at all.
Three of his five classes have been in the top ten in recruiting, so it isn't like he hasn't had talent, he just seems to be unable to do anything with it. He seems more adept in getting headlines for his actions than in getting meaningful wins and his clock has to be running out with the fan base. He's averaged finishing third in his own division for his tenure there. He's being paid top money and continuously finishing as an also ran in his own division. That has to gnaw at the Wolverine fan base.
Jim Harbaugh has been a huge disappointment to the Wolverines and is nowhere near the money they've spent on obtaining him. They are both now considered an afterthought in the NCAA world because of this hire and he hasn't proven to be anywhere close to being worth his inflated salary.
Number 3: (Tie) – Jimbo Fisher – Texas A&M Aggies – Last year's salary 7.5 million dollars – 60.6 million buyout
The first man on the list with a nation championship ring on his finger, one earned at Florida State. A championship coach deserves the big bucks for his first contract, after that, it has to be earned and Fisher is trying to justify his lofty paychecks now going into his third year with no double digital win season to show for it.
In fact, his two seasons with the Aggies have him winning just over 65% of his games with a record of 17-9. In case you were wondering, using his last year's salary as a base that comes to over $882,000 per game. This is hardly a bargain for A&M.
While his 2018 first year class was nothing to write home about, a 17th place ranking, his 2019 and 2020 signing classes were solid top 6 or better so he is filling the shelves and to be fair, you have to give a coach four to five years to get his recruits firmly entrenched in his vision, so we'll cut him a little slack here and say his recruiting helps when having to swallow that cost per win average.
Last season A&M had perhaps the toughest schedule in the nation. this year it's not, so this is the year that Fisher has to show whether he's worth the money or not. In this writer's opinion, judging from the way he left the FSU program in the crapper and the results he's shown so far, he appears to be better at picking his agent than he does coaching football and has not been worth the money that was thrown at him in buckets.
Number 2: Nick Saban – Alabama Crimson Tide – Last year's salary 8.9 million dollars – 34.1 million buyout
Say it isn't so! How can the best coach of all time not be the highest paid? The answer is simple, because he hasn't asked for it. In any universe Nick Saban is worth every penny Alabama could possibly pay even if they doubled his salary. He's won more national championships than every active coach in college football combined for God's sake. But let's get to the numbers.
His winning percentage on the field is just under 90% with an on the field record of 157 out of 175. Using his 2019 salary as a base that makes each win for Saban cost Alabama not quite $737,000 a win. But more importantly, it cost them just 23 million dollars per national title.
Saban is the gold standard in recruiting and his classes all finish near or at the top. This certainly helps ease the cost of his salary.
What is Saban really worth? Rumors based on good sources say that Texas was willing to offer Saban a 15 million signing bonus and a 100 million dollar package to take over the Longhorn program some time back and I firmly believe it. I've met Jimmy Sexton, Saban's agent and while he won't go on the record to say that was true, he did smile and say if the bidding war had opened that would have just been the starting point.
Today, to hear some say the Saban dynasty is over is laughable. Nick Saban is worth twice what he makes now because in the end results matter and they'll matter for at least the next five years.
Number 1: Dabo Swinney – Clemson Tigers – Last year's salary 9.3 million dollars – 50 million buyout
At just 50 years old, Dabo Swinney has the college football world by the tail. By making him the highest paid coach in all of college football, Clemson isn't saying that he's the best coach there is, but he is the best coach of the future. Whether or not Dabo is the next Nick Saban remains to be seen, but no one else in college football is showing the likelihood that it will be anyone else. But on to the numbers.
His winning percentage is just over 80%, yes that's 10 points lower than Saban's but since this is his first and only head coaching position, it does include his learning curve years including his one and only losing season in his second full time year as a head coach. His record is 130-31 and using his 9.3 million 2019 salary as a base, each of his wins cost the Tigers just over $822,000 per win over his 11.5 seasons. That's over $85,000 more per win. And since we did this for Saban, let's do this for Dabo, while Alabama paid Saban 23 million per title, based on using his 2019 salary as a base, Clemson has paid Dabo almost 53.45 million per title, way over twice Bama's total.
As far as recruiting, Dabo earns his money. His classes finish consistently in the top 10. So that does help soften the blow.
What makes his case however is that over the last five years, Dabo has had his team in contention for college football's top prize and won it twice. His program, like Saban's, has become one of the nation's top two teams year in and year out and shows no sign of doing anything less for the years to come. In his last five years, he's averaged 14 wins a season. That's slightly better than Saban's last five seasons.
While he may not deserve to make more than Saban, he's certainly worth the money he's making and will continue to make for at least the next 15 years.
Please post your comments on this subject below.
*Get the BEST Alabama football insider information, message board access, and recruiting coverage today! SIGN UP HERE to unlock our subscriber only content!*
Larry Burton has been published in almost every media outlet for college sports and now primarily writes here for Touchdown Alabama. Follow Larry on Twitter for inside thoughts and game time comments at https://twitter.com/LBSportswriter