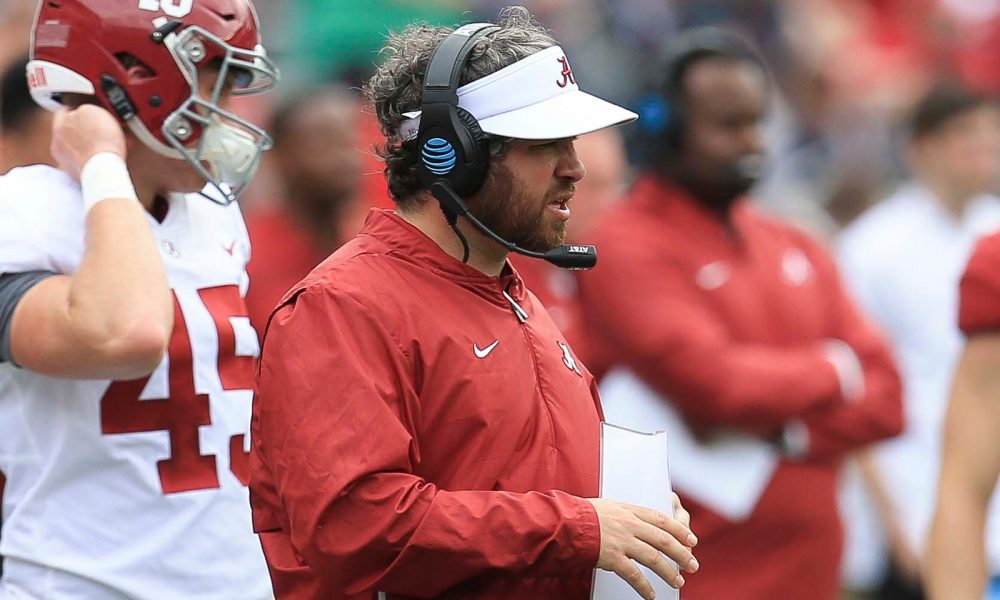 There are many reasons for fans to be optimistic about Alabama's football fortunes for 2020. But here are some you may not be aware of that you should be.
Reasons for Alabama fans to be optimistic for the 2020 football season
Beside the fact that Las Vegas has Alabama as a 2020 favorite to play for another title, there are lots of other reasons for fans to be optimistic over the 2020 season and here they are.
Without placing any order of importance on how they are listed let's cover some reasons that the old guy in sports writing sees as just a few of the reasons why fans should be optimistic that you may not have thought of.
Alabama scored enough points to win every game last season, but the reason they lost two was they let the opponents score more than they usually can against an Alabama defense.
This season, few are worried about Alabama being able to put up big numbers on offense again, but many are wondering if the defense will return to being the dominate defense they remember.
So here is why fans should be optimistic. Last season's defense was full of first time coaches and first time players. Both are now veteran units and these are going to be some of the reasons they take a big step forward.
Pete Golding – No real Alabama fan was happy with Alabama's defense in 2019 and many pointed the finger at Pete Golding and wondered if he was over his head coming from small programs and being named defensive coordinator of the nation's gold standard team. The answer was yes, however it had a big but…
It didn't help that Bama's 2019 defense was missing so many pieces due to injury. Nor did it help that was going through his first season in the SEC and facing teams he'd had little interaction with and coaching players he didn't really know. In 2018 he was an "off the field" defensive assistant, but didn't get to really interact with players until January of 2019.
So while Golding may not have been the biggest asset on the Bama team last season, he could be a reason things go better this year and here's why. He might have had a job that was too big for him last year, but he is someone who had everything but experience in the harshest light. He was baptized by fire last season and it by season's end it showed.
This year he's earned his veteran's stripe and he knows what to expect from his players, most of his opponents and from himself. This year, he's not the "new guy" and players and coaches deal with him from a whole new perspective. He was honest with his new guys last year and told them they'd both make mistakes but they'd learn together to become better every day and as the season ground on, they did.
He coached the crap out of a lot of youngsters who were taking the place of wounded upperclassmen and this year he's going to have a lot of depth on the defense he didn't have last season. This will allow him to play more situational players and have folks out there that know what they're doing when they're rotated in.
But the big plus this season is getting Dylan Moses back. Golding coaches inside linebackers too and he and Moses are just synced like coach on the sideline and coach on the field. Moses could be the real missing piece that fills a lot of the gaps that occurred last season.
You can expect the comfort level of the staff with one another and the bond between coaches and players to put a better product on the field.
Charles Kelley – Here's a name you may not be too familiar with, but in coaching circles, he's well known and respected. On the books he's a co-defensive coordinator but he deals with the safeties on the Tide team.
Like Golding, last year was his first with the Tide and also like Golding, he's now very familiar with his players and the "Alabama Way" of doing things. Last season Kelley did a wonderful job with the safeties, especially helping Xavier McKinney become a second team All American as a sophomore.
This year with McKinney gone with Jared Mayden and Shyheim Carter, the safeties and star position are going to a very young group and Kelley knows what to do with them. Last season McKinney led the team in tackles including many behind the lines. This season expect Kelley to unleash the hounds with even more blitzes from his safeties.
Plus, as I've already stated, this defensive staff came together last season and there's not any jealousy over who's planning what or who's calling what and they bunker in together and come up with a plan. As you can tell, I really expect this defense to take a big step forward and no you are learning why.
Freddie Roach – Folks if you think Saban just hired a former player to be a rah rah coach and pump up the defensive line, you don't know Freddie's background. He is an exceptional coach and a good recruiter and will fill a role the Tide desperately needed someone good at.
Hey, I'm not particularly knocking Brian Baker, but the defensive line struggled at times last season and Baker didn't seem to help. Maybe he saw the writing on the wall too as he moved on after one year to return to the NFL coaching ranks.
Freddie brings a strong college defensive line coaching resume to bear along with an infectious high energy style that has gotten great results at other stops. The defensive line needs a spark and Freddie is a spark plug.
Freddie doesn't coach players to "contain" but teaches and urges his player to "Get 'em in the backfield" as his Ole Miss player Marquis Haynes said of him. Two of Freddie's players on that team just went on to NFL contracts. At Ole Miss he coached up multiple players who became sack and tackle for loss leaders and during his two years at South Alabama, one of his teams was third in the nation in sacks and folks remember, this was at South Alabama. Freddie gets his guys to "Get 'em in the backfield" and I'm very excited to see him work his magic here.
He's going to mix right in with Golding and Kelley and Alabama will come up with some inventive blitz packages that will have disguises that few will see coming.
So these three coaches, returning players, overall veteran mentality with coaches and players are just some of the biggest reason fans should enter the 2020 campaign full of optimism and confidence.
*Get the BEST Alabama football insider information, message board access, and recruiting coverage today! SIGN UP HERE to unlock our subscriber only content!*
Larry Burton has been published in almost every media outlet for college sports and now primarily writes here for Touchdown Alabama. Follow Larry on Twitter for inside thoughts and game time comments at https://twitter.com/LBSportswriter