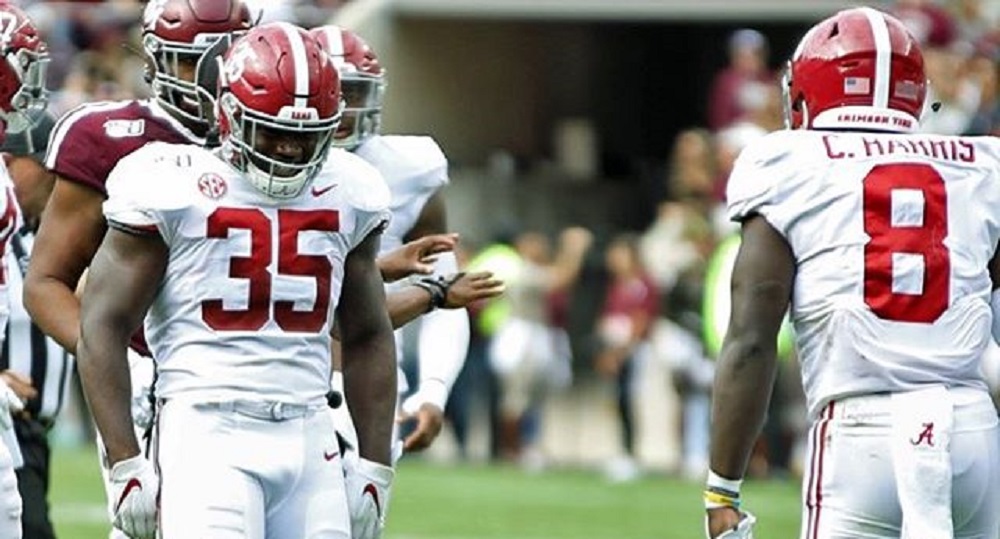 Last season, the "Will" linebacker spot seemed like a place for doom and gloom once the season was underway, but see how the Tide has turned at this position.
Alabama's "Will" linebacker lineup shows one reason not to worry about defense this year
Last season Alabama scored enough points to easily win the national championship they never got the chance to play for. The reason they didn't even get a shot to play for it simple, the defense gave up way too many points. For all the good the defense has done in the Nick Saban era, last year was the low mark in terms of production and keeping points off the board.
Injuries were the biggest part of the problem, new coaches may have been another. But now folks are feeling confident that these problems are in the rear view mirror as the defense certainly seems to be shaping up again. One of the biggest dark spots on the defense may not be one of the brightest. That is the "Will" or weak side linebacker spot.
You see last season, two folks who could have been starters, Christian Harris and Joshua McMillon were both sidelined for most of the 2019 season and a young freshman, Shane Lee was thrown into the fire with little training. There were times when his play was shaky as you would expect, but there were also times when you could see greatness. As the season wore on Lee proved he could handle the load and he is now an experienced guy.
So last year, this spot really had no one with experience for most of the season, this year it has three guys with starting experience who could all make a case to either start or contribute heavily in the rotation without a noticeable drop off of talent or experience.
Joshua McMillon was not ready to let his last season of playing the game he loves end with him on the bench and he persuaded the NCAA to grant him a rare sixth year of eligibility. With his knee injury behind him, McMillon is ready to make a run at the starting spot. Look at this video from last season on what it means to be a veteran on this time and turn up your volume.
Joshua McMillon appreciates being a veteran Alabama linebacker
The favorite for the job however, is Christian Harris, who when healthy, showed that he is an NFL talent to be. Like McMillon, his injuries are now behind him and he'll be 100% by fall and is going to be hard to outfight for the starting job. Look at this video of what the Tide is getting back.
Then you have Shane Lee, last year's starter who has the mindset that the job is still his until someone wrestles it from him. Lee not only gained confidence last season, but earned the confidence of his fellow teammates.
So the Tide goes from having no one with experience in this spot, to three guys who could all argue why they should be starter based on their experience. That's a problem every coach would like to have.
But as they say in late night infomercials… "But wait! There's more!" Ale Kaho made a name for himself on special teams last season leading the nation in blocked punts. He is a star that just can't be denied, but where to put him with so much experience in front of him? Kaho may have to wait for his senior season to finally get to let all that talent shine, but he's there if they need him.
And then there's also Demouy Kennedy, a freshman, a consensus four star prospect and the number three inside linebacker coming into signing day, is a talent that would be starting on a lot of other teams. At six foot three and almost 220 pounds of muscle, he's already a force to be reckoned with. So just when you though that having three potential starters was an insane embarrassment of riches, throwing these two into the mix too shows just how deep this once troubled spot actually is.
But wait, there's more! Jackson Bratton, another freshman, who is also six foot three and about 225 pounds is yet another guy who was also a four star recruit and one of the nation's top rated linebackers who was a semifinalist for the prestigious Butkus Award in high school.
What all this means is that Saban has options. Shane Lee for example, may now move from the Will spot to back up Dylan Moses at the Mike or middle linebacker spot. He's shown he's quickly adaptable and can learn on the fly and it may be better to let him be a number two at a position than a number three at another.
*Get the BEST Alabama football insider information, message board access, and recruiting coverage today! SIGN UP HERE to unlock our subscriber only content!*
Larry Burton is the senior writer here at TDA and has been published in almost every media outlet for college sports, was Bleacher Report's #1 college football writer in reads and comments and now primarily writes here for Touchdown Alabama. Follow Larry on Twitter for inside thoughts and game time comments at https://twitter.com/LBSportswriter