Alabama Football News
Mac Jones' journey to be a starting QB for Alabama is set up for a huge coronation this season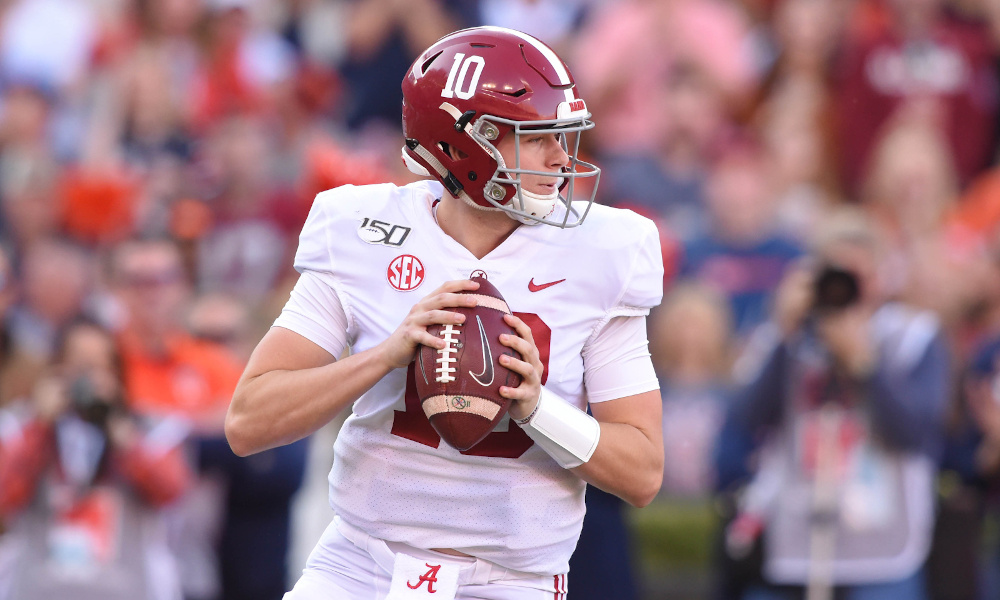 When he gets off the bus and walks onto Faurot Field at Memorial Stadium, he will captain a collegiate football program that has the biggest sense of urgency this season. It does not get any bigger than the University of Alabama, in terms of football, and Mac Jones would not have it any other way. Before setting foot on campus, talking friendly smack with Nick Saban and bonding with teammates, Jones thoroughly prepared to embrace the feeling of being a starting quarterback for the biggest name in the sport.
During his first two years, he sat quietly behind Jalen Hurts and Tua Tagovailoa.
Jones took notes on their leadership, delivered excitement to fans on A-Day, and even proved to Saban that he is just as competitive as the six-time champion. Last season, the former four-star got his chance. He replaced an injured Tagovailoa and with Steve Sarkisian calling plays, Jones responded by leading Alabama's offense to 40-plus points versus Arkansas and Auburn.
A native of Jacksonville, Fla., he fended off a talented freshman in Bryce Young. Some doubt Jones' capability to lead the Crimson Tide to a national championship; however, those who have worked with him believe the masses are in for a huge surprise.
Denny Thompson, a quarterback trainer and owner of 6 Points, was with Jones throughout the summer.
As the owner of the premiere facility for quarterbacks in North Florida, Thompson said the biggest thing Jones improved on was being able to throw with balance on an established base and using the ground to generate more 'juice' on the football.
"I have known Mac since he was in the sixth grade," Thompson said. "He has always been a natural thrower of the ball. He has always had good accuracy. The main thing with him was becoming more explosive through his movements and mechanics. He wanted to generate more power with his throws and be able to move within the pocket. In using the ground and keeping a firm base, he will be able to throw good balls with pressure around him. This is going to make him more confident in pressure situations."
Thompson has trained some of the best talents at the position, but what impresses him is Jones' knowledge.
"Mac is so much invested in the mental part of the game," Thompson said. "When we had camps with our SEC, ACC and NFL guys, he would be out there helping others. Just the effort and knowledge he has and how he explains the game, it is rare for someone to have that kind of knowledge in only seeing a few starts. He is in for a massive year and I cannot wait for it."
He absorbs information like Greg McElroy, but is Jones more of a competitor than AJ McCarron?
McCarron, a native of Mobile, Ala., was a two-time national champion as a starting quarterback.
He got into an argument with his center, Barrett Jones, at the 2013 BCS national title game because they both wanted to get a call right.
McCarron also had a thing for proving to Coach Saban that he was the man for the job.
According to Thompson, Jones carries the same confidence.
"Mac is a dog," Thompson said. "He is a leader and a dog. He is going to get the job done, no matter what it takes. Mac is unique in that he is not a game manager, but he can manage any game. Whatever Sarkisian wants him to do, he will do it well. He can run any offense successfully."
The toughness Thompson spoke to came out in last year's Iron Bowl.
Jones took some hits and made some mistakes, but he responded like a leader. He accounted for 335 passing yards with four touchdowns and put the Tide in a situation to force overtime, until a missed field goal happened late in regulation.
He even took shots against Michigan, who carried a strong defensive front, but Jones tossed for 327 yards with three scores and propelled Alabama to a 35-16 victory in the Citrus Bowl.
When he was not with Thompson, Jones spent time with Darrian Slack.
Coach Slack had Jones at a camp when he was eight years old. He worked with him on his arm motion and has continued to provide Jones with advice on how to be a successful quarterback.
Aside from his family, Slack has also been one to guide Jones into being a great young man off the field as well. In speaking with yours truly of Touchdown Alabama Magazine, Slack compared Jones' on-field potential to Joe Burrow (former LSU quarterback) while stating his mindset resembles that of Tom Brady.
"He has always been a great talent," Slack said of Jones. "I think he is set up for a Joe Burrow type of year. I see him in position to have one of the biggest years of his life. He is definitely NFL material and people will be surprised."
Upon having Brady's name in the conversation, Slack said Jones is constantly looking for ways to improve.
"He is a learner," Slack said.
"He calls me, texts me and wants extra things to create an edge. Tom Brady was always a competitor. He was drafted in the sixth round and after six Super Bowls, he is still planting seeds of greatness. He is still finding ways to improve and be better. The thing about being a competitor is buying into the idea of remaining in a learning state. Mac is constantly learning and that has developed him into what he is today."
One thing that impressed Slack is how much Jones has taken ownership of the quarterback room.
"He gave me a tour of Alabama's facility when I was down there," Slack said. "Inside the quarterback room, Mac has his own office space where he watches film. To see the mental process he has, he is in a great situation with Steve Sarkisian."
Jones is in position to make a run at a national championship, but he still needs one thing to win over Tide fans.
"He has to have a signature win," Slack said. "It has to be early in the season against a big opponent, but he needs that signature win. If he has a game where he puts up big numbers against a huge opponent and Alabama wins, it will quiet the naysayers."
Fortunately for Jones, the Tide faces Georgia at Bryant-Denny Stadium on Oct. 17.
Joe Dickinson, Jones' personal coach, identified Jones as someone with NFL potential early in his childhood.
He was the first to train the former state champion at The Bolles School and he is proud to see how far Jones has come.
"Mac Jones was a kid that could naturally throw the ball," Dickinson said. "He has all the tools, we just refined them. He is a driven guy that had a great desire to be a college quarterback. We built him as a quarterback and got him to understand what it is to be a quarterback at the college level. He is a very sharp kid and he's a grinder. He takes it very seriously and is a natural leader."
When he interviewed after the Iron Bowl, one could tell from Jones' face that he did not have his best game.
He took the field against his first major defensive test, but Dickinson's joy came with how his pupil progressed.
"Every quarterback that has played has had unfortunate things happen," Dickinson said. "That stuff happens, but what happens after that is where we see what you are. Mac started playing after that. The mistakes did not break him. He is tougher than people think."
Despite him garnering some attention as a Heisman contender, Jones is not one for individual accolades.
If you hear him speak in interviews, he talks about winning. He is about winning and winning championships.
"He is not one to draw attention to himself," Dickinson said of Jones. "He is a silent assassin. He goes out there and draws attention to the team. He is focused on team goals and you can tell he is excited to be back out there with those guys."
In terms of the Joe Burrow comparisons, Dickinson said Jones can do some of the same things.
"I don't know Joe Burrow," Dickinson said. "I do know Mac has great guys around him and great coaching. He can probably do what Burrow did, but Burrow has already done it. If he has the type of year Burrow had, people will remember the name Mac Jones. I am proud of him. I want him to play well. I am proud to be associated with him."
His path to be a legend started with his family and three coaches.
When he takes the huddle, throws a pass and competes against Missouri, the lone thing on Jones' mind will be the work and sacrifices made to put him in this position. He is prepared to strike for greatness and this season will be fun to watch him do it.
*Get the BEST Alabama football insider information, message board access, and recruiting coverage today! SIGN UP HERE to unlock our subscriber only content!*
Stephen M. Smith is the managing editor and senior writer for Touchdown Alabama Magazine.  You can "like" him on Facebook or "follow" him on Twitter, via @CoachingMSmith.