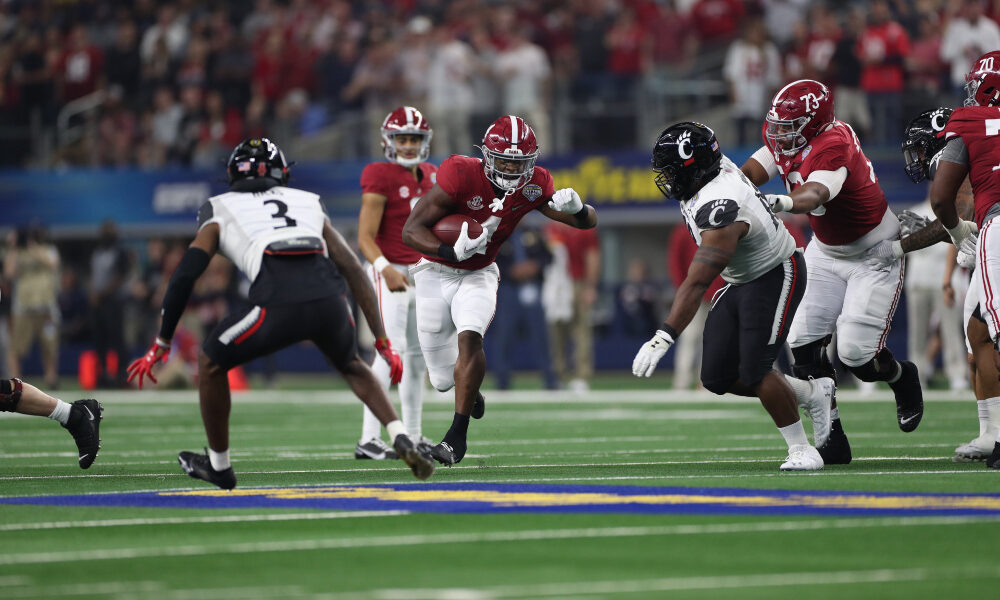 It was a long time coming.
Five years to be exact.
But Alabama running back Brian Robinson shined on College Football's biggest stage when his team needed him most. Robinson returned to Tuscaloosa in 2021 with a lot to prove as it was his first opportunity to be the team's starting running back after waiting behind some impressive players.
In his final season, Robinson was a steady force in the backfield rushing for 1,071 yards and 14 touchdowns on the ground. Coming into Friday's game against Cincinnati, the Crimson Tide's offense was looking for a boost since its passing game took a hit with the loss of John Metchie and Robinson answered the bell and then some.
Robinson rushed the ball 26 times for 204 of Alabama's 301 rushing yards in its 27-6 win over Cincinnati. His effort earned him offensive MVP honors following the game along with a chance to reflect on his performance.
"I think we just showed a lot of physicality," Robinson said. "We knew they were going to come out fired up. We knew they were going to come out and try to be physical. And we just proved that we were the most physical team, with the run game, the defensive front. Just the whole defense overall and the whole offense overall, we just proved that we were the more physical team."
Alabama made it a point to establish the run game as 10 of its first 11 plays of the game were all handoffs to Robinson or fellow back Trey Sanders. It was an 11 play 75-yard touchdown drive which showed the Bearcats what it was in store for the next three hours.
"We just started out running the ball," Robinson said. "We just had some positive runs in the run game. We had to just trust, just stay with it. We knew we were gonna have an opportunity to run the ball the rest of the game. So that first drive, coming out with 10 carries, it just let me get my mind right and be prepared to run the ball the rest of the game."
And run it the Crimson Tide did as offensive coordinator Bill O'Brien opted to lean on the run game throughout the contest as the team had a total of 47 rushes with an average of 6.4 yards per carry.
Any Alabama running back dreams of moments like this, to step up in the College Football Playoff and deliver a massive performance. But it's extra special for Robinson, who is a Tuscaloosa native and is more aware than most of the rich tradition of backs to come through the program and succeed.
"As a young kid, I just always wanted to be a part of this program," Robinson said. "Just always wanted to play for a national championship. Just being able to go out there and just lead this team in this big game on this big stage, just to have another opportunity to play for a national championship, as a young kind, that's the only thing I ever wanted to do.
"It's like a dream come true."
Patience has molded Robinson into another dominant Alabama running back, but Nick Saban is equally or maybe even more impressed with the person he's become over his time in Tuscaloosa rather than how he barrels throw would-be-tacklers.
"I think anytime a guy spends as much time behind as many good players as B-Rob did, never complains, always works hard, and was willing to have the patience to wait his turn," Saban said following the game. "And he worked hard. Whatever his role was on the team, he was willing to do it. He's improved dramatically. He's a great person and a leader on the team right now.
"And I'm proud of him in terms of what kind of football player he's become, but I'm also proud of what kind of person he's become. And I think he embodies what we really try to get our players to do, create value for themselves by what they invest in and what they do. And it took him a long time to do that, but he kept working at it.
"There are so many players now that are willing to cut and run as soon as things don't happen and they get immediate self-gratification from whatever their circumstance is. And he certainly showed a tremendous amount of resiliency to stick with it, stay in the program, keep working. But there's probably not a whole lot of successful people in this world that don't have a lot of resiliency, because you have to be able to overcome adversity.
"And he's done that and become a very fine person and a really good player."
The job isn't done yet, and Robinson still has a page to write in his impressive career and he doesn't look to show any signs of slowing down.
"I literally put all my heart into this, this university, that team, that locker room," Robinson said. "I don't ever wanna let my brothers down. I don't ever wanna let my coaches down. I don't ever wanna let this university down. I just give it everything I've got every chance I get, and it's just a reflection of all the hard work we put in during the week."
*Get the BEST Alabama football insider information, message board access, and recruiting coverage today! SIGN UP HERE to unlock our subscriber only content!*
Patrick Dowd is a Reporter for Touchdown Alabama Magazine. You can follow him on Twitter, via Pat_Dowd77