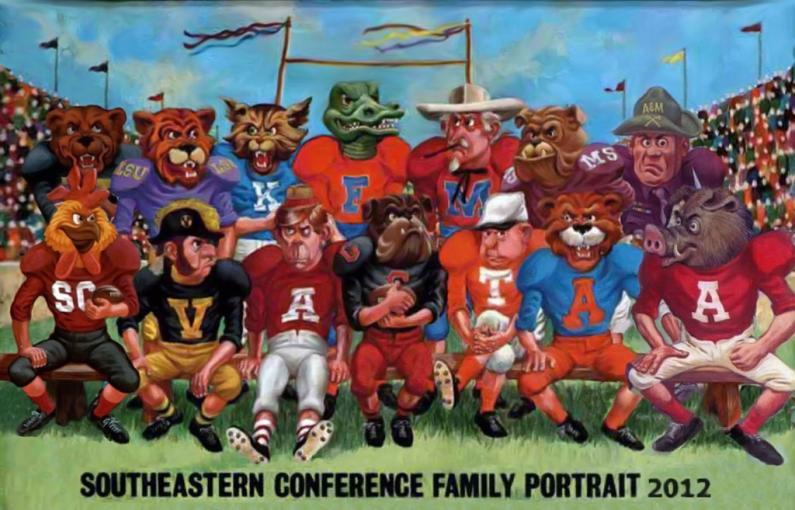 Larry's Losers in the SEC – Week 5 – 2015
By: Larry Burton
What does a hangman's noose and the Tennessee Vols have in common, they choke things to death. Darn it all, the Vols, who couldn't stop a 4th and 16 or kick a field goal to win the darn game after a big lead was the only thing standing between us and prognosticating perfection this past week. So that puts our record at 39-5 so far and while we ain't pleased, it's still killing all the competition out there. That's still just over an 88% average. Great, but not good enough.
This week there are a some pushovers, one even Auburn should win, as well as some like last week's Tennessee / Florida clash that are just gonna be too hard to pick and not chew your fingernails over. So without further ado, back patting or jibber jabber, let's get to listing the losers.
San Jose State at Auburn – Last season, these Jr. Spartans came down to the plains for their paycheck and pounding and got both in a 59-13 pummeling of ridiculous proportions. This season they're hoping to catch a Tiger by the tail while he's suffering from a case of the down year.
But the Gus bus ain't about to have a flat tire in this one like they did against another no name cupcake this season and the Tigers won't be looking toward their off week next week and take one this week too.
The Tigers look good in this one and take care of business like they should. At the end of this one, it'll be the Spartans who may not know the way back to San Jose after getting hit in the head in this one. In a rout, Larry's loser – San Jose State
Ole Miss at Florida – These Mississippians meander down South to the Swamp this Saturday to obtain enough Gator hides for their post season boots and coach Hugh Freeze thinks he has his boys ready to gig these Gators in their home swamp and avoid their snappers.
But McElwain ain't responding to these Rebels robbing his swamp too kindly and he plans to run these Rebs out of his Swamp in such a way that the only hides they'll leave with is their own reptile ripped Rebel ones.
Ole Bacardi the Wonder Dog says this could be a let down week for the Rebs on the road and I'm seeing that it could happen too, but we're gonna give the nod to the likely loser, but in a close one Larry's loser will be Florida.
Alabama at Georgia – Here's the game that everyone's been wanting to see and when those Pachyderms parade in Athens to try and trample that bunch of Bulldogs in their home pen, they're gonna find that these Mutts are ready to maul any marauder that meanders into their yard.
The last time they met with a game of this significance, these Dogs had a Black Out Day and it turned into a black and blue day as these trunked Tuscaloosans trampled those dogs in an embarrassing win on the Dogs own turf.
And while the game may have the same outcome, it won't be as easy this time around as these Dogs have less fleas than the previous squads. The key is Alabama can run and throw and Georgia is a run first team going against a run stopping stomper. In a close one, Larry's loser – Georgia
Eastern Kentucky at Kentucky – This is hardly an epic battle of the Blue Grass Boys as the poor cousin Kentuckian Colonels come in to Commonwealth for cash and a crash and give these Kentucky Kitty Cats cousins another win on the record toward a potential bowl game.
Now Mark Stoops ain't about to overlook these chickenless Kentucky Colonels and he aims to beat them as bad as he can in hopes of getting his Wildcats feeling wilder before finishing his SEC schedule.
And in the end, that's what will happen. These Colenels get clawed and scratched up good and the Wildcats show little love to the poor cousins down the road. Larry's loser – Eastern Kentucky
Eastern Michigan at LSU – The Eagles of Eastern Michigan fly South this weekend in hopes of swooping in and securing an upset in SEC land by beating these Bayou Bengals.
But the old Mad Hatter knows that this won't happen in his neck of the woods and that his Tigers are ready to give these bull crap birds a plucking they won't soon forget. This is a game that head rushing Tiger Fournette will even run onto the Eagle bus as they're leaving for more plucking and this could be as ugly as you think.
In a cakewalk, Larry's loser – Eastern Michigan
South Carolina at Missouri – Steve Spurrier springs in Carolina Cluckers on the Tigers in Middle America Missouri this weekend and hopes to revive what been a season that has had too few wins and many eggs laid instead. He knows a win here could get them back on the bright side and he's gonna pull out all the stops to see if he can peck his way back into contention.
But Pinkel's Pussycats and playing part in Spurrier's play and instead have written a story with a totally different ending. These mighty Missourians plan on keeping these on the clucking bottom of the SEC East for a while longer and retaining their own dreams another date in Hotlanta this season.
And for at least one more week, that dream will be a reality as these Felines dine on chicken dinners this weekend. Larry's loser – South Carolina
Arkansas at Tennessee – Brett Bielema brings his Bovine Swine into Hardknocksville this Saturday in hopes of keeping his tusked ones on the turnaround trail by getting these musket men to volunteer a loss for them.
But these coonskin capped crusaders ain't about to Volunteer for that and instead are planning a barbecue of epic proportions for the hundred thousand plus home crowd and they won't spare the sauce in this cookout.
At the end of this one, the Bovines that escaped barbecue sauce will glad to be back on the bus and headed home. Larry's loser – Arkansas
Mississippi State and Texas A&M – Dan's Doggies drool over the idea of coming into Kyle Field and ambushing these Aggies in front of a hundred thousand plus fans and getting their SEC record back on track.
But Sumlin's seed planters aren't about to let these pack of pooches come in and dig up a bone in their backyard and upset their plans to a major bowl so they're gonna use all 12 men to punch these pooches right in the patootie and send them scrambling back to Starkville with their tails between their legs.
Pity of pooches in this one. Larry's losers – Mississippi State
Vanderbilt at Middle Tennesse – And in the who gives a crap game, the Blue Raiders from some God forsaken town in Tennessee goes over to Grand Old Opry town to take on the SEC's pitiful partner.
It's not like this is the battle for bragging rights in Tennessee, this is just two of the weak sisters slapping it out for the sake of going through the motions. The Song City Sailors did show a little spine in their play against the Rebels last week, so maybe they're slowly getting better.
But in the end, look for the Commodores to take their usual ride into the water as yet another ship gets shot out from under them. In an upset of sorts, Larry's loser – Vanderbilt
Well that's it for this week folks. By game time the pigskin pickin' pooch will be holding down the sports office and be with our good friend who'll keep him company while the Mrs. and I trip off to Tahiti and lots of other islands in the area for a month of merriment.  But don't fret folks, old Bacardi the Wonder Dog and I will be Skyping secret communications back and forth and I'll be in constant contact with our group of guys and gals on the ground in T-Town from Touchdown Alabama Magazine, the internet and lots of TV, so I'll still be in the loop and keep up these lopsided winning predictions.
So till next week, lay in the game time grub and get ready for the weekend and don't forget the Kleenex if your team is on the list of losers. Ok dog, now get my to the airport, I've got some rum drinks with umbrellas waiting on me!
Larry has been published in almost every media outlet for college sports and now primarily writes here for Touchdown Alabama. He writes is a colloquial and irreverent style for this series of articles. Larry's views and sense of humor may offend, but he aims to offend everyone equally. If he hasn't insulted your favorite team with Larry's Losers, just wait. Follow Larry on Twitter for inside thoughts and game time comments at  https://twitter.com/LBSportswriter
Thanks for sharing the link to this story on your Facebook page
Come to the "Points After" Forum on the Touchdown Alabama site and discuss your feelings on this article.