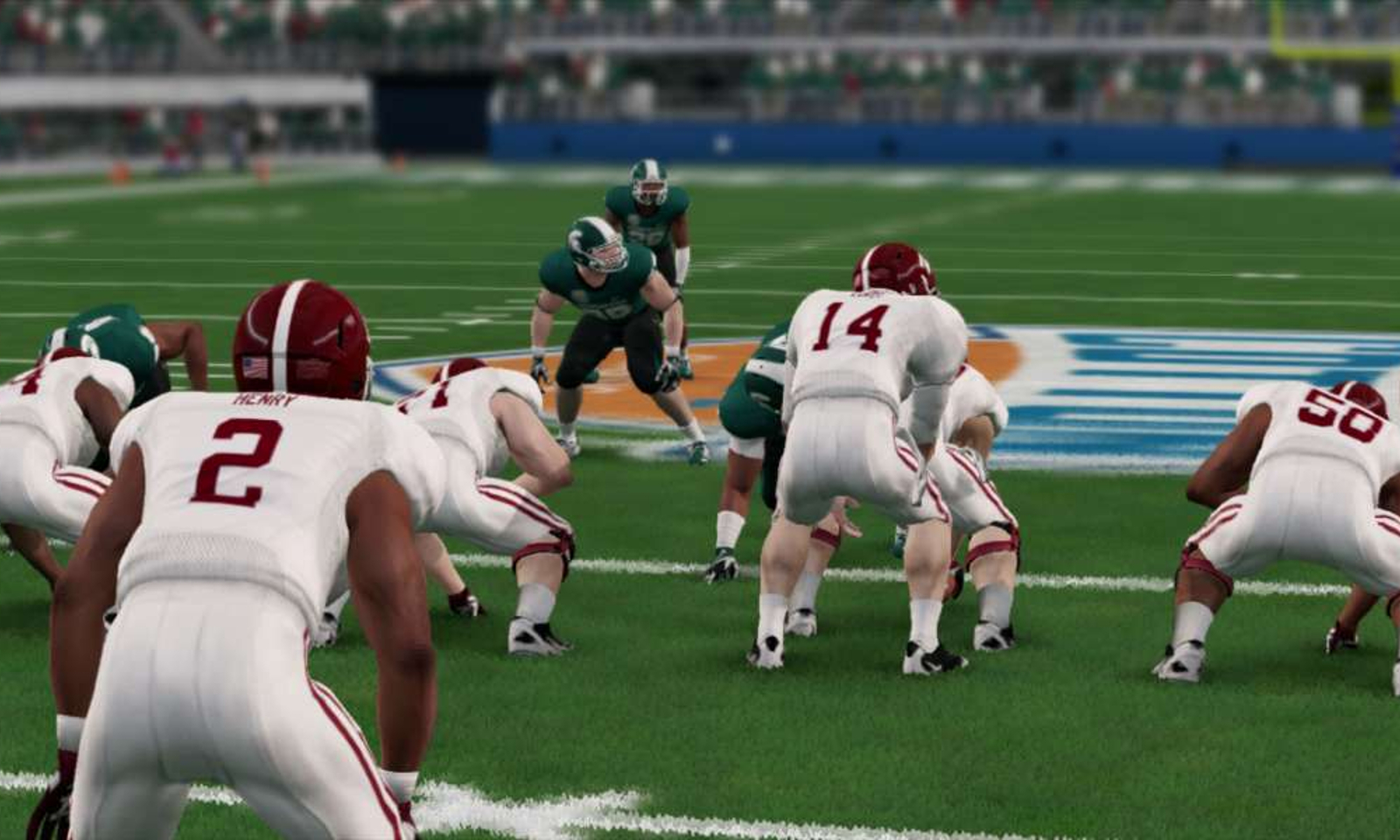 You can find the full 2015 College Football Playoff Preview schedule here.
As the College Football Playoff semifinals near, our preview takes a turn to some of the fun stuff. Final predictions will come just before the games on Thursday but for now, we turn to the video game world and see what it has to say about the final four. I made sure to adjust all the rosters and depth charts accordingly, making sure all ratings were fair. I made sure each coach's system was set to how the team's have played so far this season. Before we get into the games, let's go over a few things about how the teams were rated.
1. Clemson Tigers: 97 OVR, 98 OFF, 97 DEF: QB Deshaun Watson 99 OVR, WR Artavis Scott 89 OVR, DE Shaq Lawson 96 OVR, S T.J. Green 92 OVR
2. Alabama Crimson Tide: 98 OVR, 93 OFF, 99 DEF: RB Derrick Henry 99 OVR, QB Jacob Coker 86 OVR, DT A'Shawn Robinson 98 OVR, LB Reggie Ragland 98 OVR
3. Michigan State Spartans: 95 OVR, 95 OFF, 96 DEF: QB Connor Cook 94 OVR, WR Aaron Burbridge 94 OVR, DE Shilique Calhoun 95 OVR, LB Darien Harris 92 OVR
4. Oklahoma Sooners: 96 OVR, 98 OFF, 95 DEF: QB Baker Mayfield 96 OVR, RB Samaje Perine 92 OVR, LB Eric Striker 97 OVR, CB Zack Sanchez 93 OVR
So those are just a few of the ratings so you can get a good perspective on how these games were set up. Of course, this is still the fantasy world so do not expect these results to  be how the game goes. Although if that happens, I'm sure most college football fans across the nation will be happy. Remember, these games were fully simulated and I never had any influence on the games once they kicked off. I watched every play and managed to entertain myself with artificial intelligence as I await the real games.
Orange Bowl: 1 Clemson vs. 4 Oklahoma
This game was supposed to be the game with a lot of offense and plenty of explosive games from the two star quarterbacks. However, things got off to a slow start. The first quarter ended with the Tigers leading 3-0. Each team had a turnover and doinked a field goal. Oklahoma started the second quarter strong, tying the game on a 22-yard field goal by Austin Seibert. On Clemson's next offensive snap, Zack Sanchez intercepted a bubble screen and took it back for a touchdown. Clemson added two field goals before Baker Mayfield threw a 6-yard touchdown to Joe Mixon. Oklahoma went into the locker rooms at halftime with a 17-9 lead despite being outgained 251 to 225. Each team had three first half turnovers.
Clemson used the opening drive of the third quarter to cut into the lead with a C.J. Fuller touchdown run. The two-point conversion failed but the Tigers took the lead on their next drive with another field goal by Greg Huegel. The 18-17 score stood after three quarters of play. Huegel struck again for his fifth field goal of the game, this one from 45 yards away, to give the nation's only undefeated team a 21-17 lead. Oklahoma had a drive stall inside Clemson territory and missed another field goal, allowing the Tigers to gain good field position. Deshaun Watson led the offense on a nine-play drive that was capped by a 10-yard touchdown run by the sophomore quarterback. Clemson held a 28-17 lead with 4:45 to go in the game. Mayfield threw another touchdown pass to close the gap but a late first down run by Deshaun Watson put the game away. Watson finished with just 174 yards through the air but ran for 109 yards and a touchdown. Running back Wayne Gallman Jr. tore his achilles but Fuller and Zac Brooks helped carry the rushing load, combining for 121 yards and a touchdown. Cordrea Tankersley intercepted two passes for the Tigers. Mayfield completed 30 of his 47 passes for 273 yards but the Sooners could not get the ground game going, rushing for just 124 yards on 41 carries.
Cotton Bowl: 2 Alabama vs. 3 Michigan State
This game started off just as expected. Each team punted on their first two possessions without getting a first down. Then the Crimson Tide struck first and the game went crazy. Henry scored the game's opening touchdown after a 13-play Alabama drive midway through the opening quarter. Sparty answered with a long drive but L.J. Scott fumbled inside the Tide's 10 yard line and it was recovered by Reuben Foster. Michigan State's next drive knotted the game at 7 thanks to a touchdown catch by Burbridge. The first quarter ended with the Spartans blocking a pun and returning it inside Alabama territory. They could not capitalize and missed a 56-yard field goal, setting up the Crimson Tide for their next touchdown drive. Henry ran it in from six yards out to give the Crimson Tide a 14-7 lead early in the second quarter. L.J. Scott answered with a touchdown run of his own three minutes later. After each team turned the ball over inside their opponent's territory, both teams scored once more – an ArDarius Stewart touchdown catch and a Burbridge touchdown – leaving the game tied at 21 at halftime.
The Spartans took the lead on the opening drive of the second half with another Scott touchdown run. Alabama did not strike back immediately but flipped the field position with a 63-yard punt by J.K. Scott. The Tide's next possession started at the 50 and ended with another Henry touchdown run to tie the game at 28. After a three and out by the Spartans, Stewart caught his second touchdown pass of the day on the first play of the fourth quarter. Michigan State was not going to give up and R.J. Shelton scored on the 16th play of the Spartans next drive, making the score 35-35 with 6:58 to go in regulation. After each team punted, the Tide had a chance to take the lead but Jake Coker's pass was intercepted by linebacker Jon Reschke. The Spartans used eight plays to drive 58 yards and take the lead on another Scott touchdown with 57 seconds to go in the game. The Tide have made these drives a part of the Saban era and it was time for Jake Coker to have his turn. Two first down receptions by O.J. Howard and a couple of more from Richard Mullaney set up a game-tying touchdown catch by Michael Nysewander with 12 seconds left in the game. Sparty had one last chance but Geiger's 58 yard field goal fell short, sending the game into overtime tied at 42.
The craziness continued in the extra periods. Henry got another touchdown run on the Tide's opening possession before Macgarrett Kings Jr. tied the game on the Spartans' second play of the first overtime. The next overtime lasted just five total plays with Shelton and Mullaney scoring touchdowns to send the game to the third extra frame. Henry scored his fifth touchdown of the game before Coker hit Brandon Greene in the endzone for the two point conversion. The Spartans once again used Scott to get into the endzone but Connor Cook's two-point conversion pass was swatted down at the line by A'Shawn Robinson, giving the Tide a 64-62 win.
The two teams combined for 1,214 offensive yards on 192 offensive plays. Henry finished the game with 181 rushing yards and five touchdowns. Despite two interceptions, Coker had a great game, finishing with 382 yards and four touchdown passes.
Fiesta Bowl – 1 Clemson vs. 2 Alabama
College football fans were treated to a pair of thrilling semifinal games so it may not matter too much what would (hypothetically) happen in this game. After another slow start to the game, Alabama got on the board first thanks to another touchdown catch by ArDarius Stewart. The Tide's defense forced a three and out, allowing Coker to lead a 13-play touchdown drive that ended in a quarterback sneak touchdown. Alabama held a 14-0 lead after the first quarter. After Clemson turned the ball over on downs, Adam Griffith missed a 47 yard field goal and the Crimson Tide could not extend their lead. The second quarter mostly featured punts but Clemson got on the scoreboard with a 1-yard touchdown run by Deshaun Watson with 2:36 to go in the half. The Tide answered with a quick drive that led to a short field goal for Griffith, giving them a 17-7 halftime lead.
Alabama struck first in the second half with a touchdown catch by Mullaney to extend their lead to 24-7 with 5:24 left in the third quarter. Clemson answered with an 11-play drive that was capped by a touchdown run by Zac Brooks. Alabama's next drive went into the fourth quarter but a defensive stand by the Tigers forced a 19-yard field goal by Griffith, giving the Tide a 27-14 lead. Clemson came right back with a 15-play touchdown drive to cut the lead to one possession with 6:26 left in the game. The Tide had to punt on their following drive but Tony Brown downed Scott's punt at the Clemson 5 yard line. The Tigers went three and out and the Tide ran off the final 3:13 of the game with first down runs by Henry and Kenyan Drake. Alabama won the National Championship with the 27-21 win in Glendale. Henry finished with 201 yards on 40 carries but was held without a touchdown. Coker was responsible for all three touchdowns (2 pass, 1 rush) and Griffith's two field goals were the difference in the game.
Caleb Turrentine is a contributor at Touchdown Alabama Magazine. Follow him on Twitter,@CalebTurrentine.