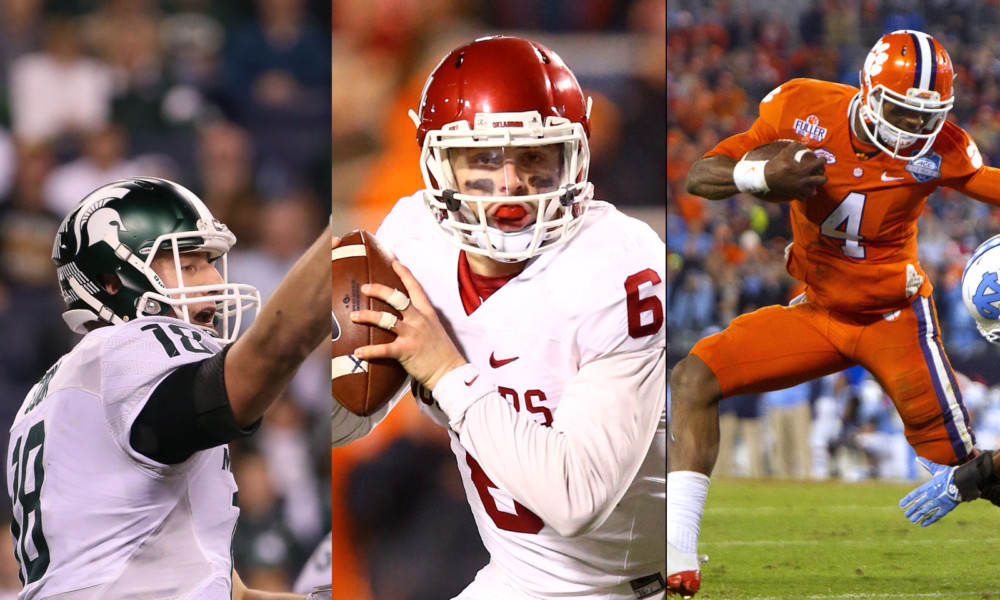 You can find the full 2015 College Football Playoff Preview schedule here.
We are less than 24 hours away from the start of the College Football Playoff. As our preview continues, I got some help from some of the experts of the other three teams in the playoff. They graciously took some time out of their busy holiday season to help us out so take a look at what they all had to say.
---
We get started with the nation's number one team: the Clemson Tigers. Corey Fravel of 247 Sports took the time to answer a few questions for me on what the Tigers can do in the 2015 playoff.
Q: Clemson is the nation's lone undefeated team and the top seed in the CFP but still are underdogs in most people's eyes. Do the Tigers and the fan base feel like favorites going into the Final Four? A: Clemson Head Coach Dabo Swinney doesn't really really get involved in that neither do the players. They prepare the same way no matter the team. I will say Clemson seems to play very well as an underdog or overlooked opponent. Certainly fans take more offense to things of that nature not just at Clemson but every fanbase. It's a natural thing with fans.
Q: Deshaun Watson is incredible. There's no way around it. I actually had him as my Heisman winner. What makes him so special and is there any way to stop him or slow him down? A: I'm not sure you can stop him. It seems like you look up at the end of the game and he has crazy numbers. Slowing him or affecting his decision making is the best to hope for. What's scary about Watson is when he has made mistakes his bounce backs have been unreal. He seems to recover "in game" at a very high percentage. His abilities in the run pass option game are really incredible to watch.
Q: The defense is full of playmakers too, spread out over the field. If you're the Clemson coaching staff, what kind of offense would you rather play – the air it out or the heavy run? A: Clemson has faced the balance of Notre Dame and Florida State's pro style offenses and North Carolina's hurry up pace. Defensive Coordinator Brent Venables doesn't seem to get involved in preferences of which offense he'd like to face. Generally speaking though a team that has no run threat is going to have a lot of problems against Clemson and their pass rush if they're able to just tee off knowing there is no run game.
Q: If you could pick one player that will be an X-Factor for a Clemson national title run, who would it be? A: Deshaun Watson and his charisma. The team goes as he goes. Even the defensive guys feed off his energy. On the other side of the ball Shaq Lawson and Kevin Dodd set the tone up front.
Q: Finally, from the eye of a Clemson fan, how do you think this playoff plays out? A: I think from a fans perspective there's still some scars from Tommy Bowden's tenure. It's been so long but I do hear it sometimes. So I would say there's conservative optimism about Clemson in the playoff but a lot of confidence in Coach Swinney.
---
Next up is Spartan Avenue's Connor Muldowney. He is the editor of the Spartan community on FanSided and took some time to answer questions as Michigan State prepares to play the underdog role in the final four.
Q: The Spartans have had a crazy season. From what seemed like a disappointing start to the miracle in Ann Arbor to the 22-play drive in Indy. Does something about this season feel special as a Sparty fan?
A: Yes, this season really has the feel of a "team of destiny" type of campaign. Winning like that at Michigan was just the start as the Spartans rallied from a controversial Nebraska loss and took down Ohio State without Connor Cook on the road. Then that 22-play drive that lasted 9:04 was spectacular. This season could end up being "the one".
Q: Four quality wins this season for Michigan State. How will those big wins help this team prepare and perform in the playoff?
A: Not many teams get to face the gauntlet of Oregon, Michigan, Ohio State and Iowa — all top-15 teams — to get prepared for the postseason, but that has been the perfect scenario. Not many people though Michigan State's schedule was all that tough this year, but when you really look at it, the Spartans have faced tough competition and came out on top all but one time. It has this team ready and playing elite running backs has helped prepare for Derrick Henry, too.
Q: Connor Cook has had a great career but the back end of this season has been a big struggle with staying healthy and off the turf. What should be expected from the senior quarterback over the next game or two?
A: Cook will go down as the best quarterback to ever put on the green and white, so even the last month won't, and shouldn't, overshadow the rest of his MSU career. The Archie Griffin thing is ridiculous and should not even be mention as Cook has zero character issues, when speaking with people who know him well. We can expect him to play his heart out, healthy or not, because that's the only way he knows how. He was far from healthy against Iowa and the Spartans still won because they believe and trust in him. Expect big numbers from him.
Q: I was big on L.J. Scott coming into the year and so far, the team's success seems to go right along with his success. How much will the offense rely on Scott over the next two games and can he handle being a workhorse back with 30+ carries in a game?
A: I'm not sure Scott will get 30 carries a game, but if he did, the offense would definitely thrive. Guys like Gerald Holmes and Madre London will steal a chunk of carries, as they should with their talent level, but Scott excels when he's the go-to guy. Next year, it's likely he will be the workhorse and he could be the next Le'Veon Bell, or better.
Q: Who will be the X-Factor in the Spartans run for the national championship?
A: The X-factor for me has to be Aaron Burbridge. When Cook and Burbridge are on the same page, it's like poetry in motion. With an unhealthy Cook, he will need to just throw it up to his star receiver on occasion and have him make the plays. Burbridge will be that guy to watch for and if he does well, the Spartans are usually winners.
Q: Without looking at the seeds or thinking of the matchups, how would you rank the four CFP teams?
A: I would probably rank them 1- Alabama; 2- Clemson; 3- Oklahoma; 4- Michigan State. I say this because MSU has that loss against Nebraska and just snuck into the playoffs at the end and Bama is Bama. Clemson and Oklahoma are interchangeable, but the Tigers are unbeaten.
Q: Finally, what is your prediction for the Spartans and the rest of the college football playoff?
A: As a realist, I would say Alabama takes down Michigan State 23-20 in the Cotton Bowl. If Cook is 100 percent healthy, the Spartans sneak away with a 27-23 win, but I just see him putting up big numbers, but throwing the ball far too much to get there.
---
Finally, the good people at SBNation's Crimson and Cream sent over Matt Hofeld to answer some questions about the Big XII champions.
Q: Last season, TCU went from 3 to 6 after not playing in the final weekend. Oklahoma dropped from 3 to 4. Was there any worry that the Sooners would not be in the playoff before the rankings were announced?
A: No, not really. I think had Stanford not had two losses, or Notre Dame, then there could have been reason for concern, but when you look at Oklahoma's body of work against Top 25 opponents then there was certainly some confidence with their resume. The other thing that helped Oklahoma out was being the clear winner of the Big 12. That's really what cost TCU last season. They didn't win the Big 12 outright and the conference refused to name one champion.
Q: Baker Mayfield has been the star of this team. What makes him so special and what do opponents have to do to stop him?
A: Baker is an extremely talented athlete who is able to extend plays with his feet. A lot of quarterbacks tend to drop their downfield vision, and look only at defensive linemen or linebackers, when they are scrambling but Mayfield is able to elude pressure while keeping his eyes on downfield targets. That's a special quality. The other thing he has going for him is his moxie and leadership. Those are things that really can't be measured but sure do have a big impact. I think consistently bringing pressure off the edge is going to be the key to stopping him. Texas was able to do it relentlessly, and while he still threw for over 200 yards it put the brakes on Oklahoma's offense.
Q: Mayfield is great but the offense is full of playmakers. What offensive threat will be the key to the Sooners success in the playoff?
A: I think that it has to be sophomore running back Samaje Perine. There will be a lot of attention given to Oklahoma's passing game, but the running game will be crucial to OU's success. The Sooners need to be able to grind clock and yards, particularly against Clemson, in order to keep defenses honest and opposing offenses off the field. Take away the rushing attack and you will greatly cripple Oklahoma's offense.
Q: This defense is underrated and has really helped push the Sooners past the strong offenses in the Big XII. What makes this defense special enough to be a championship caliber defense?
A: I think there are two factors here. First, Oklahoma's secondary is vastly improved over a year ago and are able to both cover and provide run support. Zack Sanchez and Jordan Thomas are one of the best corner duos in the nation and make it difficult on a quarterback who is forced to make a "hot" read. Second, Oklahoma is able to consistently get pressure in the backfield. Eric Striker and Charles Tapper have been the key for the Sooners when it comes to getting pressure, and when a quarterback is forced to get rid of the ball quickly then it certainly helps out the secondary because they don't have to cover as long.
Q: Finally, how do you see the final four playing out?
A: I find it interesting that the two teams that play the same brand of football are matched up against one another in the semifinals. Alabama and Michigan State are very similar to one another in style of play (although I believe that Alabama is more talented) and so are Oklahoma and Clemson. The parings guarantee that the championship game will pit two teams with contrasting styles up against each other. You'll have a power-run attack against a spread attack, with a mobile quarterback, either way and that should make fans happy. I'm not really big on making predictions, but if you're forcing me to then I'll put Oklahoma and Alabama in the championship game.
---
Caleb Turrentine is a contributor at Touchdown Alabama Magazine. Follow him on Twitter, @CalebTurrentine.