Stephen's Report
Blaine Anderson: Behind Alabama's 2015 national title run (TDAM Exclusive)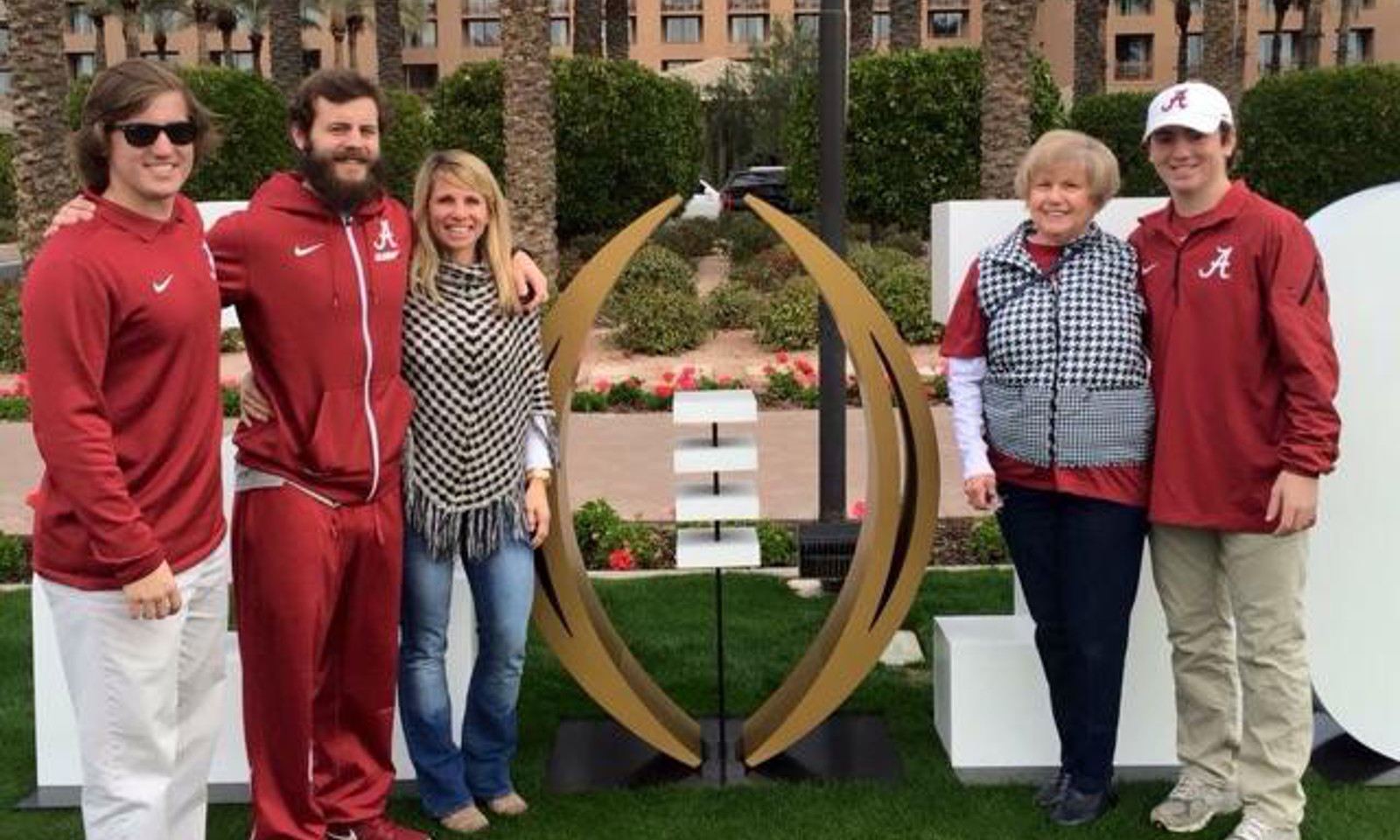 *All photos taken from Instagram (Blaine_Anderson41)*
Spring classes are now in session at the University of Alabama. Despite returning to a daily routine, football still dominates the minds of students as National Signing Day draws near.
It still has yet to sink in that confetti poured on Alabama four weeks ago as national champions of the College Football Playoff. Sundays are usually moments in which one relaxes with television, take a walk in the park, worship at the Church of Saban or for yours truly, it is a time for laundry. On this particular Sunday, Jan. 31, one person continues to stay in a euphoric state of mind. He may not be a big name, yet it is through him that five-star athletes become legends.
Scout-team defensive back Blaine Anderson lives in a residential area on 15th Street.
His bedroom filled with clothes on the floor and a No. 41 jersey on his wall, Anderson had just returned from home in Charlotte, N.C. Prior to then, he was on a national title journey.
"I wanted someone to poke me because I thought I was dreaming," Anderson said. "It still feels surreal. I felt like a kid that had just seen snow for the first time."
Joy was the emotion Anderson felt when the clock hit triple zero in the fourth quarter of the 2015 national title game.
Clemson gave a valiant effort at University of Phoenix Stadium, but the moment belonged to Anderson. He ran to the 50-yard line and made snow angels on top of yellow confetti.
The fourth-string safety would then wave a Crimson Tide flag at Alabama fans and embrace his family in the stands, upon the ending of a 45-40 triumphant win for the Tide.
It was in this moment in 2014 that Alabama watched Ohio State win the first-ever national championship of the playoff era. Coach Nick Saban and the Tide were knocked out in the first-round and for Anderson, he was released from the team after not making the fall roster.
Success is intoxicating when achieved through adversity; however, all good stories start with an origin.
North Carolina has it all–Anderson's entrance to life and football
North Carolina is the heartbeat of the Atlantic Coast Conference and Charlotte is its main attraction.
It stands as the birthplace of NBA superstar Stephen Curry, three-point training ground for his father, Dell Curry and the home venue of the NFC champion Carolina Panthers.
Brad and Melissa Anderson welcomed the eldest of three boys on Sept. 8, 1993.
Brad was gifted in the sporting arena, juggling football, wrestling and hockey, yet he told his son Blaine that football was his destiny since birth.
"I thought he was the reason I got into football, but he would always tell me that my first word was 'ball'," Anderson said. "That was his calling card and he would always refer to it."
North Carolina produced an NBA legend in Michael Jordan and loathes Duke in one of the best college basketball rivalries "Tobacco Road," nevertheless tee ball would become Anderson's first sport.
He started at four years old and put in three years, before taking on football with his dad coaching him. By the time he reached Myers Park High School, Anderson stood at 5-foot-8 and weighed 165 pounds. He was elusive playing both at quarterback and running back, until his senior year in 2011.
"I was an option quarterback," Anderson said. "I was very shifty, but I did not have a great arm."
Anderson grew two inches by his senior season, making him 5-foot-10 but standing at 175 pounds would not have made him the best choice for quarterback. He made a transition to safety during that season and led his team to the third round of the playoffs, where it faced Mallard Creek.
"Every single player they had looked like they could play at a Division 1 school," Anderson said. "I just remembered everyone thinking that we were going to get blowed out."
Mallard Creek, a high school that was home to former SEC wide receiver Marquez North, defeated Myers Park 42-10. It was not Anderson's best moment, but he found a silver lining.
"I did not get any division one offers," Anderson said. "Much of what I received came from division three schools. The game against Mallard Creek proved that I could compete with those guys."
Football was an avenue to create a platform, yet at his heart Anderson was family first. The man that got him into the sport would fight drug issues as he got older. A stint in jail caused Brad Anderson to miss his son's junior year, a time that college scouts view is crucial in recruiting.
Anderson battled back and was released in 2011.
After missing his first three games, Blaine saw his father return for a meeting between Myers Park and Providence High School.
"I had the game of my life that night and it was because he was there to watch me," Anderson said. "I had two interceptions, a punt blocked and a rushing touchdown."
In December 2011, Anderson was accepted into the University of Alabama.
University of Alabama– A first encounter with the Crimson Tide
Anderson was a student in 2012, adjusting to college life as a freshman.
He watched AJ McCarron lead Alabama to a national championship during that season, the word "ball" never left his mind. He would muster up enough nerve to tryout for the squad in 2014, upon the spring semester of his sophomore year. Hunger, talent and a work ethic earned him a spot on the Crimson Tide's roster. Anderson participated in practice and made an appearance on A-Day, donning jersey No. 29.
His ability to create turnovers kept him on the team into summer camp. Regardless of his achievement, Alabama's coaching staff made cuts and he was released.
Tyler Siskey, who is now at South Alabama, was Alabama's associate director of player personnel in 2013 and 2014. Cutting Anderson was one of the hardest decisions he had to make.
"I was upset when I got the phone call, but after talking with Coach Siskey I felt better," Anderson said. "He thanked me for my hard work and effort and wanted me to come back."
Anderson would return, but in the meantime the 20-year-old transitioned his focus to classwork.
Smoothie King– Life of retail, rhymes and sports
Two areas that all UA students should be familiar with are the Strip and Recreational Center.
One is filled with dining venues, a grocery store and a supply store, while the other fosters relationships through working out, playing sports and even taking courses. Smoothie King stands as a common interest for both. "Be Good To Yourself" is its slogan as it hangs above the bar at both locations. Ownership demanded exceptional services, yours truly used it to kill time.
Finances were tight in the Andersons' household. An encounter with Smoothie King's rec manager Darion Latson came beneficial for the ex-scout team player.
"I needed money," Anderson said. "I wanted to support myself for a moment. I met Darion at the Rec Center one day while I shooting basketball in the gym."
A number of messages would spawn between Latson and Anderson before he was hired to the location on the strip.
Smoothies, protein bars, Gatorades, trail mix and protein powders? None of that mattered to us. Laughter was medicine whether it happened during a three to four-hour midshift or a five-hour closing shift. Somehow, it would always start with me freestyle rapping.
"Let me find you a beat, Steve." The words he said after serving each customer.
Instrumentals from Meek Mill, Rick Ross, Jay-z, it did not matter. We wanted to pass the time, and if hearing me spit a line of the top of my head got it done then so be it. Rotate strawberries, freestyle with Steve. Peel bananas, freestyle with Steve. Serve a customer, talk sports and then more rapping with Steve. A year of it brought us together.
Football was still a looming possibility, despite him not playing. Anderson would look at highlights of Alabama and Carolina Panther games during moments when the store was quiet.
"I am going to get back out there," he said.
Was it fun serving customers, making various smoothies and trying to get the Bama Cash machine to work? Answers varied by the day, but at some point $7.25/hour loses excitement.
Spring semester 2015– Anderson returns to football 
Rap artist Jermaine "J" Cole is another feature of North Carolina.
He brings the genre back to its rightful place, a mixture of Nas, Tupac and Eminem. It is a flow of similes and metaphors that create meaning, versus punchlines about cars, clothes, jewels and top-less females. Cole is good, yet Anderson's situation reflected a legendary group, Wu-Tang Clan.
In 1993, the group released the song "C.R.E.A.M." off its album Enter the Wu-Tang (36 chambers). Cash Rules Everything Around Me was an anthem, a track that was fueled with making money by any means necessary. Anderson was neither a felon nor a drug pusher; however, he was reaching his wits' end at Smoothie King. He went back to pursue his gridiron vision and much like his first situation, Anderson made the spring roster in 2015.
He went full-throttle at practice and appeared in his second A-Day game, but something was different about this opportunity. Anderson would force more fumbles than any other scout-team player and some student-athletes on scholarship, earning him the turnover "Ball Out" Belt.
His enact for ripping the ball out would grant him the nickname "Peanut," in which he shares with Chicago Bears defensive back Charles Tillman. Anderson would advance to summer camp and unlike 2014, he was selected for Alabama's 2015 fall roster.
"I couldn't let football go," Anderson said.
Charlotte's pride and joy entered Smoothie King a couple of weeks into fall camp to cash his pay check. He looked at me, grabbed his hard earned money and headed for the door with a smile.
"You are officially the old head Steve," Anderson said jokingly. "Keep them in line."
The loss to Ole Miss– A wake up call for the scout team
An Alabama football practice is equivalent to an NFL meeting.
The first whistle heard is one that hangs around the neck of strength and conditioning coach Scott Cochran.
Each player then heads to their respective position group, while head coach Nick Saban observes. In biblical terms, John the Baptist came before Jesus. He was a frontrunner who preached the gospel to all that would pay attention and receive.
Scout team players are ones that prune and prepare the starters for each game. They are neither swarmed by fans nor addressed with numerous questions from the press, yet it is their responsibility to provide the headline names with a strong simulation of the competition.
Alabama got through its first two opponents unscathed.
A highly-anticipated contest between it and the Mississippi Rebels was set for the following week. Ole Miss defeated the Crimson Tide 23-17 in 2014, but this meeting would occur at Bryant-Denny Stadium. It does not lose often at home and with the return of running back Kenyan Drake, Alabama felt it had a strong chance to strike revenge.
The result, however, was unpleasant. Five turnovers doomed Alabama to a 37-43 loss.
"We did not deserve to lose that game," Anderson said. "We knew that we were better than them, but we shot ourselves in the foot."
Another loss would deny the Tide an opportunity to play for a national championship. Anderson made a effort to not let that happen, especially after he was cut from the team a year earlier.
"Everyone on the scout team felt it," he said. "I started to practice harder and everyone else did too."
Even in a loss, something good happened for Alabama. Quarterback Jacob Coker had his toughness and mechanics questioned all of 2014 and after his outing against Middle Tennessee State last season. He did not start against Ole Miss and it lit a fire under him.
Coker guided the team from a 10-20 point deficit countless times against the Rebels. He totaled four touchdowns and almost led a dramatic comeback win, despite battling flu-like symptoms.
"The second half of the Ole Miss game was Jake's stepping stone," Anderson said. "It was just the way he commanded the huddle. Everyone knew how talented he was when he came in 2014, but we were all waiting on him to emerge."
The stats sheet read 13, but Coker actually gained 30 tough rushing yards in Alabama's game against Texas A&M.
He excited his teammates by not sliding, both taking and delivering punishment. The Crimson Tide rolled out of Kyle Field with a 41-23 win, improving to 6-1.
"I was so happy when we beat them in a dominating fashion," Anderson said. "We were on a roll chemistry wise and Jake played well."
Alabama would knock out LSU, Tennessee, Mississippi State and Auburn in its journey to Atlanta for the 2015 Southeastern Conference Championship Game.
A meeting between teacher and student was the headline as Saban faced Florida and its head coach Jim McElwain.
Huge news occurred during the week for defensive coordinator Kirby Smart. The man who served Saban like a son for nine years was offered a head coaching spot at Georgia.
Speculation went on for days, until Georgia made everything official on Dec. 6, 2015. Team chemistry became an issue that Alabama fans had concerning Smart's decision.
"Our chemistry never changed," Anderson said. "In fact, every defensive player was so happy for Coach Smart."
Most coaches would leave a program once they are hired elsewhere, but Smart was different. He remained in Tuscaloosa after winning an SEC championship, to start a push for a national title.
"I always had respect for him, but seeing him show that selflessness and remain with the team boosted my perspective of him," Anderson said.
Saban, Anderson and the Tide entered the College Football Playoff as the lone staple from 2014. Every scout team player saw its hard work pay off in the Goodyear Cotton Bowl against Michigan State. The Spartans could not breathe as Alabama's defense shut it off the scoreboard.
Coker threw for 286 passing yards and three touchdowns, while Derrick Henry rushed for two scores. Cornerback Cyrus Jones recorded an interception and a punt return touchdown, securing the team's 38-0 victory.
Linebacker Ryan Anderson was a force against Michigan State, collecting four total tackles, two tackles for loss and a sack.
He and Blaine share more than the same last name.
"He is one of my favorite players on the team," Anderson said. "Ryan always refers to me as 'son' and I would call him 'pops' during practice. I was very happy about his production last season and with him getting more playing time next year, it will be scary seeing him and Tim Williams."
Alabama punched its ticket for the national championship game against Clemson.
It was a back and forth battle filled with momentum swings. Place kicker Adam Griffith made a 33-yard field in the fourth quarter to even the score at 24. The ensuing play was thought to be a normal kickoff, instead it turned into one of the most memorable efforts in history.
"I was looking at the Jumbotron while everything was going on," Anderson said. "My eyes did not return to the field, until Adam's foot hit the ball. Everything happened so fast. I remember me saying 'Oh s***t' when the ball got tipped in the air."
The final result was unreal as redshirt freshman cornerback Marlon Humphrey came down with the ball at midfield.
Saban and Alabama had stolen a possession from Clemson, an opportunity that turned out to be the difference.
"We had worked on that play all year," Anderson said. "And when Marlon got the ball, I was like 'Oh my God Saban, you dirty dog,'".
A huge night from O.J. Howard and a 95-yard kick return touchdown from Kenyan Drake proved too much for the Tigers to overcome. Anderson's excitement took over at the final whistle.
"I was trying to find where the championship hats and shirts were," Anderson said. "I made a couple of snow angels and then went to look for my family in the stands."
Anderson, who was once cut from the team, now had a national championship in his arms. He was a part of a unit that excelled on the big stage, much like fellow Charlotte native Stephen Curry did with the Golden State Warriors.
"It still has not really sunk in yet," he said. "And it probably won't until we get our championship rings."
Competition breeds winners. Scout team players desire to win just as bad if not worse than the starters. They are not guaranteed a scholarship and can be replaced at any moment.
Anderson got the chance to work with two young linebackers last season in Joshua McMillion and Adonis Thomas. "Both of them will be good in years to come," he said.
Celebrity side to football– Anderson signs autographs too
Every player in a Crimson Tide uniform is a huge name for fans at Bryant-Denny Stadium. On Saturdays, people flood the Walk of Champions in attempts to take pictures and get autographs from these athletes.
"I'm usually not swarmed by fans, but there will always be a group of children that come up to me and ask if I am on the team," Anderson said. "A lot of the fans really just want a picture or autograph. If they see you wearing an Alabama jersey then they will come to you."
Anderson will be a senior next fall. Alabama graduated both Cyrus Jones and Geno Matias-Smith, which could give him a chance to contend for a backup role in the secondary.
Reverting back to the start of this article lies his first words "This game showed me that I could compete with these guys."
A sentence that sums up his life in a nutshell, whether his father got him into sports or not. The Crimson Tide will contend for a 17th national championship in 2016, and one can rest assured that Anderson will push its new wave of talent into fruition.
Stephen M. Smith is a senior analyst and columnist for Touchdown Alabama Magazine. You can "like" him on Facebook or "follow" him on Twitter, via @ESPN_Future.