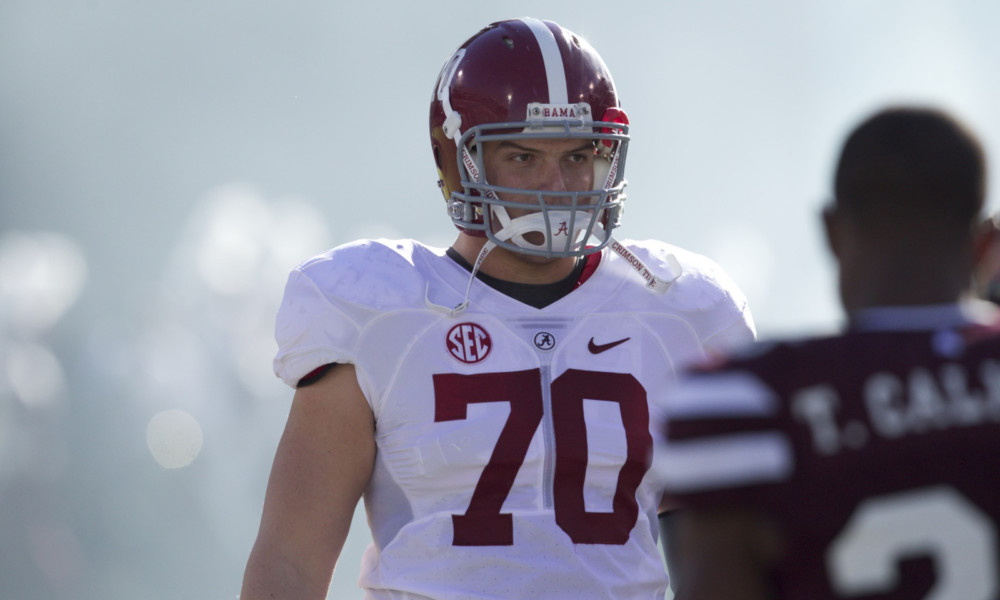 Alabama center prospect Ryan Kelly left NFL scouts drooling last week at the NFL Scouting Combine. He finished in the top 10 among all offensive linemen in each event that he participated in with the exception of the broad jump (103 inches, T-12). Kelly posted a 40-time of 5.03 seconds and recorded 26 reps of 225 pounds on the bench press.
His footwork was exceptional in the 3-cone drill and 20-yard shuttle, despite weighing in at 311 pounds.
The 6-foot-4 center was clocked at 7.58 seconds in the 3-cone drill and 4.59 seconds in the 20-yard shuttle.
Kelly enrolled at Alabama in 2011, but did not take over starting duties at center until 2013. He filled in admirably for the departed All-American Barrett Jones and anchored the Crimson Tide's offensive front during the last three seasons.
Kelly balanced the offense, blocking for 200-plus rushing yards in 2013 and 2014. Alabama's backs totaled an average of 199.9 yards per game last season; however, Kelly guided Derrick Henry to 2,219 yards and 28 touchdowns.
The junior would go on to be the Tide's second Heisman Trophy winner in school history and for Kelly, he was the recipient of the Remington Trophy and Jacobs Blocking Trophy. Eleven franchises are in need of offensive linemen, yet four in particular could use a dominant center.
Yours truly of Touchdown Alabama Magazine takes a look at some of the possible landing spots for Kelly in the upcoming NFL Draft.
Washington Redskins—NFC East (9-7, 2015 record)
Kirk Cousins proved that Washington's offense fits him better than Robert Griffin III.
He took control of the team and posted 4,166 passing yards with 29 touchdowns to 11 interceptions. Cousins got hot late in the year and guided the Redskins to a 9-7 record, earning an NFC East division title and a postseason berth. Running back Alfred Morris is heading into free agency, but he might return to Washington. He chimed in with 751 rushing yards last season.
The Redskins finished 20th in rushing, averaging 97.9 yards a game. Having a player like Ryan Kelly control traffic takes pressure off Cousins and also allows the run game to open up.
Washington was better in total offense, landing at 17th with 353.8 yards and scoring 24.3 points per contest. It needs to develop more competition at center, especially in a tough NFC East.
Jacksonville Jaguars—AFC South (5-11, 2015 record)
Jaguars' head coach Gus Bradley is building a solid team, headlined by quarterback Blake Bortles. Bortles made a huge leap from his rookie season (2014) to last year.
He threw for 4,428 yards and 35 touchdowns to 18 interceptions. His mechanics and leadership will grow with time; however, Bortles cannot afford to take as many hits as he did in 2015.
The former Central Florida quarterback was sacked 51 times, the most for any signal-caller in the NFL. Ryan Kelly missed seven assignments in 802 snaps for Alabama in 2014, grading out a 99.1 percent success rate. He missed eight assignments in 1,012 plays in 2015, ending with a 99.2 percent rate.
Kelly did not allow a sack in either season, despite surrendering four quarterback hurries.
When he was not nursing injuries, running back T.J. Yeldon had a successful rookie campaign. The Crimson Tide standout rushed for 740 yards and two touchdowns on 182 carries.
He had two 100-yard outings against Indianapolis (105) and Buffalo (115). Kelly set the edge for two 1,000-yard seasons (2012, 2013) for Yeldon at Alabama. Reuniting the two could be special for Jacksonville. The Jaguars were 27th in rushing, amassing 92.1 yards per game.
Cincinnati Bengals—AFC North (12-4, 2015 record)
Silly mistakes on defense cost Cincinnati a playoff win against Pittsburgh back in January.
Quarterback Andy Dalton was having an MVP-caliber season, until a thumb injury in Week 13 against the Steelers sidelined him. He put in 3,250 passing yards with 25 touchdowns to seven interceptions on a 66.1 percent completion mark.
Former Alabama quarterback AJ McCarron stepped up and guided the Bengals into the playoffs with remarkable play in Dalton's absence.
McCarron completed 66.4 percent of his throws for 854 yards with six touchdowns to two interceptions. Thirty-two sacks occurred between Dalton and McCarron combined, which starts the concern to have a center in Cincinnati. Both Jeremy Hill and Giovanni Bernard totaled 700 rushing yards in 2015.
Hill was better suited for the end zone, collecting 11 total touchdowns.
Balance will remain a focus for offensive coordinator Hue Jackson as he tries to guide the Bengals to a Super Bowl appearance. Cincinnati finished 13th in rushing (112.8 ypg), yet it dropped two spots in total offense, averaging 358 yards and scoring 26.2 points per game.
Ryan Kelly helped McCarron accomplish his most prolific passing season at Alabama in 2013.
He totaled 3,063 yards and 28 touchdowns to seven interceptions on a 67.3 percent completion rating.
Los Angeles Rams—NFC West (7-9, 2015 record)
A new city and a new name brings high expectations.
The Rams under head coach Jeff Fisher will move from Missouri to California, with hopes that its passing game improves in the transition. It acquired quarterback Nick Foles from Philadelphia last season, yet the results were not fruitful.
He threw for 2,052 yards with seven touchdowns and 10 interceptions. Running back Todd Gurley carried the team on his back as a rookie.
The former Georgia stud rushed for 1,106 yards and 10 touchdowns. He averaged 85.1 yards per game, earning him Offensive Rookie of the Year honors from the Associated Press and Pro Football Writers Association. Sporting News named him NFL's Rookie of the Year.
Drafting Ryan Kelly could help the Rams build off a successful run game from last season.
It placed in the top 10, totaling 122.3 yards per game (7th-best in the NFL). A balance between run and pass is where Kelly would benefit Los Angeles. The team was last in total offense, mustering up just 297.6 yards and scoring 17.5 points.
NFL teams in need of offensive linemen
Kansas City Chiefs
Philadelphia Eagles
Oakland Raiders
Indianapolis Colts
New York Jets
San Diego Chargers
Baltimore Ravens
Stephen M. Smith is a senior analyst and columnist for Touchdown Alabama Magazine. You can "like" him on Facebook or "follow" him on Twitter, via @ESPN_Future.