Stephen's Report
Bigger than sports: Motto for McCoy, Romano and Warehouse Performance Inc.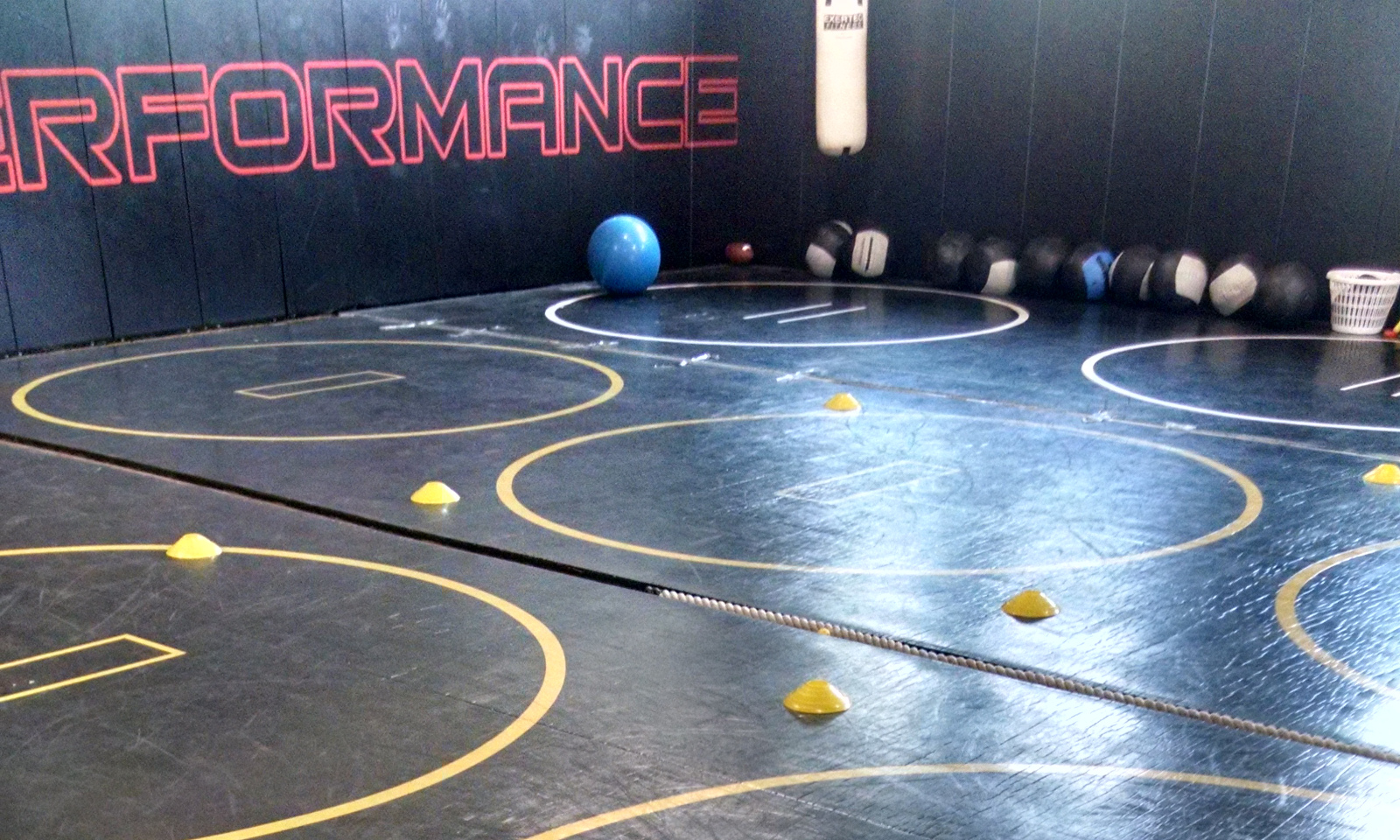 TUSCALOOSA, Ala.| Laughter, teachable moments and football are a few things that young men long for, when it comes to finding common ground with a leadership figure.
Mike McCoy and Ryan Romano, co-founders of the Warehouse Performance Institute, provided all three ideas in a football skills academy at Brock Gap Intermediate School (Hoover, Ala.) on May 14.
Boys of all ages were invited, as they learned both fundamentals and character values.
McCoy, ex-Alabama wide receiver and trainer, spent much of the day with elementary school children. He coached them on route running, pass catching and even took time to play touch football.
"We love what we do," McCoy said to the youth and their families at the end of the festivities.
The "we" he was referring to was him and Romano, a graduate of West Virginia University and Hoover High School's all-time wins leader in wrestling.
With a smile, Romano spent time shaking hands, checking up on coordinators and making sure the event would be a success. McCoy brings knowledge and athleticism, nevertheless, it's a combination of that and Romano's savviness in business that makes this duo special in the community.
"When I tell you a lot of this wouldn't be ran without him, he is the man behind the scenes," McCoy said about Romano. "He is the heart behind the Warehouse."
Former Alabama quarterback Blake Sims and Atlanta Falcons wide receiver Mohamed Sanu were two of the coordinators in attendance. Both guys spoke highly of McCoy and Romano, and Sims in particular said McCoy has taught him how "to speak things into existence."
The Warehouse Performance Institute, which is located on 4010 Farr Road in Bessemer, Ala., is a safe haven for professional athletes and youth who want to achieve the best at the next level.
A venue that enters its fourth year in October of 2012 stands at 3,500 square feet.
When passion is felt, one can go without a building to get things done.
"We spent six months in my parents basement," Romano said. "It was quite bare when we first moved in here. All we started with was one rack, a set of dumbbells and some wrestling mats."
McCoy and Romano have added more equipment since then.
Mike McCoy's journey to the Warehouse
McCoy grew up in Fanin, Miss., a small town inside of Brandon, Miss.
He was very talented as a child, but football wasn't his main squeeze.
"Basketball was my first love," McCoy said. "I always knew I had a call on my life. Just a God-fearing man and when I was younger, I got introduced to football."
He did not receive much playing time at first, but McCoy stuck it out and became one of the more talented prospects going into high school. His determination set his course for college. 
He had a solid career at Alabama, and one that McCoy dedicated to his family. To the woman who was battling a rare cancer, he made sure to secure a full scholarship with the Crimson Tide.
"God healed my mom and she's been in remission ever since," McCoy said. "I owe a lot to my brothers. My brother Kendrick took care of me when my mom was sick. Both of my brothers were great athletes. They pushed me like nobody else. Truth be told, they are probably more talented than I am, but they went their route. My brothers were my biggest critics."
No NFL team rolled the dice on McCoy during the 2010 NFL Draft, despite him winning a national championship at Alabama in 2009 and totaling 547 receiving yards with three touchdowns.
A job at the Tuscaloosa YMCA taught him responsibility and memorization, but all McCoy could focus on at the time was a chance to prove that he belonged in the professional game.
Opportunity eventually came knocking and despite it being arena football, McCoy took to both Green Bay and Philadelphia. The love for his mother and brothers wouldn't allow him to travel very far; thus having McCoy to not even consider trying for the Canadian Football League.
"That was a part of me staying in the south," McCoy said. "When I was playing in the Arena League, I was too far from my family. This even goes back to my recruiting days in high school when I told colleges 'if you are more than five hours away, stop recruiting me.'"
As coaches, Mike Shula and Nick Saban gave McCoy the tools to on how to be a constant professional. Scott Cochran and Johnny Jackson both benefited from what the NFL did not want.
In his time at IMG Academy, McCoy got a chance to work with Alfred Morris, Luke Kuechly, Mohamed Sanu and Russell Wilson. All of these guys are in the National Football League, and Wilson is a two-time NFC Conference champion (2013-14) and Super Bowl champion in 2013.
The two strength coaches provided McCoy another avenue to have an effect on people as well as himself. He learned the art of being a mentor and it led him to starting a partnership with Romano.
"It was at IMG Academy in Florida where I met Ryan Romano," McCoy said.
"Blood couldn't make us any closer. That is my best friend. That is somebody who will go to war with me no matter what. He will go to hell and back with me, if it's just me and him. That's my guy."
Romano's journey to the Warehouse
Romano grew up in Birmingham, Ala.
He fell in love with wrestling and led the Hoover High School Buccaneers to three state championships in five seasons. He earned a bachelor's degree in economics from West Virginia University and while continuing to work, Romano later earned his master's degree at South Alabama. He would spend time at the Fitness 10 Quest, prior to attending IMG Academy.
"Going to West Virginia was honestly a culture shock," Romano said. "It was a good culture shock, though. They were burning couches and having dumpster fires, but I wouldn't trade the experience for the world. It really challenged me to build a character standpoint."
Romano said the friends he meet at West Virginia made him who he is today.
McCoy and Romano together—Handling professional athletes
The vision of the Warehouse is broken down into four core values: passion, improvement, excellence and development. It is a place that challenges children and professional athletes to give a full effort both physically and mentally. Romano and McCoy don't let up on anyone.
"When you hear Warehouse, you gotta work," McCoy said.
"It's not for everybody and we are okay with that. Everybody cannot train here and we are okay with that. But if you have a dream and you have a passion, we can help you get there."
McCoy's name has been linked to training multiple Alabama standouts, including  Charles Hankerson, Marcell Dareus, Trent Richardson, Courtney Upshaw, Dont'a Hightower and Blake Sims.
Richardson, who was the third overall pick in the 2012 NFL Draft, was nearing 240 pounds prior to training with McCoy. He produced a solid rookie year with the Cleveland Browns, before struggling in the seasons that followed. A rough stint with the Indianapolis and being cut from the Oakland Raiders had Richardson's back against the wall. McCoy whipped the former Heisman finalist (2011) back into shape, while helping him earn a shot with the Baltimore Ravens.
"Trent has never been a bust by no means," McCoy said. "He just had to learn how to value himself again. I challenged and pushed him. I told him that he needs to get some squares out of his circle and focus on himself. Don't be surprised if he makes the Pro Bowl or becomes a top five back next year."
Richardson dropped 22 pounds from working with McCoy, going from 240 to 218. He signed a contract with the Ravens and anticipates proving to the league that he's is not a bust.
Consistent support is something that lacks in the NFL, versus college football and high school athletics. Parents, coaches and friends push athletes in high school and college. As a professional, an athlete is doing most of the pushing on its own. Frustration and Laziness kick in as a result.
"This is where we [Warehouse] separate ourselves where pro guys are concerned," Romano said. "On the first day of training, they may not even work out. It's going to be Mike, myself and the player spending time figuring out where they are from a mental standpoint."
Romano said the pro guys obviously have a gift physically, but he and Mike want to initially a challenge mentally.
"A lot of it goes back to asking them what got you to where you are today," he said. It starts with finding the reason why these guys are in the NFL. It's about asking the right questions and getting them to tell us why they are in the league. It's bringing the reason back to life."
Produce others and in return, you will be produced. A simple principle, but one that holds much power and one that got Romano into the Warehouse to begin with.
"I have a gift of giving," Romano said.
"This is a way for me to have a sense of contribution to other athletes. I was a college athlete as well and for me personally, there were a lot of disappointing moments in my athletic moments during high school and college. I went through those trials and tribulations and as coach, I don't want to see these guys have the same disappointments or let downs that I had."
Caring for Youth—More than sports
The same winning mentality that was engraved in him at Alabama, McCoy uses as fuel at the Warehouse. He said despite second place being an honor, it is not rewarded at his place.
"We strive for greatness," McCoy said. "If you are not first, then why aren't you first. We allow these kids to take a seat and look at themselves. If you know why you are not starting, then that is up to you to fix."
Education comes first for all children. This evident for McCoy and Romano as they take it upon themselves to check the grades of each youth that enrolls in their conditioning program.
"We have to reality check some of them," McCoy said. "Ryan and I have been fathers to a lot of these kids. Some of them look to us as brothers, friends and mentors. We actually put on a NCAA clearing house presentation at Hoover High School and it was a free event. We want to give every child an opportunity to prolong their playing career. We love the underdogs."
Requirements are changing when it comes to grade point averages for student-athletes. Many believe that a 2.0 is all that's needed to play sports, but not the mark is set to a 2.3 (a C average).
"That is a pretty significant jump when you talk about three-tenths of a point on a GPA," Romano said. "We are in the beginning stages of having our own ACT prep course here. Our first one will be at the end of August, heading into the upcoming of September. We are hiring a professional ACT prep coach to come in and prepare these kids on all the areas of the ACT."
Romano said the main thing he and McCoy try to get high school children to understand is that life doesn't end after sports. The Warehouse tandem focuses on the total human being.
"It's about getting them to realize that there is another 60-70 years of life after playing as a professional," he said. "There is something beyond sports and it's about getting them to make a good investment in something, whether it is education or whatever the case may be."
Romano ended with "it's about becoming better kids, better men, better boyfriends and better spouses." He said it's the message that both he and McCoy constantly preach every single time.
Disney World of Sports—Future goal for the Warehouse
California, Arizona, New Jersey and Texas are a few places that many high school athletes flee to for training purpose. McCoy and Romano want the Warehouse to become that arena for every athlete.
Both have seen studs like Jeremiah Moon and Nolan Turner sign with top notch programs.
"It's all about getting these kids to be self-motivated," Romano said. "You have these high school coaches that are on you, but it's about being self-motivated so when you arrive on campus in college you are ready to go."
Stephen M. Smith is a senior analyst and columnist for Touchdown Alabama Magazine. You can "like" him on Facebook or "follow" him on Twitter, via @Smsmith_TDALMag.