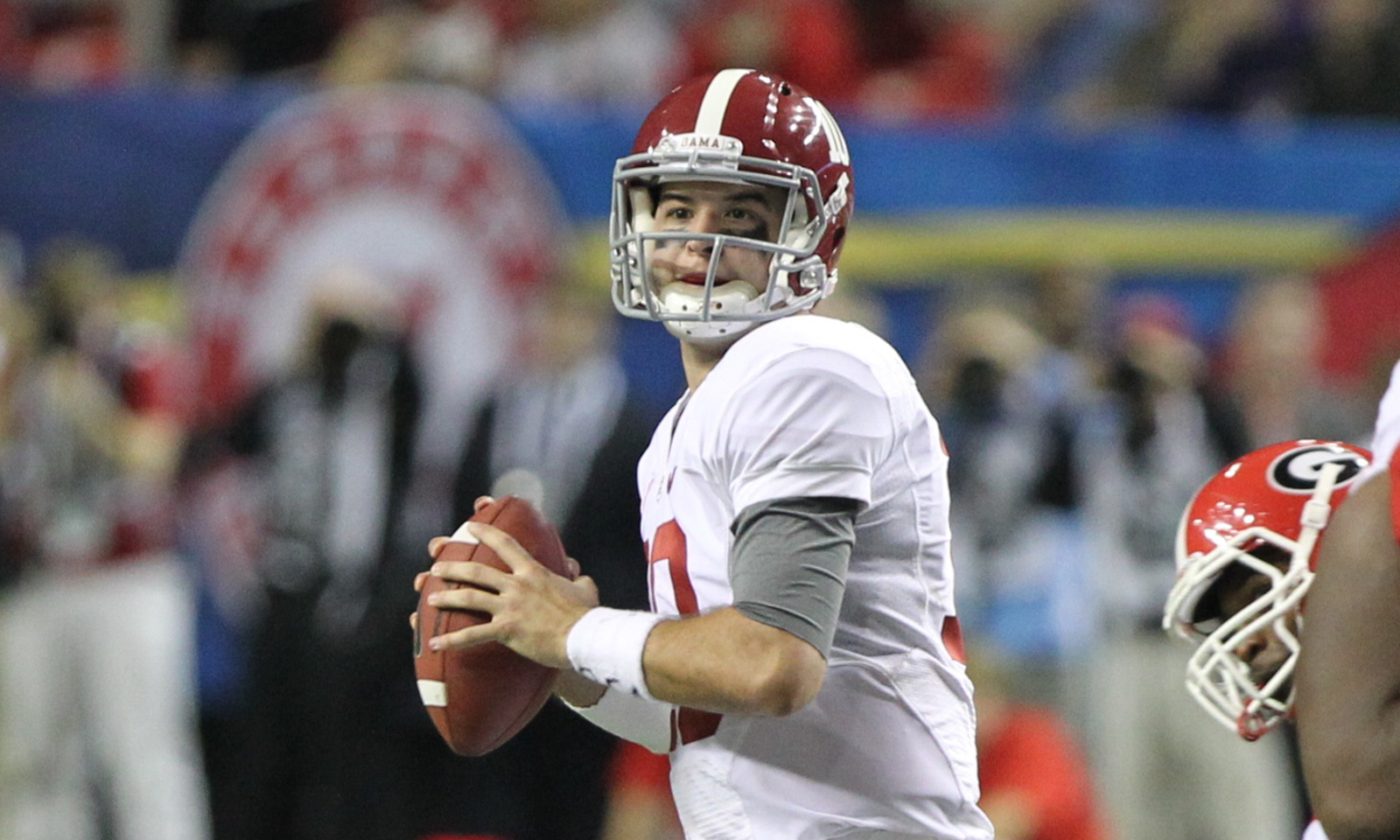 *Disclaimer: Article only depicts accomplishments at Alabama
Quarterbacks are the glamour boys of football and despite the scrutiny they face in defeat, it is the most confident position group to interview after a win. Running backs kicked off this "top 10 of all-time" series, but now we dive into some of the best signal callers in Alabama history.
Regardless of passing statistics, quarterbacks at Alabama are judged on wins and guiding their respective unit to national championships. Various styles were executed on offense from Wallace Wade (1923-30) to Nick Saban, but the goal was to make sure each quarterback was prepared.
Listed below is a rundown of the top 10 best quarterbacks in Crimson Tide history.
10. Greg McElroy (2006-10)
McElroy was the first quarterback to win a national championship at Alabama under Nick Saban, but it does not happen without the efforts of John Parker Wilson (predecessor, 2008).
After a 12-2 finish in 2008, McElroy took over as the starter in 2009.
He helped Alabama go undefeated in the regular season, setting up a rematch in the 2009 SEC Championship Game against Florida.
The Crimson Tide would earn a 32-13 victory and clinch a berth in the 2010 BCS National Championship Game where it defeated No. 2-ranked Texas, 37-21.
McElroy guided the program to two bowl victories, while compiling a 24-3 record.
Career stats (passing): 66.3 percent, 5,691 yards, 39 touchdowns, 10 interceptions
Best season: 2010—70.9 percent, 2,987 yards, 20 touchdowns, five interceptions
His 5,691 passing yards and 39 touchdowns both are in the top five in school history.
9. Jay Barker (1991-94)
Barker came to Alabama under a solid coach (Gene Stallings), a nasty defense and a strong running game.
In 1992, he helped the Crimson Tide secure its first national championship since Bryant. Alabama finished a perfect 13-0, winning an SEC championship and a Sugar Bowl title to go along with the national championship.
Barker encountered only two losses as a starter, but Antonio Langham's lapse in judgment (taking impermissible benefits) forced the NCAA to have the Tide forfeit its wins from the 1993 season. As a result, the school was left with a 1-12 record (Gator Bowl win over North Carolina, 24-10).
Career stats (passing): 56.9 percent, 5,689 yards, 26 touchdowns, 24 interceptions
Barker led Alabama back into postseason action in 1994, as the team went 12-1.
He recorded 1,996 passing yards during the 1994 season with 14 touchdowns and five interceptions. He won the Johnny Unitas Golden Arm award and was named SEC Offensive Player of the Year. Barker would end up being fifth in the 1994 Heisman voting.
His 5,689 career passing yards is sixth all-time in school history.
8. Mike Shula (1983-86)
Coach Walter "Ray" Perkins witnessed one of the toughest quarterbacks in Shula.
He came after Walter Lewis in 1984 and compiled a 24-11-1 record as a starter.
Career stats (passing): 54.2 percent, 4,069 yards, 35 touchdowns, 30 interceptions
Best season: 1985—60.3 percent, 2,009 yards, 16 touchdowns, 8 interceptions
Shula was special in his second year as a starter, guiding Alabama to wins over Auburn, Georgia and Mississippi State in 1985. He took the team to the Aloha Bowl where it defeated Southern California (USC) 24-3, capping its season at 10-3.
Shula appeared in three bowl games with the Tide (won all three), including two as the starting quarterback. He stands 10th all-time in passing yards and fifth in touchdowns.
7. Walter Lewis (1980-83)
Lewis paved the way for players like Andrew Zow (1997-01) and Blake Sims (2010-14), becoming the first African American quarterback to start at Alabama.
He was the final quarterback to play under coach Bryant (1980-82), guiding the team to bowl victories in 1982 and 1983.
During his tenure with the Crimson Tide, Lewis was able to compile a 35-12-3 record.
In 1982, he led the nation in passing yards per attempt (9.2) while earning the nod as team captain in the 1983 season.
Career stats (passing): 56.7 percent, 4,257 yards, 29 touchdowns, 27 interceptions
Career stats (rushing): 400 carries, 1,442 yards, 13 touchdowns
Lewis totaled 1,991 passing yards, 338 rushing yards and 19 touchdowns in 1983, helping Alabama go 8-4 and win the Sun Bowl. His efforts that season secured him a ninth place finish in the Heisman voting.
His 4,527 career passing yards ranks him ninth all-time in school history.
6. Steadman Shealy (1977-79)
Shealy was the second quarterback under Bryant to win a national championship as both a backup and a starter (Steve Sloan, 1964-65).
He backed up Jeff Rutledge (1975-78) for two seasons, prior to earning the starting job in 1979.
Coach Bryant's wishbone offense did not generate a lot of passing opportunities, but Shealy guided the 1979 team to a 12-0 season. Alabama would win an SEC championship, a Sugar Bowl title and be recognized as national championships, courtesy of the Associated Press.
Shealy was 12-0 as a starter and suffered only three losses during his time at Alabama (35-3 overall).
He was a three-time Sugar Bowl champion and two-time SEC champion.
Career stats (passing): 55.7 percent, 924 yards, five touchdowns, five interceptions
5. Pat Trammell (1959-61)
Trammell was the first quarterback in the dominant era of Paul Bryant.
Career stats (passing): 52.0 percent, 1,631 yards, 9 touchdowns, 4 interceptions
Career stats (rushing): 307 carries, 1,119 yards, 15 touchdowns
Trammell had his best season in 1961, totaling 1,035 passing yards, 279 rushing yards and 17 touchdowns. He was awarded Southeastern Conference Player of the Year.
He finished fifth overall in the 1961 Heisman Trophy voting while guiding Alabama to an 11-0 season, ending with a SEC title, Sugar Bowl Trophy and its first national title under Bryant.
4. Kenneth Stabler (1965-67)
His skill set on the field and bond with coach Bryant inked him as a forever fan favorite.
Stabler was the backup quarterback on Alabama's 1965 national championship team, but got his chance to start in 1966.
He compiled a 19-2-1 record as a starter, while going 28-3-1 in his tenure on the Tide's roster.
In 1966, Stabler cashed in on his opportunity by leading the team to an 11-0 season. Alabama would be named co-champion of the SEC and winners of the Sugar Bowl.
Best season: 1996- 64.9 percent, 954 passing yards, nine touchdowns, five interceptions
Career stats (passing): 59.4 percent, 2,196 yards, 18 touchdowns, 18 interceptions
Career stats (rushing): 265 carries, 838 yards, nine touchdowns
Stabler and the Tide had high hopes for a national championship in 1967, but the dream was not accomplished. He did, however, guide the program to a 7-3 victory over Auburn in the Iron Bowl. His 53-yard touchdown run, known simply as "Run in Mud," was the lone touchdown of the game. Stabler took the team to two bowl games as a starter.
He finished the 1967 season being first in the SEC in five passing categories: pass completions (103), pass attempts (178), completion percentage (57.9%), passing touchdowns (nine) and total touchdowns (14).
Former Alabama quarterback AJ McCarron and coach Nick Saban both regarded Stabler as one of the greatest quarterbacks and competitors to ever put on a Crimson Tide jersey.
3. AJ McCarron (2009-13)
Fans of the Paul Bryant era grew up with Joe Namath, Kenny Stabler and Steve Sloan while in the same manner, fans of the Nick Saban era studied the development of McCarron.
The combination of Saban and McCarron became prolific in the early parts of Saban's run to the top of college football.
He watched Alabama go 14-0 and capture a national championship in 2009; the year McCarron took a redshirt.
McCarron obtained the starting job in 2011 and would not look back.
He carried the squad to two BCS national titles (2011, 2012) and an SEC championship in 2012.
McCarron compiled a 36-4 record as a starter, making him the winningest quarterback in school history.
Best season: 2012- 67.2 percent, 2,933 yards, 30 touchdowns, three interceptions
His 3,000-yard (3,063) passing output in 2013, earned him the Johnny Unitas Golden Arm award, Maxwell Award and a second place finish in the Heisman race (Jameis Winston, 2013 Heisman winner).
During his time under Saban, McCarron saw Alabama achieve a 50-7 record with three national championships, two conference championships and five bowl appearances (four wins).
His 9,019 career passing yards and 77 touchdowns are both first all-time in school history.
2. Joe Namath (1962-64)
Whether he goes by "Broadway Joe" or "Joe Willy," Namath was a winner at Alabama.
Like Stabler, Namath carried a father/son relationship with coach Paul Bryant.
He held a 29-4 record as a starter, with his best season coming in 1964.
Namath carried the team to a national championship in the 1964 season, as it posted a 10-1 mark.
Career stats (passing): 54.3 percent, 2,713 yards, 24 touchdowns, 20 interceptions
His toughness as a runner and competitor guided him to 15 career rushing touchdowns.
In 1962, Namath led the SEC in passing yards per attempt (8.2), pass efficiency rating (139.1), total touchdowns (17) and passing touchdowns (13).
Alabama won an SEC championship in 1964 and notched three bowl wins in Namath's tenure.
1. Harry Gilmer (1944-47)
Gilmer was the first definition of  an "all-purpose" athlete for Alabama.
He served at quarterback, running back, defensive back, punter and return man under coaches Frank Thomas (1944-46) and Harold Drew (1947).
His versatility delivered Alabama a 30-9-2 all-time record under his tenure.
Gilmer would total 2,894 passing yards, 1,673 rushing yards and 50 touchdowns in his career.
He averaged 36.4 yards a punt, while recording 28.7 yards per kick return and 13.5 yards per punt return.
Gilmer took the Crimson Tide to three bowl games (1945 Rose Bowl champion) and an SEC championship. He earned multiple accolades in 1945, including All-SEC, All-American and SEC Player of the Year.
Gilmer finished fifth in the Heisman voting in 1945 and 1947.
Tide quarterbacks inducted into Alabama Sports Hall of Fame
Joe Namath
Kenneth Stabler
Bart Starr
Harry Gilmer
Steve Sloan
Mal Moore
Scott Hunter
Jay Barker
Jeff Rutledge
Alabama quarterbacks that had success in the NFL
Joe Namath: Won Super Bowl III  and Super Bowl III MVP with the New York Jets in 1969 (1968 season)
Kenny Stabler: Won Super Bowl XI with the Oakland Raiders in 1977 (1976 season), a four-time NFL Pro Bowl selection (1973-74, 1976-77), NFL MVP in 1974
Bart Starr: Became the first NFL quarterback to win two Super Bowls (Super Bowl I and II, Green Bay Packers)
Jeff Rutledge: Appeared in three Super Bowls with three different teams (New York Giants, Washington Redskins, Los Angeles Rams) as the backup quarterback. Earned a ring from the 1986 Super Bowl season and 1991 Super Bowl run
Richard Todd: Took the New York Jets to the postseason twice in 1981 and 1982 as a starter.
Harry Gilmer: Played nine years in the NFL (Washington Redskins, Detroit Lions) and accounted for 3,786 passing yards, 923 rushing yards and five interceptions
Fan favorites that missed the cut
Mal Moore (member of Alabama's 1962 national title team)
Scott Hunter
Andrew Zow (led Alabama to 1999 SEC championship)
Brodie Croyle
Blake Sims (Guided Alabama to SEC championship, 2014)
Jacob Coker (Guided Alabama to national championship, 2015)
Stephen M. Smith is a senior analyst and columnist for Touchdown Alabama Magazine. You can "like" him on Facebook or "follow" him on Twitter, via @Smsmith_TDALMag.