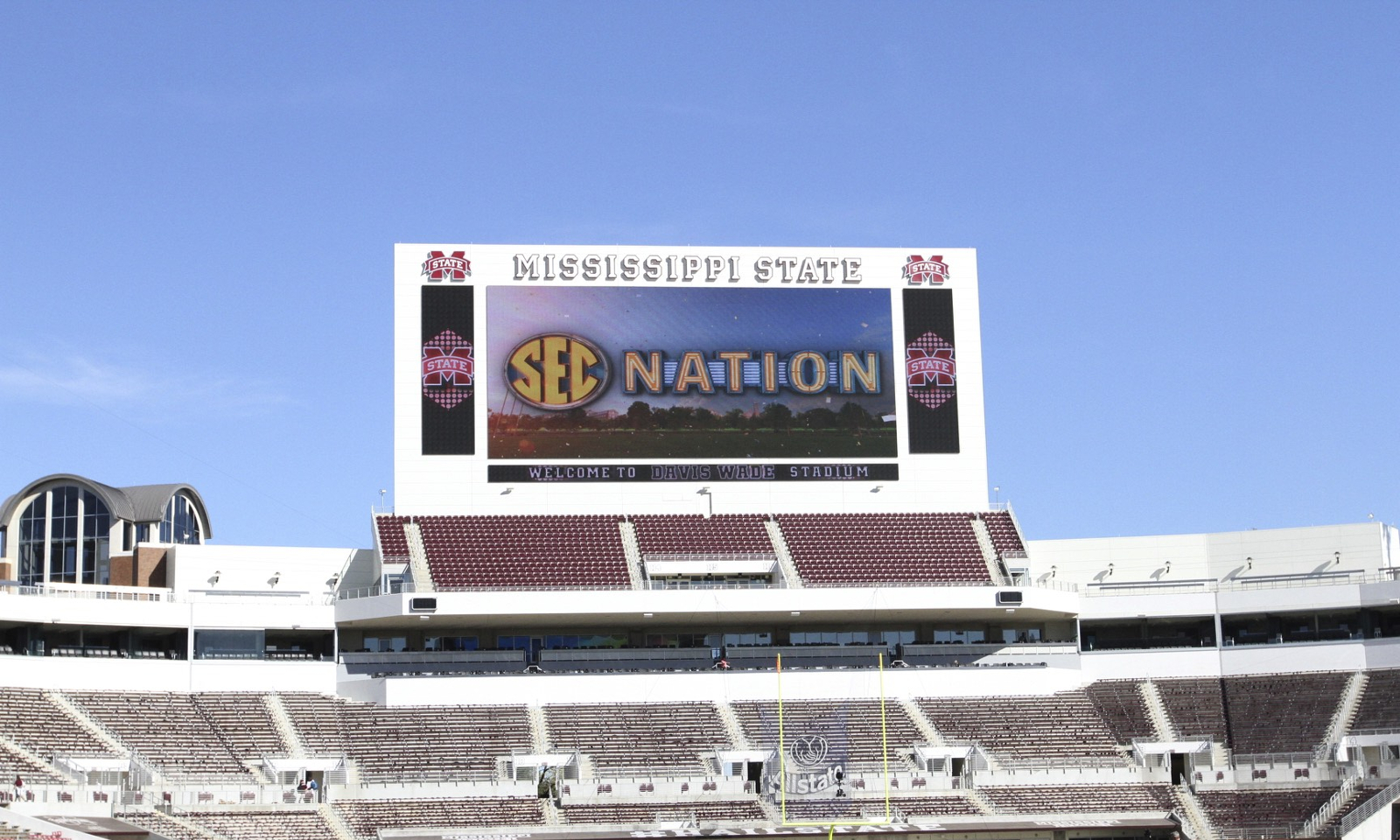 What if it was your wife or daughter?
That's the question that caused the biggest stir in Hoover on Tuesday. And Mississippi State head coach Dan Mullen really didn't have a good answer for it.
The media really pushed Mullen when it came to the domestic violence incident involving Jeffrey Simmons. The five-star freshman was recorded repeatedly hitting a woman in March but was still enrolled last month to the university. As a punishment, Simmons was handed a one-game suspension for his actions.
Dan Mullen's comments on Tuesday might make you believe that he had nothing to do with the decision on what his punishment would be. When asked if he thought it was a fair punishment, Mullen said he hadn't really thought about it.
The head coach of an SEC football team didn't give much thought to how he should handle one of his football players being involved in an assault. Mullen says that he made the decision to allow Simmons on the team but was not involved with the decision on the punishment – two decisions which were probably made in the same room.
Now, we understand that people can thrive with a second chance and I hope that Jeffrey Simmons is one of them. And as Mississippi State's AD Scott Stricklin said, the structure and discipline of a football team could help kids like Simmons live a better life.
But it was Mullen who continued to say the wrong things throughout the day. The coach had to know these questions were coming today but still seemed unprepared.
One media member pushed Mullen and asked how he would feel if it was his wife or daughter that was being beaten on. That's when things started going in the wrong direction. Mullen said he didn't like to deal with hypotheticals and said his family would not be in that situation.
With all due respect to Coach Mullen, there is no certainty that you can know whether or not someone will be affected by an assault in their lives. I never wish it upon his family or anyone else but he cannot be certain that it will never happen.
Mullen said he was thrilled to have Simmons as a part of the team. He said it would not be right for a kid to lose his chance at a future because of 10 seconds of video.
Ten seconds of a two minute video that showed Simmons repeatedly beating on a woman.
Ten seconds that has cost Simmons four quarters of his college career.
Ten seconds that can leave a psychological scar on a woman for a long time.
This isn't to bash Mullen, Simmons or even Mississippi State University. Simmons issued an apology and I hope being a part of the football program can change him. Mullen said that he is responsible for all of his players and their actions while the university says Simmons will be kept on a short leash.
However, this is just another incident where the system has not stood up for what is right. It is not about what is best for the football program or the player. It is about what is right.
These discussions pop up around the country and have been heavily involved with the NCAA over the last few months. Mullen's "ten-second" argument may sound similar to that of a Stanford athlete's father.
The only way to make sure the culture is changed is to make sure young athletes know what they have to deal with when they make a mistake. If players will only miss one game for assaulting a woman, what makes us think the assaults will stop? Players, coaches and everyone else in the programs need to understand that it has to be a continuous process.
Tennessee had to deal with a Title IX lawsuit and even though they had a settlement, coach Butch Jones continues to say that it is not behind them and they have to continue to teach the players. And even that couldn't have helped Simmons in his situation.
This issue needs to be addressed before kids make it onto a college football team. Whether it's in a high school football locker room or a high school core class, something needs to change.
I can't sit here and pretend I know all of the behind the scenes information about these particular cases. However, we also can't sit here and pretend that we have solved the problem already.
The culture needs to change. And with the influence that SEC football programs have, they should be a good place to start.