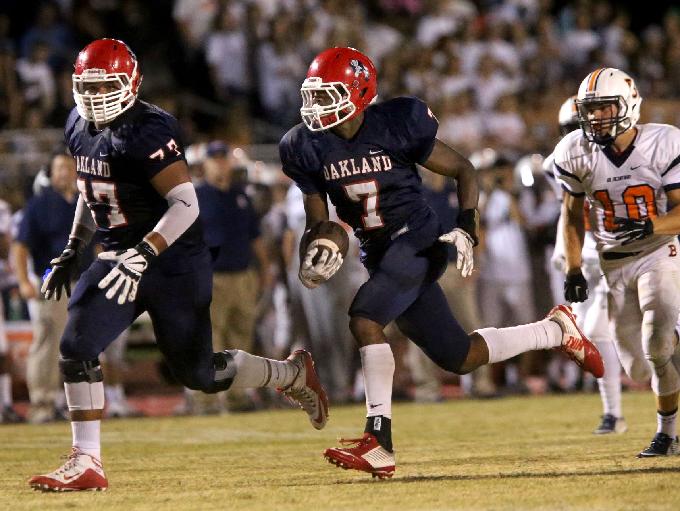 August is already slated to be a big month full of commitments that include Alabama. 4-star offensive lineman Kendall Randolph is set to commit August 2nd and 3-star James Clemens cornerback Kyriq McDonald could potentially commit the same day. On August 15, 5-star wide receiver Devonta Smith is set to commit as well, all three of the prospects have Alabama in the running.
Now you can add 5-star, No.1 overall athlete Jacoby Stevens to that list.
Stevens has confirmed that he will make his commitment on August 8 and that his four finalists are Alabama, Auburn, Georgia and LSU. The announcement will be at Oakland High School at 2:30 PM central time.
The Murfreesboro, TN native plays wide receiver and safety for the Patriots, playing at an elite level at each position. Although many, including Touchdown Alabama have predicted him playing safety in college, he has noted that programs have let him know that he can play both sides of the ball.
At 6-2, 200 pounds he has a great frame to play either position but his athleticism and awareness would make him an excellent safety at the next level.
Breaking down Stevens' Top 4:
Alabama: Since the Xavier McKinney decommitment, Stevens' name has been swirling to take that vacant safety spot. He, like McKinney is a pure playmaker and would fit well into the system in that free safety spot. The depth at that specific spot does not go very far and with Jacoby Stevens' natural awareness and ball skills, he could be a great fit in Jeremy Pruitt's attacking defense.
Auburn: Once again, Alabama will battle its in-state rival for a blue chip recruit and with Auburn they have already picked up four athletes in the class, two or three of which could or will play defensive back. So the depth is not really there, but his skill set appeals to what Auburn does on both sides of the ball. This could definitely be one of those schools that lets him play on both sides.
Georgia: Georgia has been thought by many to be the leader in his recruitment and probably for good reason. Kirby Smart is putting together a nice class in Athens and bringing Mel Tucker was huge move by Smart because Stevens has a good relationship with Tucker and that carried over from Alabama too. He would be joining one of the nation's top safeties Richard LeCounte III and they could be a scary combo in Athens.
LSU: Stevens was previously an LSU commit and they never were out of the race. The Tigers have a big safety committed in 6'4″, Grant Delpit who would be an ideal strong safety opposite Stevens in Death Valley. He obviously had trust in LSU's staff once, its hard to count out that kind of trust.
Justin Wagner is the Lead Recruiting Analyst for Touchdown Alabama. You can follow him on Twitter at @jwag718.