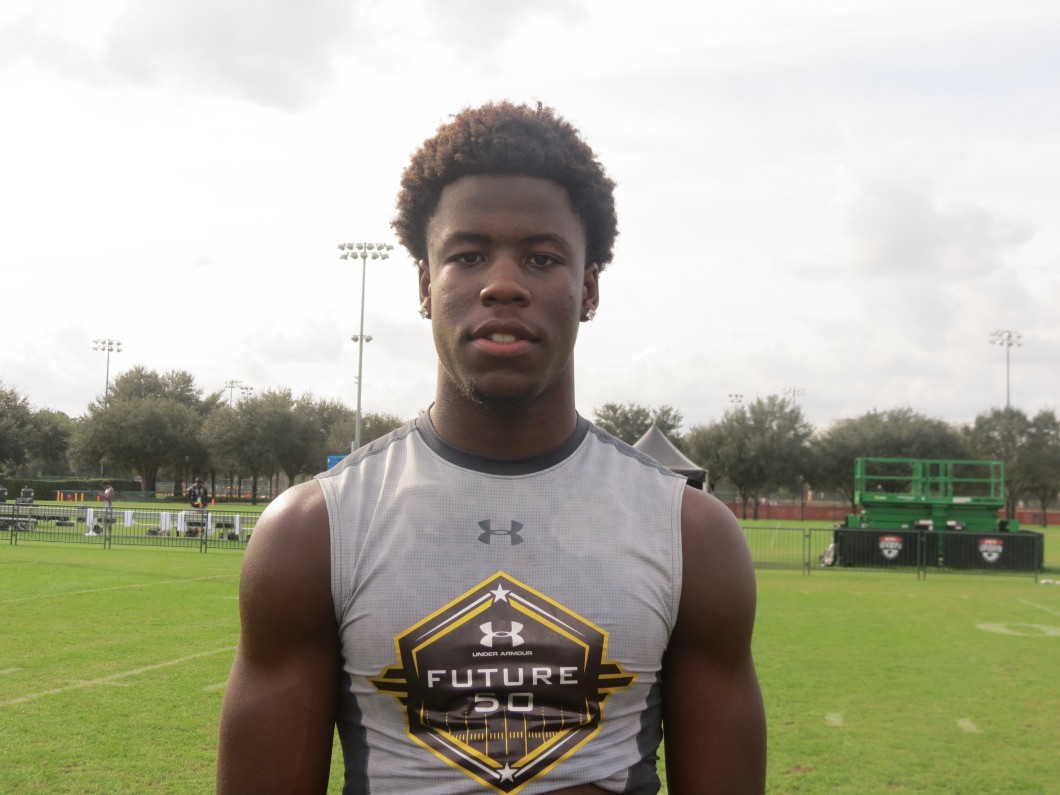 After a long wait, Touchdown Alabama's top wide receiver, Jerry Jeudy is set to make the decision on where he will take his talents.
Jeudy made the announcement on his Twitter page Wednesday afternoon.
https://twitter.com/jerryjeudy/status/758295384544378882
Alabama, Florida, Florida State, Miami and Tennessee are the final suitors for the elite Deerfield Beach talent. This trimmed list comes seven months after he released a top ten. Since that list, he has attended the Under Armour Future 50 camp, accepted an invite to play in this year's Under Armour All American Game, dominated The Opening Miami Regional, make it to The Opening Finals where he was locked in with Alabama QB commit Tua Tagovailoa and had a big week, dominating multiple schools' camps and nearly breaking the internet after embarrassing a corner at Florida's 'Friday Night Lights' camp. You could say it's been a big year for the speedy receiver.
"Dominate EveryTime"❗️ pic.twitter.com/LrfUz0DCOa

— Jerry Jeudy⁴ (@jerryjeudy) July 23, 2016
Let's break down the final five for 6'1″, 180 pound prospect:
Alabama: Alabama has been seen as the leader for Jerry Jeudy for some time now and that comes with good reason. He has a strong relationship with sophomore star wide receiver, Calvin Ridley as well as other south Florida natives like senior safety Eddie Jackson. He has been dubbed Ridley 2.0 and definitely has the talent to be just that. Alabama has depth at wide receiver but I don't forsee that being an issue for Jeudy. His strong relationship with Alabama QB commit Tua Tagovailoa certainly can't hurt the Tide's chances either. He visited Tuscaloosa on July 18th.
Florida: Florida has always been a player in Jeudy's recruitment but not nearly as heavy as they are now. He lit up their 'Friday Night Lights' camp last week. They have a young wide receiver core after picking up five in the last class and their leading receiver Antonio Calloway being a sophomore, but again depth doesn't seem to be a huge issue with Jeudy. They do have good young QBs coming in with Felipe Franks in the 2016 class and Jake Allen another south Florida (St. Thomas Aquinas) product in the 2017 class, which has to be intriguing for Jeudy.
Florida State: Like Florida and Alabama, Florida State has been a player for a long time in his recruitment and unlike Florida and Alabama their wide receiver depth is not much beyond Travis Rudolph, Kermit Whitfield and Ermon Lane and if you add early enrollee Keith Gavin, there is still room for Jeudy to be an instant impact. He has taken a visit there and did enjoy his time in Tallahassee. The Noles only have one wide receiver commit in the 2017 class with 4-star D.J. Matthews out of Jacksonville, so again the depth is not an issue.
Miami: Miami is the hometown team and has produced some pretty good receivers to say the least, so it is definitely not easy to count them out of this but I think they came on a little too late to surpass Alabama and Florida and maybe even Florida State. The Canes have decent depth at wide receiver as they will lose Stacey Coley this year but will return junior Braxton Berrios for his senior year and Lawrence Cager for his junior year and will add 4-star Sam Bruce and 4-star Dionte Mullins (if he qualifies). Wide receivers coach Ron Dugans has become a recruit favorite and if they do land Jeudy it would be a surprise but Dugans will undoubtedly have a gem in among his three other wide receiver commits in the 2017 class.
Tennessee: Tennessee has sort of been a silent player in this process. He did take an official visit there for Tennesse's 'Orange Carpet Day' in June and seemed to enjoy himself and Tennessee's new uniforms. This was after another unofficial visit in April. The Vols have three receivers in the 2017 class and picked up 5 in the 2016 class so they are definitely deep but young at receiver. The Vols would undoubtedly be the upset pick for Jeudy.
I, probably like everyone else am going to predict Jeudy to pick Alabama tomorrow night, I think him having that big week connecting with Tua Tagovailoa and hearing from all the Alabama commitments there may have set it just over the top. He can contend for a championship consistently and with hard work end up being an early contributor just like his guy Calvin Ridley and Amari Cooper in the past. Ridley will be the next south Florida superstar to take Tuscaloosa by storm. If not the Tide, it's got to be Florida followed by Miami, Florida State and Tennessee in that order if not Alabama or Florida.
The commitment announcement is at 8:30 PM EST on The Tony Sands Show in Fort Lauderdale at the Atrium Lounge. Here is a link to the live show: https://t.co/tpOaoD0TW0
Justin Wagner is the Lead Recruiting Analyst for Touchdown Alabama, you can follow him on Twitter at @jwag718.