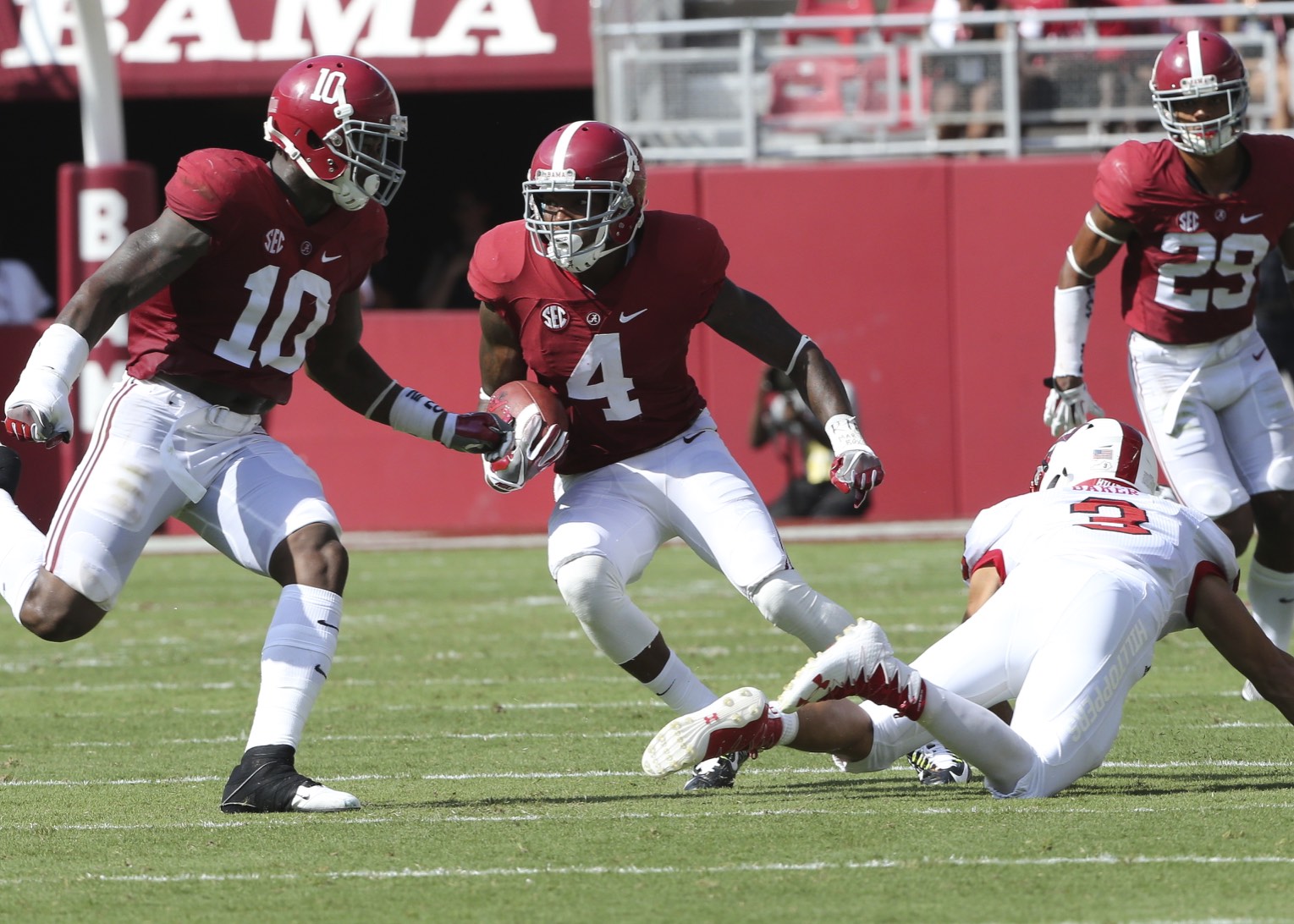 Eddie Jackon's injury will surely shuffle the starting positions in the Alabama defensive backfield, but the Tide isn't worried. It's just time for the "Next Man Up".
With Eddie Jackson Out, It's "Next Man Up" at Alabama
By: Larry Burton
Of all the positions that Alabama could ill afford an injury, perhaps it is in the defensive secondary. Had Maurice Smith not transferred to Georgia, maybe it wouldn't seem so dire at first glance, but the Tide still has adequate reserves and now it's time to take a look at them.
Following the game, Saban told the press corp, "On a down note, Eddie Jackson has a fractured leg and he will be out for the season. Eddie was fantastic player for us, a great leader, I think an All-American player as a safety, at least in my book and we're certainly gonna miss him. But what a great player, what a great competitor and what a great guy to have in this program for the time that he's been here."
"He's done a fantastic job for us, and I'm just sick for him and his family and hate it. It's one of the things about sports, all sports, that we all have to deal with sometimes is injuries. It's unfortunate, especially when it happens to a great guy and a very, very good player. We'll certainly miss him." Saban concluded.
Rumor has it out of Tuscaloosa that Tony Brown has been shadowing Eddie Jackson and he may now find it's time for him to step into those shoes. Brown, a 6'0" 195 pound junior has the size and speed to play one of the safety spots. That's the same measurements as Eddie Jackson. In Saban's system, Brown has played at both corner and safety and is a versatile athlete. He was a consensus five-star prospect coming out high school and has yet to live up to the great promise he possesses.
But there are others.
After Jackson left the game with the injury, Ronnie Harrison took his spot at free safety and Hootie Jones came in and took Harrison's spot at strong safety. That combination worked well for the rest of the game and Alabama could continue in that combination with Brown filling in on nickel and dime packages.
There are other reserves as well such as Deionte Thompson, Trevon Diggs and more.
But whoever the coaches choose and whatever the combination is, the players have confidence in one another and expect business as usual.
Saban is much more comfortable rotating players in and out than most coaches who ride their main horses the whole race. But in situations like this, Saban knows how important it is to have replacements with more than practice experience. Now with Jackson going down, that experience will help the replacement a lot.
Still, the secondary is the Achilles heel on defense and it will be interesting now to see if teams pick on the secondary even more.
Larry has been published in almost every media outlet for college sports and now primarily writes here for Touchdown Alabama. Follow Larry on Twitter for inside thoughts and game time comments at https://twitter.com/LBSportswriter
THANKS FOR SHARING THE LINK TO THIS STORY ON YOUR FACEBOOK PAGE OR A FACEBOOK GROUP YOU BELONG TO, FACEBOOK RESTRICTS HOW MANY PLACES WE CAN POST IT ON, SO PLEASE SHARE!
Ronnie Harrison slid from strong safety to free safety. Hootie Jones stepped in at strong safety.