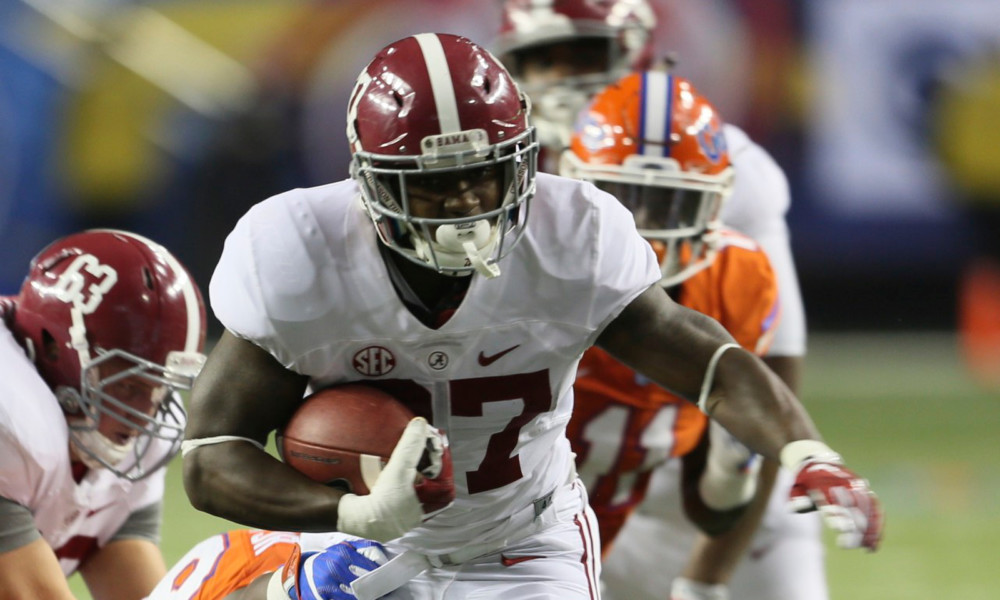 In today's era of college football, media personnel and fans alike get so caught up with big names and five-star athletes. These players are important, but what makes them larger than life are the ones that newspapers and magazines don't have on the cover. It's the individuals that scrap and claw from Monday to Friday that deserve the most praise, because their the ones preparing the headline names for glory on Saturdays in the fall.
One of those endearing personalities happens to be former walk-on running back, Derrick Gore.
He accounted for two special moments in the Southeastern Conference Championship Game against Florida, including a blocked punt that was returned by Josh Jacobs for a 27-yard touchdown in the first quarter.
After having an impact on special teams, coach Nick Saban rewarded the junior by inserting him into the game on offense during the fourth quarter. All of the hitting, running, sweating and providing the Tide's defense with looks in practice finally paid off. The Syracuse, N.Y., native stood face to face with the end zone on a third and goal with 10 yards to go. He would take the hand-off from Cooper Bateman and run up the middle for his first career touchdown as an Alabama back. Upon the end of being hounded by teammates, Gore would salute the Tide fan base that's become a proud supporter of him. His contribution aided the Tide to a 54-16 win over Florida, earning its third straight conference title. Gore's journey from Coffeyville Community College (Kansas) to the gold standard of college football hasn't been easy, yet his passion makes him a diamond.
With laughter inside the locker room, junior defensive end Da'Shawn Hand almost wanted to cry when yours truly of TDAL Magazine brought the beast from the "Big Apple" in a conversation.
"Derrick Gore is just phenomenal," Hand said. "When you talk about a person that never complains and is hard working, he just does what he has to do and it paid off in this game."
Gore and his brothers will certainly enjoy this win, but their attention now shifts to the College Football Playoff where Alabama is scheduled to face No. 4- seed Washington in Atlanta on Dec. 31
Stephen M. Smith is a senior analyst and columnist for Touchdown Alabama Magazine. You can "like" him on Facebook or "follow" him on Twitter, via @Smsmith_TDALMag.