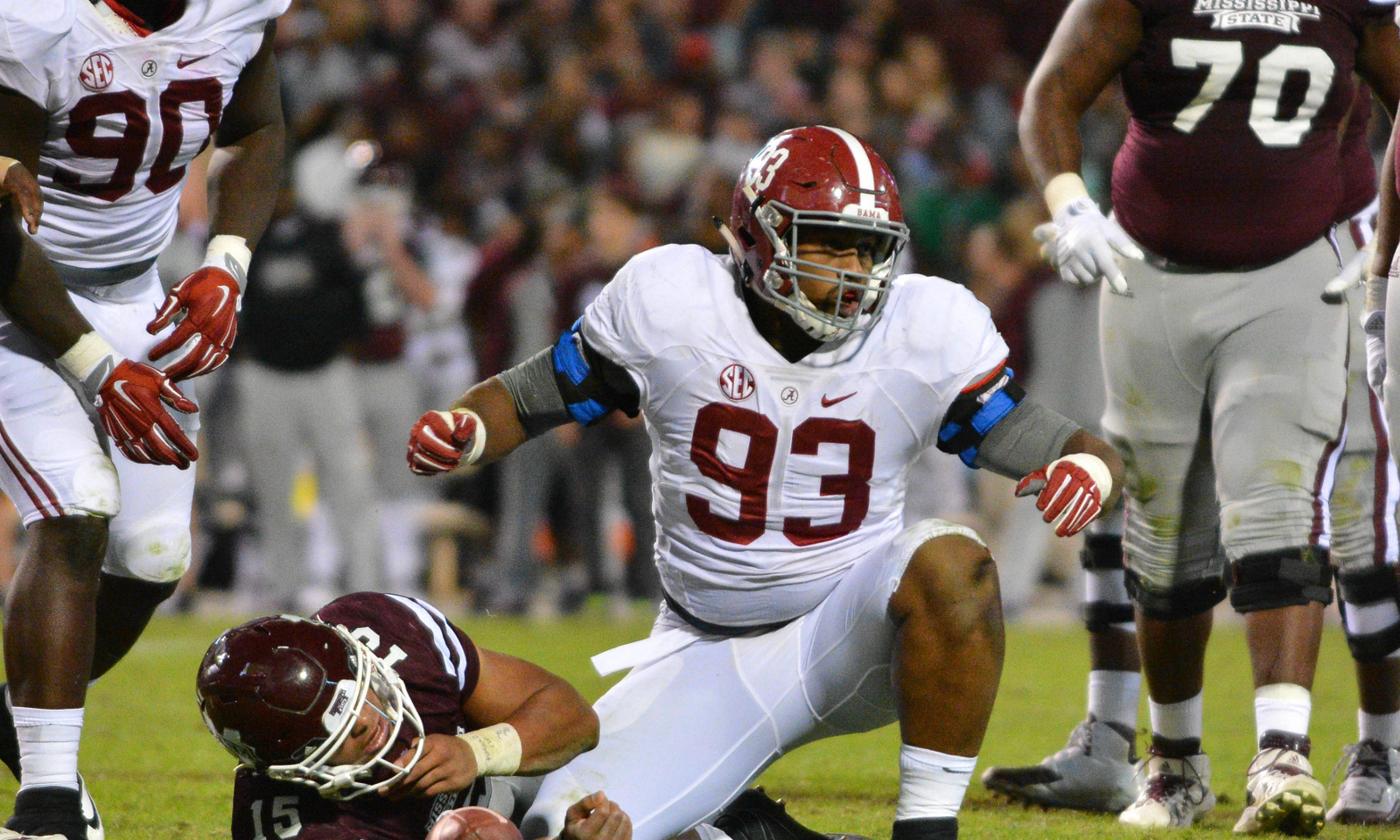 When Alabama head coach Nick Saban speaks about trusting "the process", that statement was exemplified ten-fold when senior defensive lineman Jonathan Allen opted to return for his senior season earlier this year.
While Allen was projected to go as early as the 2nd round in the 2016 NFL Draft, he made the mature decision to return for one more year and hone his craft to further prepare him for a career in professional football. Fast forward several months later, and Allen is the best player in the college football, and one can argue it's not even close.
The senior leader does so many things well and while his tangibles leap (literally) off the screen, it is his intangibles that will make him a top-5 draft pick next April. With Allen, he brings a level of focus and intensity unseen by the typical college athlete. From the moment he stepped foot on campus, he had a desire to be the best and a determination to make others around him better.
That is exactly what Allen does on a daily basis.
With 56 total tackles, 13 tackles for loss, 8.5 sacks, 15 quarterback hurries, and two defensive touchdowns, Allen's stats are enough to catch every NFL general manager's eyes and he even garnered some early attention for Heisman consideration. Unfortunately, defensive linemen are not the sexiest of positions, and unless one is putting up video game-like numbers, they won't receive meaningful consideration for the coveted award.
However, Allen has been a force from the very start and his play not only inspires his teammates, but the entire defense feeds off of his leadership as well. Allen's selflessness was in fact a trickle down effect as others such as Reuben Foster, Tim Williams, Eddie Jackson, and OJ Howard all decided to forego riches for the sake of doing something bigger than themselves and trusting that Saban's process would ultimately yield better fortunes for all of them.
So far so good as each of these players have drastically increased their draft stock, and with Allen leading the way into a potential top-5 selection, he's exactly what Coach Saban preaches about and expects from each of his players.
Allen may not win any awards this year, but with his defense leading most of the statistical categories, he's proving why he's one of, if not the best player in the country.
Brandon Williams is an Editor and Columnist for Touchdown Alabama. You can follow him on Twitter, @BWilliamsTDAL, "Like" him on Facebook, or add him to your network on Google.