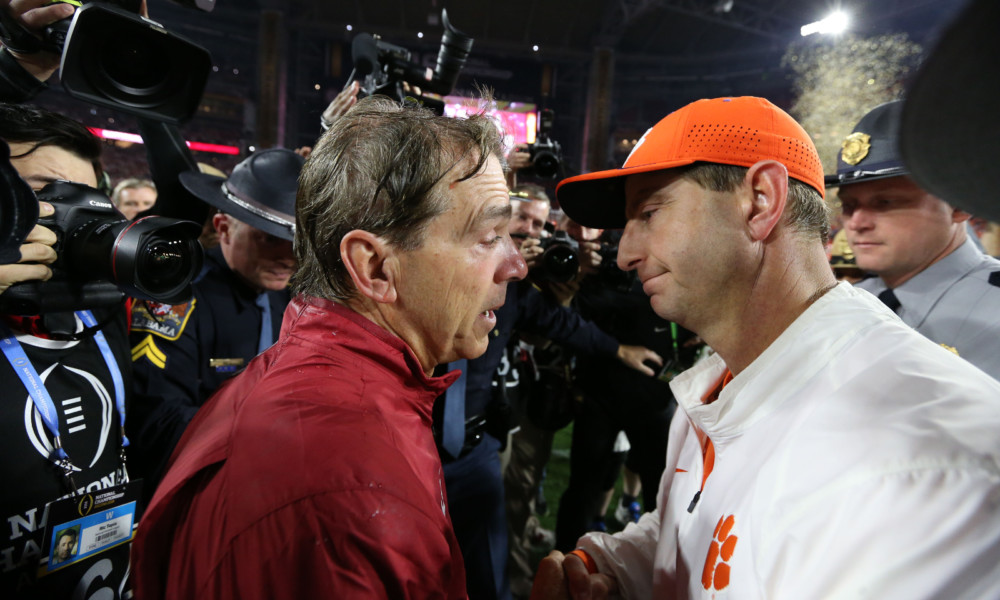 It has arrived.
The College Football Playoff will kickoff today at 3 p.m. in the Georgia Dome when the undefeated Alabama Crimson Tide face the Washington Huskies. Clemson and Ohio State will face off in the Fiesta Bowl just before the college football world rings in the new year with conversations of a national championship matchup. We built a complete preview and ranked the teams in six different categories before making predictions.
COACHING STAFFS
You could argue that the four teams in the College Football Playoff has the best four head coaches in the country. Nick Saban and Urban Meyer have cemented themselves at number one and number two, respectively, but Chris Peterson and Dabo Swinney could make the jump with a win or two in this year's playoff. Saban's five national championships easily gives him the top spot while Meyer earns the second spot with three titles of his own and a playoff win over Saban in 2014. I give the nod to Peterson for number three based off what he has done for the Washington program and how quickly they have gotten to this point but Swinney is a close fourth after bringing his team to a second consecutive playoff.
1. Alabama Crimson Tide; 2. Ohio State Buckeyes; 3. Washington Huskies; 4. Clemson Tigers
PASSING OFFENSES
Not every team can have a guy like Deshaun Watson so it's easy to put the Tigers at number one on this list. The Tigers rank in the nation's top 10 in both passing yards per game and total passing touchdowns. Jake Browning put together a good season for Washington as well, barely falling short of the Heisman ceremony. The Huskies have thrown for 267.2 yards per game but the most impressive part is a 46:7 touchdown-to-interception ratio. Alabama and Ohio State rank in the nation's bottom half in passing offense but Jalen Hurts and the Tide get the edge here, thanks to future NFL stars like ArDarius Stewart, Calvin Ridley and O.J. Howard.
1. Clemson Tigers; 2. Washington Huskies; 3. Alabama Crimson Tide; 4. Ohio State Buckeyes
RUSHING OFFENSES
It was tough to separate Alabama and Ohio State but I give the Buckeyes the edge since they had to face two top-10 rush defenses in Wisconsin and Michigan. Ohio State is led by Curtis Samuel and averages 258 rushing yards per game. The Buckeyes have scored 33 rushing touchdowns this season, which is the most among the four playoff teams. Alabama has the highest yards per rush (5.74) of the teams in the playoff but fumbling has been an issue at times this season. Clemson is fourth in rushing yards per game but their 25 rushing touchdowns show they can run it when they need to. Wayne Gallman could be the difference maker for the Tigers this season. Washington shows great balance when they use the run game and have averaged 5.46 yards per carry this season.
1. Ohio State Buckeyes; 2. Alabama Crimson Tide 3. Clemson Tigers; 4. Washington Huskies
PASSING DEFENSES
This may be the toughest unit to rank because this could be considered the strength for each team. Alabama is second inpassing yards allowed, sacks and interceptions for touchdowns but is last in total passes intercepted. Ohio State is first in interceptions for touchdowns and passing yards allowed per game but they rank outside the nation's top-50 in sacks. Clemson leads the group in sacks and ranks third in both interceptions and passing yards allowed while Washington leads the group in interceptions but is last (still 20th nationally) in passing yards allowed per game. These four teams can probably be put in any order you want.
1. Alabama Crimson Tide; 2. Ohio State Buckeyes; 3. Washington Huskies; 4. Clemson Tigers
RUSHING DEFENSES
This is a little easier to separate the top team. Okay, it's a lot easier. Alabama has allowed 824 rushing yards and three rushing touchdowns all season; Clemson and Washington each had a game this season where they allowed three rushing touchdowns to one team. This is not to say the other three rush defenses are bad, but Alabama's 2.0 yards per carry and 63.4 rushing yards allowed per game is much better than anyone else in the country. The other three teams all rank in the nation's top 22 in rushing defense but Ohio State gets the second spot, only allowing five rushing touchdowns this season.
1. Alabama Crimson Tide; 2. Ohio State Buckeyes; 3. Washington Huskies; 4. Clemson Tigers
SPECIAL TEAMS
These rankings can vary depending on what part of special teams you want to put the most weight on so I tried to spread it out evenly. Alabama gets the edge in the punting game as the Tide are the only team to rank in the nation's top 20 of net punting and yards per punt return but are last in field goal percentage. Ohio State leads the group in field goal percentage, yards per kick return and kick return defense. Clemson is the only team not to allow a blocked kick this season but they do not rank in the nation's top 30 in any special teams statistics. Washington does not lead any of the major categories but they do not seem to have a weak spot as the Tide and the Tigers have.
1. Ohio State Buckeyes; 2. Washington Huskies; 3. Alabama Crimson Tide; 4. Clemson Tigers 
PREDICTIONS
Chick-Fil-A Peach Bowl: Alabama 27, Washington 7
I think that this game could look very sloppy from the offensive side of the ball but that may end up favoring the Huskies. If Washington's defense can force freshman quarterback Jalen Hurts into some mistakes, they will make it a close game on Saturday afternoon. I think Hurts may have a turnover or two but I think the Tide will find big plays from Damien Harris and O.J. Howard to score enough points for the nation's best defense to hold on.
PlayStation Fiesta Bowl: Clemson 38, Ohio State 28
The Tigers may have struggled in the rankings above but the one that they ranked first will make the difference. In last year's playoff, Deshaun Watson showed he could throw against any defense in the country on the biggest stage. The Buckeyes's secondary may make some plays but I do not think Ohio State's offense can score enough points to get back to a national title game.
Caleb Turrentine is a columnist and contributor at Touchdown Alabama Magazine. He also does work for Alabama's team page at Bleacher Report. Follow him on Twitter, @CalebTurrentine.