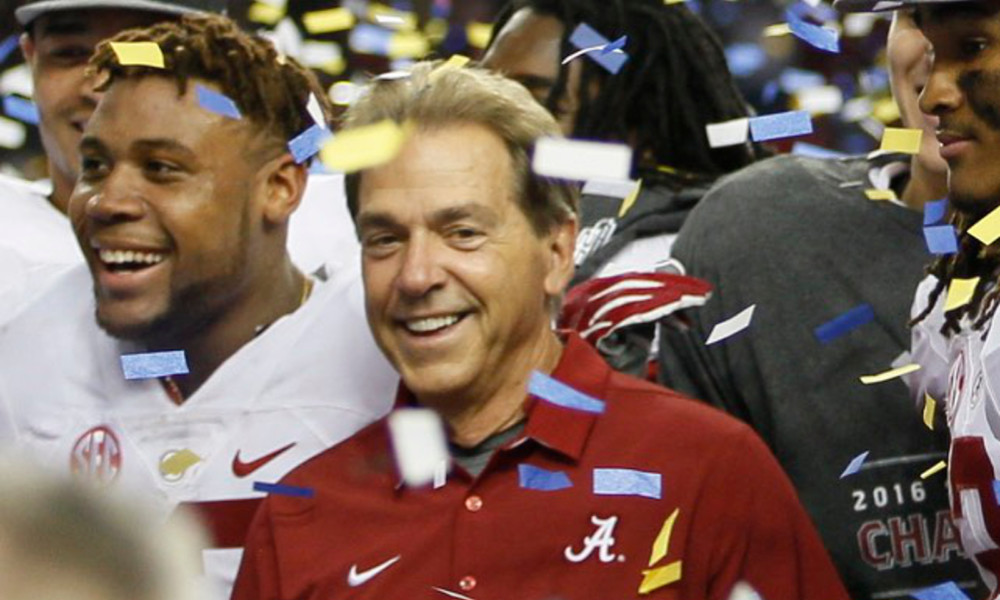 The Alabama Crimson Tide are returning to the National Championship Game to defend their title.
"They're a very competitive group of guys," Coach Nick Saban said after the game. "We've got a lot of good players and everyone did their job well."
Alabama used another strong defensive performance to beat Washington 24-7. The Crimson Tide had a slow start on offense but used a heavy dose of Peach Bowl Offensive MVP Bo Scarbrough to close the game out in the second half.
The Tide improved to 14-0 on the season and will play on Monday, January 9th against the winner of Saturday night's PlayStation Fiesta Bowl.
Scarbrough finished the afternoon with 180 rushing yards and two rushing touchdowns on just 19 carries. His 68-yard touchdown run in the fourth quarter gave the Crimson Tide a 24-7 lead, which put the game away. Scarbrough's rushing total and long touchdown run are both bowl game records for Alabama football.
Alabama trailed for the fourth consecutive game when the Huskies scored a touchdown on their second offensive drive of the game. After the 68-yard touchdown drive, Washington only managed 128 yards of offense for the rest of the game.
After Scarbrough's first touchdown run of the game tied the score, Alabama's Jonathan Allen recovered a fumble that was forced by Anthony Averett. The Tide's drive stalled but Adam Griffith tacked on a 41-yard field goal to give the SEC Champions the lead for good.
Defensive MVP Ryan Anderson followed that with a 26-yard interception return for a touchdown just before halftime, giving the Tide a 17-7 lead going into the locker room.
Alabama's defense finished the day with five sacks and two interceptions. Washington quarterback Jake Browning completed 20 passes but only averaged 3.9 yards per attempt.
Production from Jalen Hurts was not needed on Saturday but the freshman quarterback finished the game without any turnovers. He fumbled once in the third quarter and had a bad pass dropped by a Washington defender in the first quarter. Hurts finished with just 107 yards of total offense, his second lowest total of the season.
Caleb Turrentine is a columnist and contributor at Touchdown Alabama Magazine. He also does work for Alabama's team page at Bleacher Report. Follow him on Twitter, @CalebTurrentine.