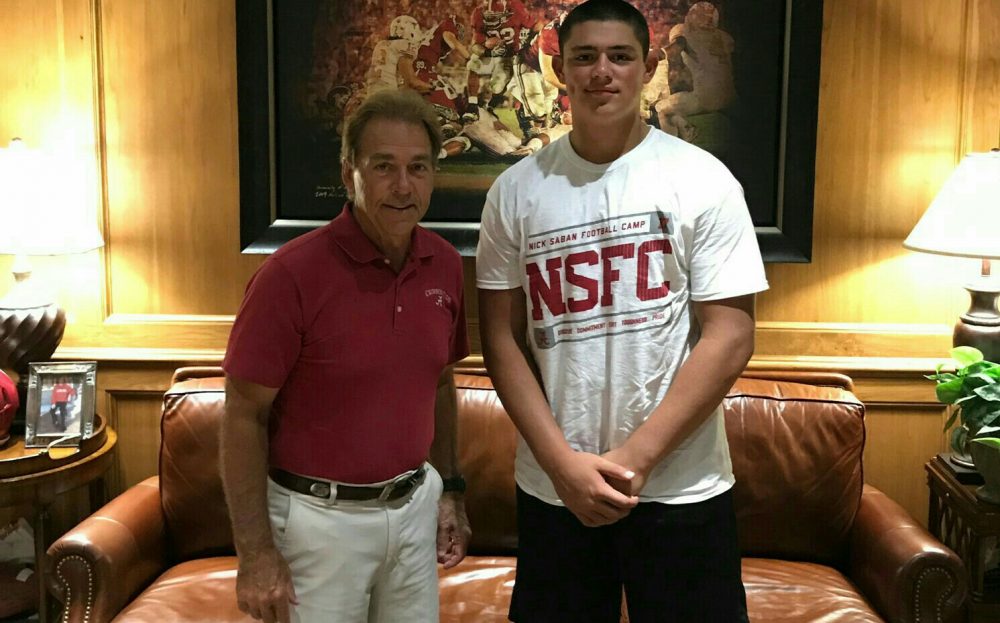 Bryan Bresee announced via Twitter on today that he received an offer from Alabama.
Very excited to receive an offer from The University Of Alabama! pic.twitter.com/OxgQAiuzCD

— Bryan Bresee (@bryan_bresee) July 16, 2017
Bresee is a recruit in the 2020 recruiting class. An offer from Alabama at this point in his football career  proves that this guy has shown a lot of promise. The sophomore is already 6'5″ and weighs 260 pounds. He is completely all muscle. His ability to rush off the edge is completely unmatched.
He is also a relentless tackler and never gives up on a play. The perfect example of an all around athlete. Majority of his time is spent on the defensive line where he is a great rusher off the edge. He runs a 5.24 in the 40 and it shows on the field as he is able to also line up as a tight end.
Some of the top schools from around the nation have already reached out and offered Bresee. He has plenty more time to work on his craft as he is currently just a sophomore and will reel in many more offers. His recruiting could get very interesting with so many prestigious schools fighting for his services.
With so many talented players in Tuscaloosa this week for Nick Saban Football Camp, there is a chance that there is going to be  more players receiving offers from Alabama in the coming days.
Alabama recruiting is still something to be excited about. They are in the loop for some great players.  Things can get very excited for The Crimson Tide if they can land Justin Ross, Asa Martin, Jalen Cunningham and Fabian Lovett, a few of the players that have Alabama among their top schools.
Justin Smith is a Scouting/Recruiting analyst for Touchdown Alabama Magazine. You can follow him on Twitter, via @Jdsmith31Smith