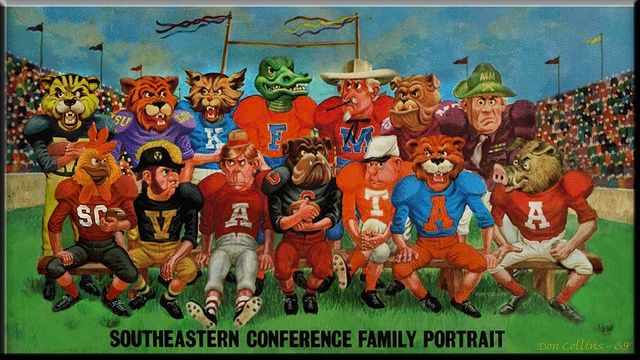 Well folks, it's that time of the year again. Time to crown the new SEC Champion and time to lay the losers out to laugh at.
Larry's Loser in the SEC – SEC Championship Edition – 2017
By: Larry Burton
Well folks, this is a short week special before all the bowls are picked and this is an intriguing week to be sure. Auburn should be a runaway favorite this week, but we aren't sure if they can carry on without Kerryon. And even if he does show up suited up, how banged up is he from the war the War Eagles had with the tusked ones from Tuscaloosa. The old pigskin pickin' pug has been prowling the internet for news for the showman's shoulder, but I think that coach Gus will hold that card quite close to his sweater vest until kickoff.
Last week we missed the big Iron Bowl matchup and the Egg Bowl too, due to a badly broken ankle of the Bulldog's starting QB. Alabama just had a third down problem. They couldn't stop Auburn from converting theirs and they couldn't convert their own.
The rest all fell into place as predicted.
You know, this week an old saying keeps popping up in my mind. Many famous head coaches have used it. They say while it's hard to beat a team one time, it's harder to beat them the second time in the same season. It's just gnawing at us. But enough of all this and we'll get on with the pick.
Georgia vs Auburn – The Terrific Tigers from down Toomer's way takes the Gus bus North to Hotlanta to take on the bad boy Bulldogs for the SEC title and a shot at the national championship.
Now these Tigers come in practically punchy from the Pachyderm party they threw last week and their star running back's shoulder is more sore than than the leg of an one legged man after a squaredance.  But Gus thinks with a little duct tape and bailing wire they can have him hauling footballs again by gametime.
Meanwhile, the Dogs that were down right downtrodden from their previous drubbing from this tribe of tabbies has revenge on their mind and they figure they can catch a Tiger by tail in this one because they're so swamped for the big win last week.
But both Bacardi and I feel that another old saying is more in line for this game. "Fool me once, shame on you. Fool me twice, shame on me." will apply in this contest, only it'll be the Bulldogs who once again play the fool. Larry's loser – Georgia
Well folks, once this week is over and done, we'll know who's going where in post season and the old pigskin pickin' pug and I will start pursuing the parties for the likely losers of each of them. So if you thought this party was over, you ain't seen nuthin' yet. We're fixing to turn the SEC loose on the rest of the world and then we'll know how good this cockeyed conference really is. So stay tuned for practically the biggest post season party on the planet when we list the losers of these big season ending swarays.
Till then, get you're conference championship week lucky shirt on and stock up your snacks and let's see how it all shakes out.
LARRY HAS BEEN PUBLISHED IN ALMOST EVERY MEDIA OUTLET FOR COLLEGE SPORTS AND NOW PRIMARILY WRITES HERE FOR TOUCHDOWN ALABAMA. HE WRITES IN A COLLOQUIAL AND IRREVERENT STYLE FOR THIS SERIES OF ARTICLES. LARRY'S VIEWS AND SENSE OF HUMOR MAY OFFEND, BUT HE AIMS TO OFFEND EVERYONE EQUALLY. IF HE HASN'T INSULTED YOUR FAVORITE TEAM WITH LARRY'S LOSERS, JUST WAIT. FOLLOW LARRY ON TWITTER FOR INSIDE THOUGHTS AND GAME TIME COMMENTS AT HTTPS://TWITTER.COM/LBSPORTSWRITER