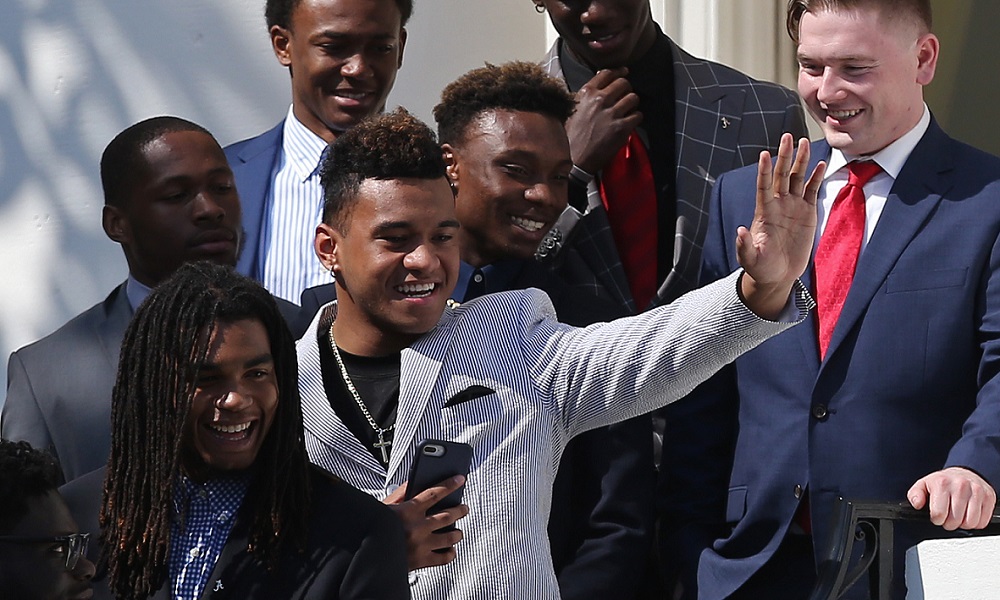 Tuscaloosa, AL — Alabama starting quarterback, Tua Tagovailoa has long showcased his poise and leadership on the field to his teammates, as well as for fans to see. However, he also has a light and charismatic side to him that is displayed often during media interviews and even on social media.
Take for instance yesterday when Tua made light of a play that happened during the Arkansas game this past weekend. During the first quarter of the Tide's drubbing of the Razorbacks, Tua lined up on the far side of the field at wideout while Jalen Hurts came in at quarterback.
While it was clear Tua was merely a decoy, Arkansas cornerback, Ryan Pulley did what any football player should do, and that's play your position, and play it through the whistle.
As the play began, Pulley, used a two-handed jam at the line of scrimmage (perfectly legal), which caused Tua's neck to rock backward, and was pointed out humorously by an Alabama football enthusiast, and Tua supporter, who goes by the name "Coach P" (John Doe).
While doing a "breakdown" of the play, Coach P references Pulley's jam and sent out a warning to him in a quite entertaining way. "Legal or not (the jam), if you ever do [Tua] like this one more time, you gone think Tua's my cousin, when I come to Arkansas, with two OF my cousins… and they'll put two feet, both legs deep, in yo A**!"
Tua, having fun with the exchange responded gracefully saying, "Why he do me like that [laughing emoji]."
See Tua's tweet, and Coach P's reaction here:
Why he do me like that 😂 https://t.co/8ZEn3Fsru9

— Tua. T 🇦🇸 (@Tua) October 9, 2018