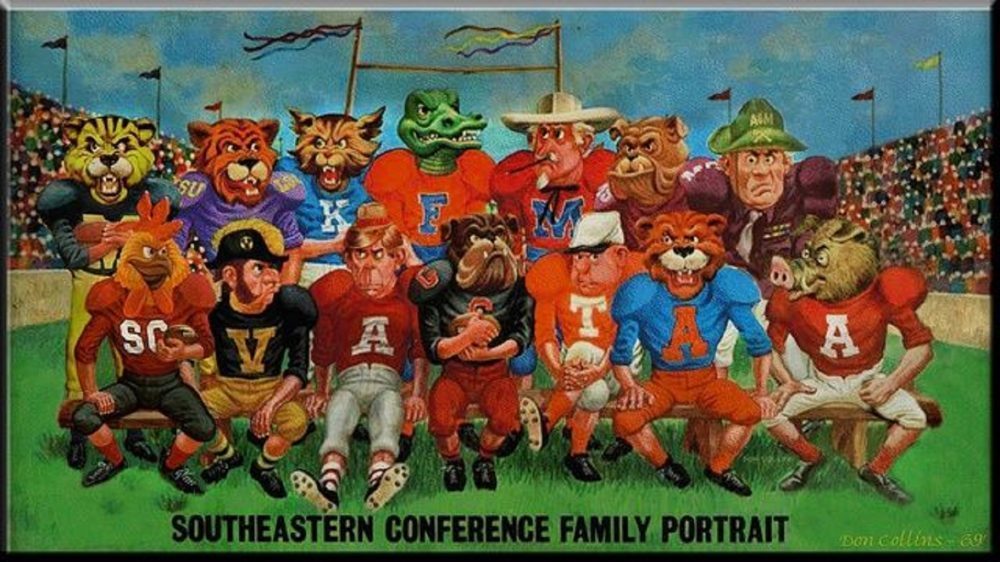 We're almost perfect now for two weeks in a row, so we're red hot, but still seeking perfection. Read this list and see if your picks agree with ours!
Oh fickle fate of football prognostication! The game I was most worried about, the game I told everyone could go either way and almost did. The game I changed my mind on several times I got right when Florida did in fact beat Kentucky in the game I warned you all had all the makings of an upset special. So that made me look like the finessing football forecaster that I am.
Then there was Mississippi State. I had the feeling that if the darned Doggies didn't get out to a fast start they could get bit themselves and that's just what happened. So that's where the upset bug bit me and we parted with perfection again by just one game going 10-1, better than anyone else, but still not good enough for us. Oh perfection, why dost thou elude us once again?
But this week, most of the cupcakes are in the rear view mirror and we get into more SEC on SEC action and one dandy top 10 match up, so while that's almost sure to kill my sizzling average, it'll be a lot more fun to watch. So let's just right in and start listing the losers that will be listed on Larry's Losers.
California at Ole Miss – The Bears from out in the loony left of the country come a calling down to the Grove to see for themselves the great tailgating and Southern charm that makes coming to the Rebs plantation such a delight.
But the Rebels only extend their graciousness to the fans and the bumbling Bears will soon find out that is doesn't extend to the visiting ballers, so while the few Cal fans that come will enjoy the pre-game, they'll not enjoy it so much from kick off on.
Cal looked good beating Washington and they're a good team and this one could go either way if the Bears get in some good scratches early, but Matt's men have finally got the offense going and I expect them to get the first good shots off. Larry's loser – California
Southern Miss at Alabama – When the Golden Eagles fly over to Tuscaloosa, they'll be told that there were days when they toppled the Tide six other times, but that was back when they actually had a coach that attracted talent and knew what to do with it.
This is really a cupcake clash now and the score should support it. It's going to be a long hot day for the gold colored Eagles as they can't afford even gold plating, even with the big check they're really coming for.
So watch the Cal / Ole Miss Game, it'll be much more entertaining, because this blowout has no chance of being a real contest. Larry's loser – Southern Miss
LSU at Vanderbilt – In another 11am kickoff, the Bayou Bengals bus on up to Nashville to sink the Song City Sailors. This will be the smallest stadium and crowd these Cajun Kitties will play in front of this season, but that won't take away their desire to destroy their opponent.
Now this season so far, the Commodore crew forgot what port they left their defense at and teams have been running up big numbers against these Swabbies and today it could get ridiculous.
So unless they secretly move the stadium and the Tigers can't it, you can count on two things, a blowout win and Larry's loser will surely be – Vanderbilt
Tennessee at Florida – Now this is a game with a lot of questions and we won't know a lot of the answers until after the game when the Hard Knoxville herd heads down to Gatortown to see who can survive this sweltering heat filled game.
Now this has me nervous for two reasons, the Gator gang is missing their main man on offense and Tennessee's tribe has finally awoke after sleep walking through the first two weeks.
But you have to go with a Gator in his home swamp over some one win Hillbillies and we think that they have an edge in talent too, so that'll make Larry's loser – Tennessee, but it could be a close one
The Gators may even eat a few Tennessee fans just for good measure….
Auburn at Texas A&M – Malzahn's Meowers meander over to College Station to take on the Aggies in what could be the Tiger's toughest tangle yet this season and maybe one of the most entertaining games of the day.
Now everyone has said all year that the poor old Planters from the plains of Texas are playing the nation's saddest schedule of sensational teams, but that don't mean they'll lose against all those highly touted teams.
Bo Nix hasn't played a complete contest this season and that's what it's going to take this weekend. He's going to go one too many three and outs this weekend and the Aggies can finally pop a top poll sitter in the kisser. Larry's loser – Auburn
The Gus Bus may need a tune up after this game….
Kentucky at Mississippi State – In a 3pm match up, the Kentucky Cat show comes a calling down in Starkvegas and this could be a whale of a game even though the bumbling Bulldogs busted by crystal balls last week by wimping out without a win against a team they should have won.
Also last week, the Wildcats whiffed a field goal that could have won them a game and they're hoping that this week fate will finally smile on them in another close one and they can rally with a road win.
Now I'll just admit I'm nervous with this pick and I can see this going either way, but when in doubt, go with the home team and the cowbells could help to make Larry's loser – Kentucky
Today they play like bad boys….
South Carolina at Missouri – In another interesting three o'clock clash, the Carolina Cluckers come a calling on the Midwest men from Missouri and both these teams are ready for the rumble.
Now the Chickens laid an egg playing the Pachyderms last week and they'd like to show the world that they're a better team than they showed last week, but these Midwest maulers actually have a defense and that's something these Chickens haven't hatched yet this season.
So in a contest where you have a home team with a defense and a chicken that thinks defense is the wire around their coop, you go with the home team and that will make Larry's loser – South Carolina
San Jose State at Arkansas – As sun gets lower, the 6:30 game gets going and the Spartans from the Sanctuary State brings their bums to the ballgame in Hog country to make them spread the wealth from the big SEC money.
But the Hogs have no intention in sharing much more and they'll hand these goofy Gladiators a game filled with pain and punishment.
The Hogs aren't going to set the world on fire this season, but they'll sure burn these bums this weekend making Larry's loser – San Jose State
Notre Dame at Georgia – The Fighting Irish become the flying Irish this weekend as they jet down to Athens for a huge match up of top ten teams with hopes of getting a win that will get them some championship consideration.
But these Bulldogs aren't about to the bullied in their own yard and they plan on chewing on most and burying the rest and making these golden domers look like leprechauns without the magic in this one.
A lot of folks think this will be a close contest, but we think it will just be another game where they look like Notre Dumbasses and get exposed as pretender yet one more time making Larry's loser – Notre Dame
Well fans, that's it for this week. We're really getting tired of being almost perfect and are hoping that this is the week the upset bug likes our list of losers and doesn't was to bite anyone not herein humiliated on this list.
So get your game time snacks ready, pay the cable bill, get your cold adult refreshing beverages ready and thank the Lord that we got rid of most of the cupcake clashes.
And we'll see you back here next week if the hurricanes don't come and the good Lord willing and don't forget to tell a friend to join the fun on the rowdiest roll call of losers listed anywhere.
LARRY BURTON HAS BEEN PUBLISHED IN ALMOST EVERY MEDIA OUTLET FOR COLLEGE SPORTS AND NOW PRIMARILY WRITES HERE FOR TOUCHDOWN ALABAMA. HE WRITES IN A COLLOQUIAL AND IRREVERENT STYLE FOR THIS SERIES OF ARTICLES. LARRY'S VIEWS AND SENSE OF HUMOR MAY OFFEND, BUT HE AIMS TO OFFEND EVERYONE EQUALLY. IF HE HASN'T INSULTED YOUR FAVORITE TEAM WITH LARRY'S LOSERS, JUST WAIT. FOLLOW LARRY ON TWITTER FOR INSIDE THOUGHTS AND GAME TIME COMMENTS AT HTTPS://TWITTER.COM/LBSPORTSWRITER