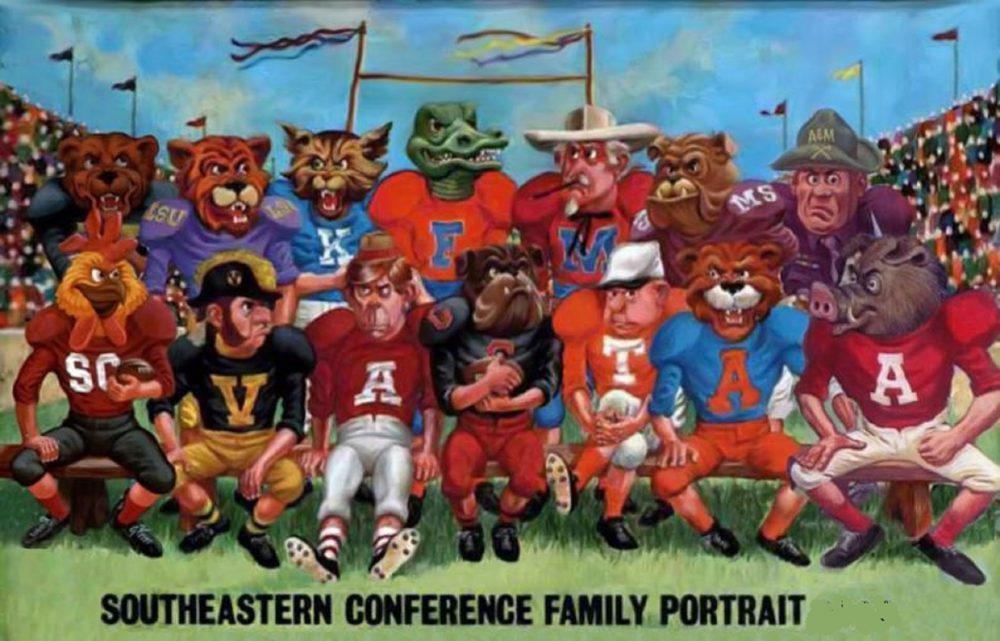 Well folks, this week there's a HUGE upset we're guessing that will leave the SEC shaken not stirred. Is it your team that's going down? Better check and see!
Well folks, who would've thought that Vanderbilt would upset a huge favorite like Missouri? Well I looked and nobody picked that upset. So while that makes me feel a little better, it was still the rotten apple that upset my apple cart last week.
But hey, instead of crying over spilled milk, we sure got all the rest of them downpat. But this week we intend to battle the upset bug, find where it's due to bite and report it in advance and perfectly prognosticate a perfect plate of predictions to placate your knowledge.
Last week I asked my new pigskin pickin' pug, Sir Rumsley, to study the just one game for me, the South Carolina vs Florida game. He watched both their last games, studied the stats and gave them both the sniff test and his prediction, while going along with my own for the loser, was a bit more insightful. He said they'd go toe to toe for most of the game but just didn't have the horsepower to get them to the finish line. What happened was SC led to the forth quarter just as he said, but just couldn't hang on as he predicted.
So this week, I think I'm going to have him help me sniff out this upset bug since he's showing such promise. With that said, he we go, and boy did he sniff out an upset I almost didn't listen to…
Mississippi State at Texas A&M – Mooreheads Mongrels mosey over to Texas to take on Fisher's Farm Boys out in the College Station South 40 this weekend and the Mississippi Mutts sure need  a win to help them toward a bowl game.
But the rag tag Aggies know that this is a win they need too as a win here would all but assure them a little holiday time travel and they ain't about to let these drooling Dogs destroy their dreams, so they plan on paddling the Puppies and send them scurrying swiftly back to Starkville all sorry they came down for the contest.
Now Rumsley said this game passed the sniff test and even though I could see this as a potential upset, he says it can't be, so that'll make Larry's loser – Mississippi State
I learned this from a 'possum… Play dead and they'll just go away!
Auburn at LSU – Malzahn's Meeyowers go to do a family reunion with the Kitty Cat clan down in Baton Rouge this week and though they're all Tigers, there's not a lot of family love between these Bengal brothers.
LSU is about as puffed and proud as they come this season and they think their season is coming down to a battle with Bama later to decide the SEC, but Rumsely says this just don't smell right and that these Bayou Boys might take a little lightly a team that might offer them a little more resistance than they've seen this season with that dangerous defense.
The boys in Vegas think we're nuts, but Bo finally puts together a BOdacious game that exposes the LSU's loose defense and the Plains Pussycats pound and pummel their Bengal brothers with a punishing defense. So while one Tiger triumphs, the other Tiger is tarnished. Larry's loser – LSU And there's your upset special
We just have a feeling that this is the upset everybody else is missing...
South Carolina at Tennessee – The Carolina Cluckers caravan down to Hardknoxville to take on the troubled Tennesseans and hope to add to their misery by giving them a pecking and Spurring that they won't soon forget.
Now Pruitt's players had it close for a while against the top team in the land last week before they fumbled their fate away and let things get out of hand and he's thinking that his valliant Volunteers can sure go the distance with an also ran team from the SEC in front a packed house of favored fans.
But Carolina plays with heart and the Vols still aren't sure who their make their offense's heart beat, so we're going with the team that's all on one page. That'll make Larry's loser – Tennessee
Vol fan's are gonna need more help after this game…
Arkansas at Alabama – The poor little Piggies pile in the plane and fly all the way down to Title Town to take on the Tusked Ones and they're hoping to catch a new starting quarterback with a case of stage fright and sneak out with a win.
But this man has no fear and when Alabama unleashes the "Mac Attack" they'll soon see that they should have flown on to the next town and tried playing another team.
When it's over, Big Al and all the boys will stocking their freezers with enough pork for tailgating the rest of the year and there's no doubt in this one, no matter who's pulling the trigger, that Larry's loser is Arkansas.
There will be enough pork after this game for everyone to take home a little…
Missouri at Kentucky – There's gonna be a Cat Show in Kentucky when the Midwest Meeyowers come to visit the Kentucky Kitties in the Blue Grass State.
The question is, which team from Missouri will show up? The one that clobbered South Carolina or the one that lost to Vanderbilt? The folks in Kentucky are hoping that it's the latter.
But we all feel that after they finished scraping all that mud off their face last week that they can't wait to right that embarrassment from last week and scratch out a win in this one. Larry's loser – Kentucky
And that's it for this week folks. We know that we took a big gamble in our upset pick, but we wanted to try and guess where the upset bug would bite and this was the one that just smelled like one team being cocky and one team being red hot at just the right time.
Only time will tell. But it any case, it's going to be a fun day of football, so let's party our tailgates off and enjoy it, because it won't be long till it's all over. Week nine already… It's enough to make you want to cry…
But we'll enjoy it while we got it and we'll see you back here next week for more prognostications and predictions and God bless you all and all those losers in the SEC.
*Get the BEST Alabama football insider information, message board access, and recruiting coverage today! SIGN UP HERE to unlock our subscriber only content!*
LARRY BURTON HAS BEEN PUBLISHED IN ALMOST EVERY MEDIA OUTLET FOR COLLEGE SPORTS AND NOW PRIMARILY WRITES HERE FOR TOUCHDOWN ALABAMA. HE WRITES IN A COLLOQUIAL AND IRREVERENT STYLE FOR THIS SERIES OF ARTICLES. LARRY'S VIEWS AND SENSE OF HUMOR MAY OFFEND, BUT HE AIMS TO OFFEND EVERYONE EQUALLY. IF HE HASN'T INSULTED YOUR FAVORITE TEAM WITH LARRY'S LOSERS, JUST WAIT. FOLLOW LARRY ON TWITTER FOR INSIDE THOUGHTS AND FUNNY GAME TIME COMMENTS AT HTTPS://TWITTER.COM/LBSPORTSWRITER