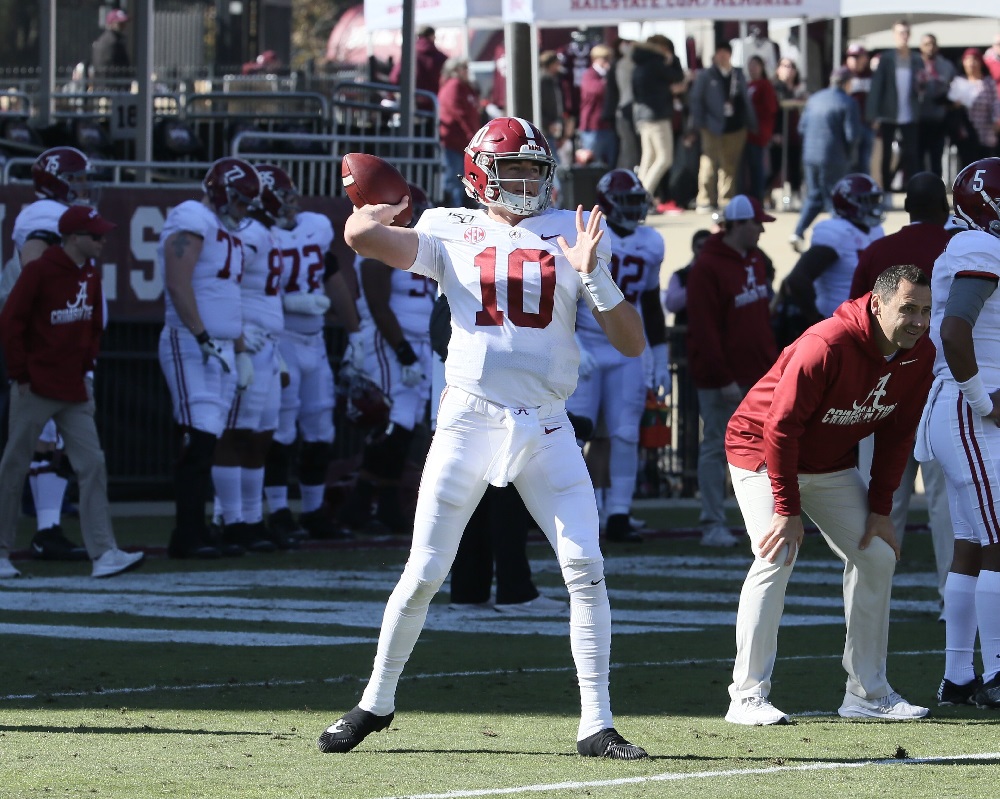 If you think Alabama has a quarterback battle, you don't know just how good Mac Jones really is. Read this and see why he'll win more than a starting job.
Why Bama's Mac Jones may win more than just a starting job
For much of his time at Alabama, Mac Jones was an afterthought. He was just that nice guy that everybody liked that met him, somebody who didn't bellyache about lack of playing time and seemed content to ride the bench and finish his time at Alabama with a championship ring and a lot of memories.
Then Jalen Hurts transferred and he became the number two. Then Tua went down and he became number one. Truly he is a living example of Alabama's "Next Man Up" philosophy and he did not disappoint.
It was apparent that Jones had talent. After all, he out performed both Tua and Jalen in every spring game he participated in with them. But was he proved that when the bright lights of the starting job glared upon him, that he was ready for that too.
It's not that Mac had the faith of his teammates, he always had that. It's that Saban and Sarkisian also had undying faith in him too. They never altered the typical game plan when Mac came in, it was business as usual, bombs as usual, high scoring offense as usual and more.
Now there are folks wondering about the quarterback battle this spring. What battle? According to Jones, there is no battle and he was quoted as saying that until somebody proved they could outwork him, the job was his and you are looking at the starting quarterback.
That is exactly how one should feel after seeing his demeanor, his skill set and the results that he put up.
There is little doubt that Tua is a sure first round draft choice and were he not injured, perhaps the number one choice of the upcoming NFL draft. So let's look at some numbers that may shock some of you and show that not only do they make Jones look like a sure but to be not just the starter, but perhaps being in line for a whole lot more.
Last season, Tua's quarterback rating was 206.93, one of the highest in all of college football, Joe Burrow, the Heisman winning and national championship quarterback's was just 201.96. Jones, who came in with nowhere close to either of these men's playing time or experience posted up a quarterback rating of 186.84, one of the top ratings in the nation. Not bad for a guy who had to jump off the bench and simply start his time relatively cold. Burrow's 2018 quarterback rating was 133.21. Far below Jone's with far more playing time and big game experience.
And Jones didn't get the opportunity to pad his stats against tons of cupcakes early on in the schedule as the other quarterbacks did. He was thrown in against LSU, then had to play a tough Mississippi State defense, then Auburn's and finally against a top rated Michigan defense.
Folks, when you read between these lines, it's pretty darn easy to see why other experts are placing him on early Heisman and Davey O'Brien award lists. Jones, who may could have easily ended his career as an Alabama player afterthought, may now be looking at being an NFL quarterback one day with lots of individual awards in his pocket.
Again, if you think this is silly, all you have to remember is that Jones has much better numbers all the way around than Heisman winning Burrow had at this same point of experience and play. Not a little better, but again Jone's stats were stratospherically higher than Burrows. Therefore, if you don't think this guy is the real deal, you're simply unaware or just a dolt.
There is a ton of talent behind Jones at Alabama, but they should all on the bench watching him this season. Mac's talent will have fan missing Tua a little bit less and they'll soon come to love him as he goes through the schedule. The only possible disappointment fans could have in Jones is if he decides to leave after this season for an early departure to the NFL. That's how good he is folks.
Personally, I am among the folks who love a good underdog story and here is a guy who climbed up from third string to starter to star. It will be a fun year watching him finally getting to bathe in the limelights for a whole season and he may end the year not only winning personal accolades, but may guide the Tide back into the playoffs and maybe back to another championship.
Now that's the finish to a great underdog story for sure.
*Get the BEST Alabama football insider information, message board access, and recruiting coverage today! SIGN UP HERE to unlock our subscriber only content!*
Larry Burton has been published in almost every media outlet for college sports, was Bleacher Report's #1 college football writer in reads and comments and now primarily writes here for Touchdown Alabama. Follow Larry on Twitter for inside thoughts and game time comments at https://twitter.com/LBSportswriter