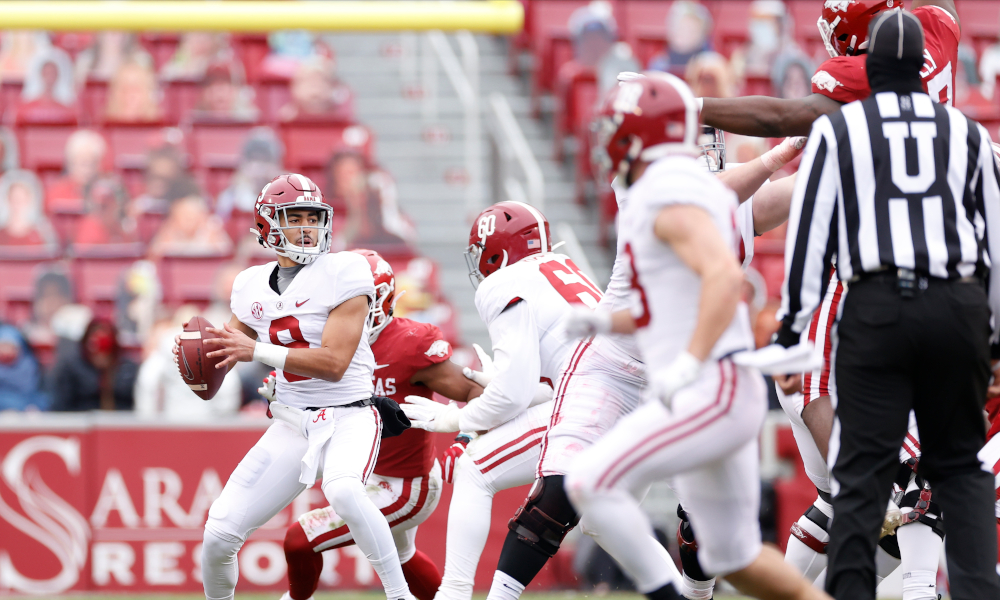 Alabama football is looking to defeat the Arkansas Razorbacks and claim an undefeated home record Saturday.
Kickoff is set for 2:30 p.m. CST. The game will be broadcast live on CBS.
The staff at Touchdown Alabama provide their predictions and analysis of the game.
Alabama 38 – Arkansas 17

Key Insight: This is a huge matchup for Alabama's offensive line to establish the run game and protect Bryce Young. Arkansas has a stout front, so this begins the process of stacking good performance together for the Crimson Tide's OL. Defensively, Alabama has to contain KJ Jefferson. He is an explosive, athletic quarterback. The Razorbacks will rotate four running backs and run Jefferson. If the Tide can pressure and limit his production, it will win comfortably.
Alabama 42– Arkansas 24

Key Insight: "Alabama football will be tasked to stop a physical Arkansas' offense. The Razorbacks have had a lot of success on the ground and have fared well in the air with KJ Jefferson at the helm. Jefferson is a dual-threat quarterback, so the Tide will have to contain him. The Crimson Tide's defense will need to step up and capitalize on the momentum they built in the win over New Mexico State. Communication will be huge on the backend. Alabama has averaged around 40 points a game this season and should be able to move the ball against the Razorbacks, especially if its offensive line is in sync."
Alabama 37 – Arkansas 20

Key Insight: "Alabama's defense will have its work cut out for them today against Arkansas. After playing much better over the past several weeks, the Razorbacks offense presents its most dynamic challenge yet with a run-heavy offense led by KJ Jefferson. It will be imperative for the Crimson Tide offense to get going early especially in the ground game. Now more than ever with the offense rely on Brian Robinson with the injuries piling up in the backfield. Ultimately, Alabama should be able to get the necessary stops to punch its ticket to the SEC Championship game."