Alabama in the Pros
Dolphins fans roast analyst Chris Simms for saying Taysom Hill is a better quarterback than Tua Tagovailoa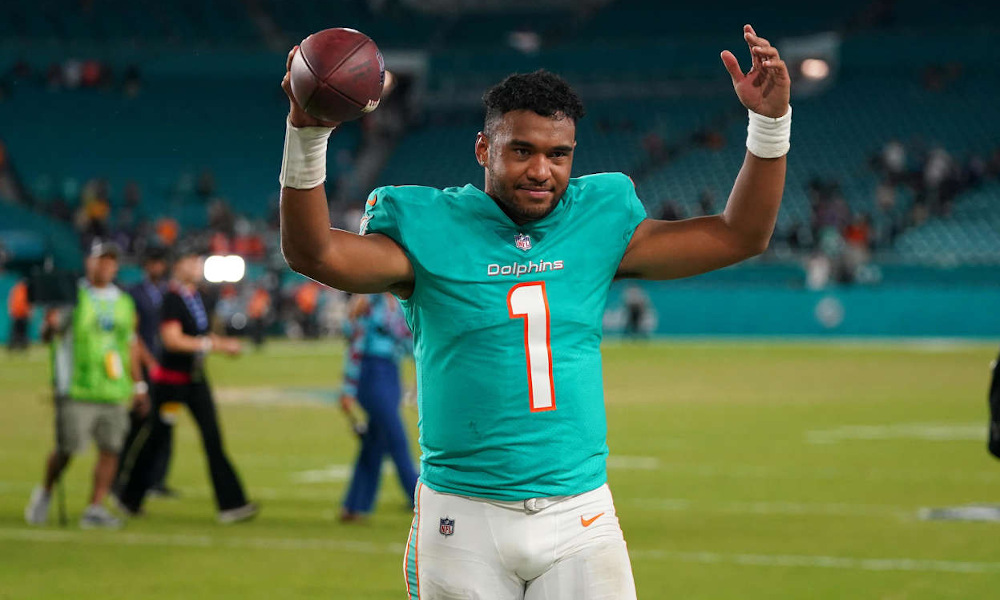 Chris Simms is public enemy No. 1 for Miami Dolphins fans.
As a former quarterback for the Texas Longhorns and an eight-year pro, Sims' career ended with 3,117 passing yards, 12 touchdowns, 18 interceptions, and a 58.1 percent completion rating. He recently took a jab at Tua Tagovailoa's deep ball production for the Dolphins. Sims said the "whole world can throw the ball five yards over the middle."
Chris Simms still thinks 31 year old Taysom Hill is better than Tua. Tough scene pic.twitter.com/1JUf9Btic3

— RYAN (@ryancashh) December 9, 2021
He stated that New Orleans' Taysom Hill is a better quarterback than Tagovailoa.
His reason for this is the Saints ask Hill to do more downfield than Miami requires of Tagovailoa. The second-year quarterback for the Dolphins has more passing yards (3,759), touchdowns (23), and a better completion rating (67.4) than Simms for his career. Tagovailoa has totaled a passer rating of 100 or higher in five games, including four on Miami's current winning streak.
He has shown this season he can drive passes downfield with accuracy.
Tagovailoa has the Dolphins at 6-7 with a chance of making the playoffs. Miami fans roasted Simms on Twitter for his thoughts.
Chris Simms's career

16 starts, 7-9, 58.1%, 6.1 YPA, 12/18 TD/INT

Tua Tagovailoa's career

17 starts, 10-7, 67.4%, 6.7 YPA, 23/11 TD/INT

Taysom Hill might be better than Chris Simms

— Five Reasons Sports (@5ReasonsSports) December 9, 2021
Drew Brees and Peyton Manning thinks Tua will be great but we care about Chris Simms opinion 🤣🤣🤣

— Miami Heatle (@HeatleMiami) December 11, 2021
Yeah I'll listen to hall of fame Peyton Manning over 8 year cling on Chris Simms ✌🏻 https://t.co/DBkJk0OVQT

— Alex at Undrafted 🏈 (@AlexUndrafted) December 12, 2021
@CSimmsQB https://t.co/D1B63QSqpV

— Dave Waddlestandt (@ooohhhpeeer) December 12, 2021
Gonna act like it's a normal week when u getting all this smoke??

All you gotta do is apologize for being dumb as fuck, admit that without ur daddy you were nothing than a shit QB that didn't deserve to play in the NFL and are a worse commentator

And we forgive u

— Travis Richardson (@TravRichard) December 12, 2021
"The whole world can throw a pass 5 yards over the middle."

Clearly you can't, not even in preseason garbage time. @CSimmsQB. 😭😭 pic.twitter.com/8MqxcQHdKW

— Throwin Samoan (@EliteTua) December 9, 2021
Chris Simms only 300 yard game of his career…

28-53 for 313 YDS, 0TD, 3INT (14-3 Lost)

This man has the audacity to talk about QB's

— Culture (@JMVFanatics) December 9, 2021
Taysom Hill plays today…

Chris Simms… pic.twitter.com/2aW5tA94DG

— Five Reasons Sports (@5ReasonsSports) December 12, 2021
What's even more hilarious about Chris Simms' weekly potshot at Tua is his…

-Sub-60% career completion percentage (Tua at 67.1%)
-6.1 career YPA (Tua is 6.7)
-More INTs than TDs (Tua has 23 TD and 11 INT)
-7-9 career record (Tua is 10-7)
-69.1 QB rating (Tua is 91.5) https://t.co/Ise4hg8Wq3

— 𝗝𝗮𝘀𝗼𝗻 𝗖𝗹𝗮𝗿𝘆 (@IamJClary) December 9, 2021
*Get the BEST Alabama football insider information, message board access, and recruiting coverage today! SIGN UP HERE to unlock our subscriber-only content!*