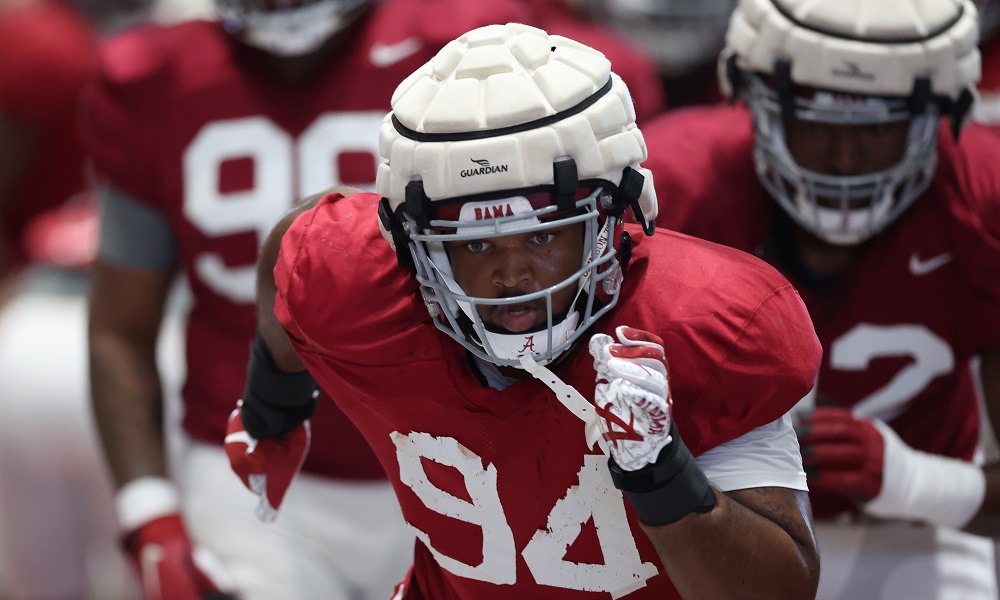 Alabama football kicked off fall camp Thursday, Aug. 4.
Fans of the Crimson Tide are excited for this edition of athletes taking the field, as Nick Saban and the program look to reclaim the crown of national champions. With the start of college football quickly approaching, the staff writers for Touchdown Alabama Magazine will provide in-depth previews of the top 30 players on Alabama's roster.
Alabama football's senior defensive lineman DJ Dale is next up at No. 23
DJ Dale
-Classification: Senior
–Position: Defensive Lineman
-Hometown: Birmingham, AL.
-Height: 6-3
-Weight: 300 pounds
–Strengths: Quick footwork, Strength, Effective Tackler, Experience, Strong Hands
–Weaknesses: Pass Rushing, Double Teams
SUMMARY:
DJ Dale has enjoyed extensive playing time since enrolling at the University of Alabama as part of the Crimson Tide's 2019 recruiting class.
Dale has played in 36 games for the Tide throughout his career, including starting in ten as a freshman. He finished the 2021 football season with 18 tackles, four tackles for loss and two sacks. He also had 22 total tackles as a sophomore and 17 as a freshman.
The senior's biggest contributions have come from his ability to defend the run and open up rush lanes for teammates.
The 6-foot-3, 300-pounder has shown an ability to play with leverage and clog up running lanes. He has impressive footwork, and he is a strong and effective tackler who rarely lets ball carriers escape his grasp. He can make tackles while falling and while avoiding cut blocks. However, double teams have eliminated him at times in the past.
Dale seldomly flashed as a pass rusher during the 2021 football season.
With Alabama in search of ways to put more pressure on opposing quarterbacks, the Alabama native has an opportunity to improve his pass-rushing technique and make an impact this season. If the former four-star recruit can take a step forward as a pass rusher this upcoming season, it will help Alabama's defense be as good as advertised and improve his draft stock.
Related countdown stories