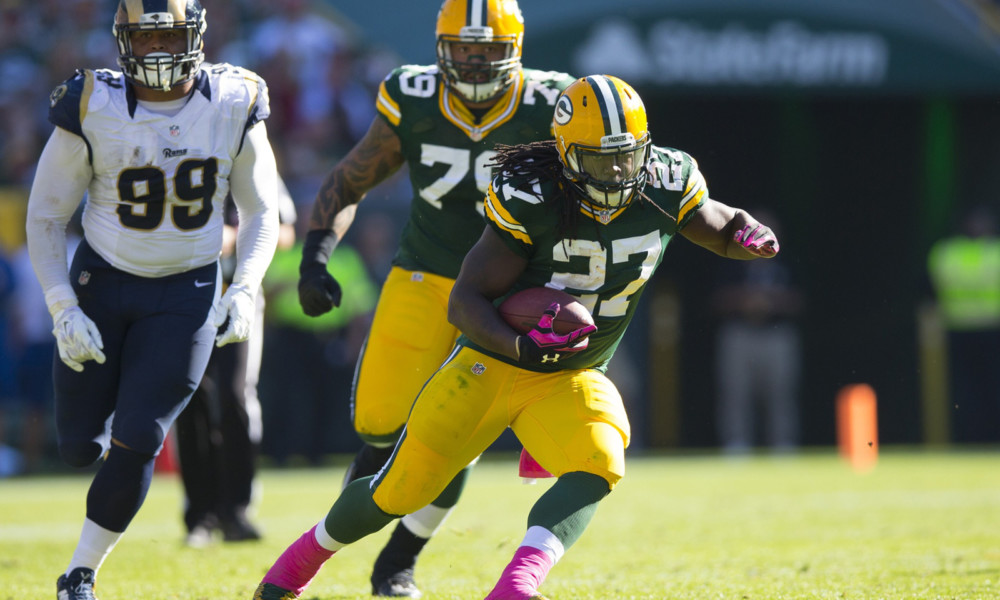 Week 8: 11 carries, 38 yards, 1 touchdown, 9 fantasy points
Season (per game): 11.1 carries, 42.6 yards, 0.3 touchdown, 6.3 fantasy points
Eddie Lacy had a single-digit fantasy performance for the sixth straight week against the Broncos on Sunday night. However, Lacy did manage to score his first touchdown since week one.
Lacy looked like he was back at 100 percent after dealing with a lingering ankle injury he suffered against the Seahawks but he still split touches with James Starks out of the backfield. So it may be impossible to ask for Lacy to fulfill the preseason expectations, healthy or not.
Many people are using this time to buy low on Eddie Lacy, which could be a great move for teams in need of a running back. I've been saying it for weeks and will continue to say it until the end of the season: Lacy is still a number one running back and will fight his way back to the top of the fantasy rankings sooner rather than later.
This week, the Packers face an undefeated Carolina team that has been led by their defense. However, they have been susceptible to the run game. The Panthers have allowed 15-plus point performances three times this season to running backs.
Lacy is still looking for his bounce back game and he may have to wait another week. The Packers offense was mostly shut down last week and will have to stay on the road to face another tough defense. Lacy's success on the ground will be key to a Green Bay victory as it could help open up the passing game for Aaron Rodgers.
TDAM Prediction: 14 carries, 60 yards, 2 catches, 20 yards, 1 touchdown, 14 fantasy points
Caleb Turrentine is a contributor at Touchdown Alabama Magazine. Follow him on Twitter, @CalebTurrentine.