Larry's Lowdown
No Miracles, Just Hard Work in This Iron Bowl, Malzahn Outcoached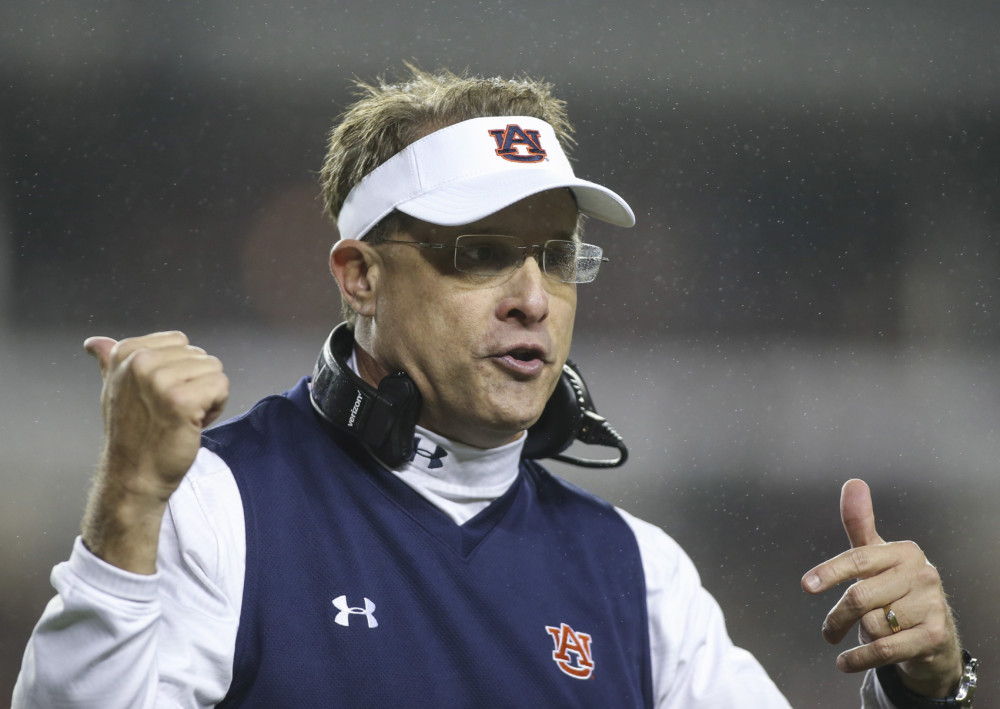 No Miracles, Just Hard Work in This Iron Bowl, Malzahn Outcoached
By: Larry Burton
To some, this may have been a less flashy Iron Bowl. There were few big moments, just a lot of hard hitting and short runs that all added up. Yes Auburn had one flashy moment when Jason Smith tipped a pass to himself enroute to a 77 yard TD reception. For a brief moment, that had Auburn fans hopes back up in that another "Prayer in Jordan Hare" would be answered.
Alabama also had their one moment of flash when Jacob Coker elluded two would be sackers, ran from the pocket and hit ArDarius Stewart in the endzone while running for his life.
But other than that, it was all workmanlike old fashioned ground pounding football for the Tide. The first half was close as Auburn had 90 rushing yards and had the Alabama defense wondering why they couldn't stifle this running game as they had LSU and Georgia.
Auburn's biggest weakness, their defense, was actually playing at a fever pitch for most of the first half, time and time again denying Alabama touchdowns in the redzone. But Alabama's kicker, Adam Griffin, proved to be up to the challenge of at least salvaging three points on each of those occasions.
The first half was a close one with Alabama ahead 12-6 on four field goals. Both teams were having success running the ball and the running game was opening up limited success in the passing game, but neither quarterback seemed effective and both teams struggled with third down conversions. This was what Malzahn had wanted, a game where his defense would finally rise up and keep the game close to give Auburn a shot at another miracle finish.
So Saban and Smart put an extra man on the line and dared Malzahn to continue to try and run. For Gus Malzahn and the Auburn Tigers it was simply another case of being totally out coached as Auburn did exactly what the Tide coaching staff had hoped they would do, abandon the running game and it was the move that proved Malzahn was simply outcoached by allowing Saban to dictate what Auburn would do on offense.
The ploy worked as Auburn just gained 1 total yard rushing in the second half, totally abandoning the rushing game that had been working so well and played right into Saban's hands by trying to get a not ready for prime time quarterback to carry the team on his shoulders with the passing game. As stated, it did produce that one 77 yard pass play, but for all practical purposes, Auburn abandoned it's only chance of winning as Malzahn played right into Saban's hands and gave up the running game.
Meanwhile, Alabama continued doing what it did best, ground and pound, run the clock, keep the opposing offense on the bench and add points, not to mention to wear down the Auburn defense, keeping them on the field for far too long.
With Derrick Henry telling the coaching staff he "was good" and with Kenyan Drake on the sideline nursing a bad arm, the coaching staff was reluctant to give rookie reserve running backs playing time fearing rookie mistakes like turnovers. That meant a steady diet of Henry and he was certainly up to the task.
Alabama's two final drives may have cemented both the Iron Bowl win for Alabama and the Heisman Trophy for Henry. Those were drives that the Alabama coaches wanted to drain the clock as well as protect the ball. There would be no passes to stop the clock or to risk an interception, it was an all Henry moment and he was more than up to the task.
With 5:03 on the clock, Henry ran the ball 10 times, moving the ball from the Alabama 18 to the Auburn 31, but more importantly, he took half the time off the clock, down to 2:40. Following another very quick three and out, Alabama got the ball again with 2:09 left to play and the score at 22-13. Once again it was all Henry and in four carries he ran the ball 34 yards for one last touchdown and in so doing, ran the clock down to 26 seconds.
In the final quarter, with the game still in question, Auburn had the ball for just 4:31 of the 15 minutes. Also in that final quarter, Malzahn chose to pass the ball 13 times and run the ball just twice. Clearly Saban was pulling all the right strings while Malzahn proved to be just one of the puppets on Saban's strings. Alabama got to do exactly what it wanted to do and do best while tricking Auburn into doing what it did worst.
For Nick Saban, Derrick Henry and Alabama team, it was just another day at the office. There were no Auburn miracles with the exception of perhaps the tipped to himself pass by Auburn's Jason Smith and Alabama didn't need any miracles. They just did what they do best, force other teams to play into their hands and play the game they want them to play and let Alabama do what they do best. It wasn't flashy, it wasn't miraculous and it wasn't the blowout win that many of us predicted. But it was just the game Nick Saban wanted and Derrick Henry needed to cement his Heisman Trophy. It was an Alabama kind of game with the Tide winning by 16.
Larry has been published in almost every media outlet for college sports and now primarily writes here for Touchdown Alabama. Follow Larry on Twitter for inside thoughts and game time comments at https://twitter.com/LBSportswriter
THANKS FOR SHARING THE LINK TO THIS STORY ON YOUR FACEBOOK PAGE