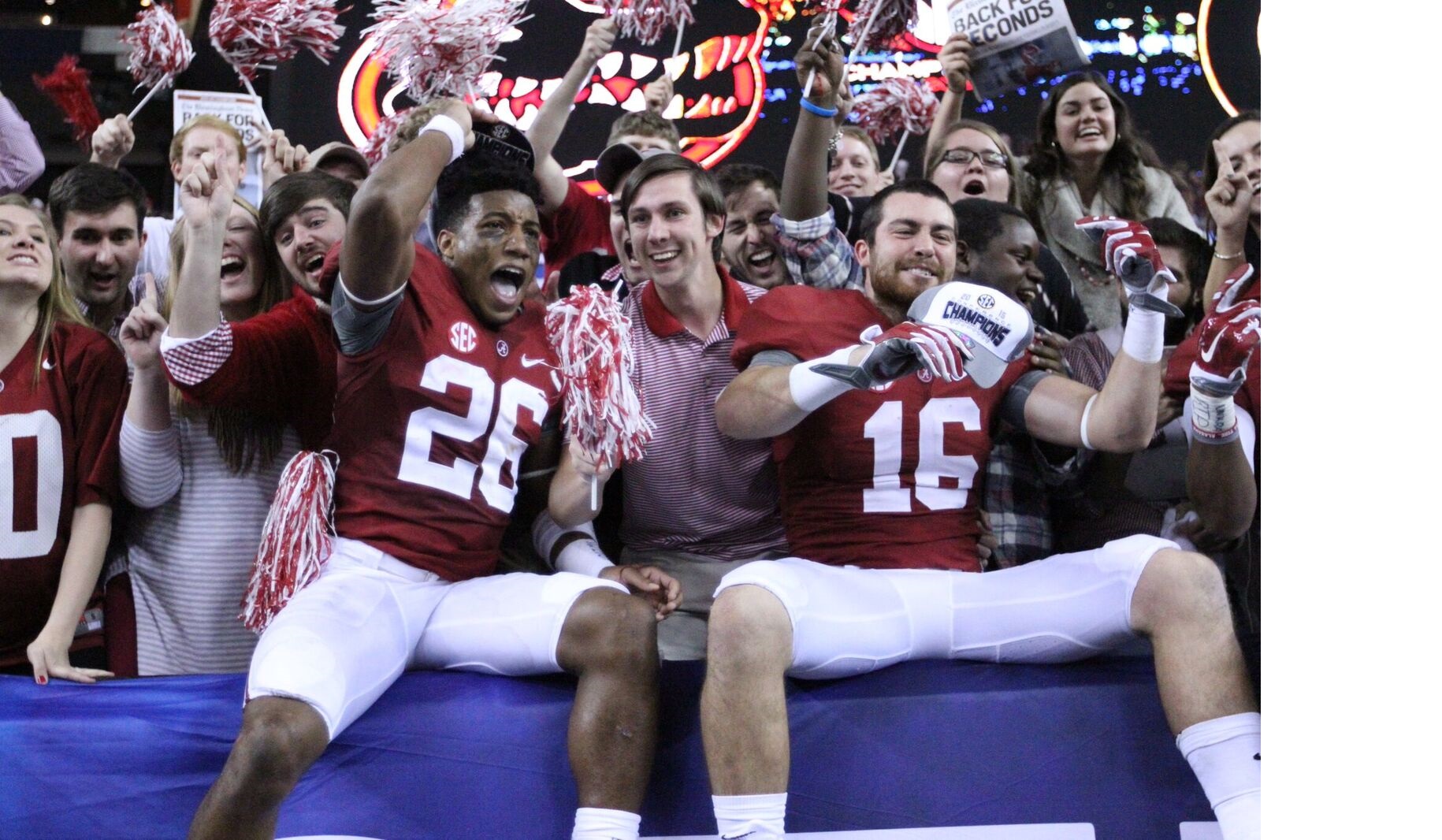 27 Players Leave Alabama in 2016, But the Future is Still Bright
By: Larry Burton
In watching this game and looking over the dominating players making it happen, one would think that Alabama fans had better enjoy the good times now because with at least 27 players leaving the team in January after the end of the season, that they're sure not to be continued for a while.
Alabama loses running backs Derrick Henry and Kenyan Drake, quarterback Jacob Coker, center Ryan Kelly, receiver Richard Mullaney and tackle Dominck Jackson. That's almost half the starters on offense.
On defense they'll lose defensive end Jarran Reed, nose tackle Darren Lake, three linebackers for sure, Dillon Lee, Denzel Duval and Reggie Ragland and they could lose Jr. Reuben Foster to the NFL. Then there's Cyrus Jones and Geno Smith in the defensive backfield. That's 8 out of 11 from the defensive unit that has carried the Tide through the 2016 season.
How can a team take such losses and remotely hope to to be in the discussion for another SEC Championship run?
First of all there's the depth on the bench, the next man up attitude that has been at Alabama since the Saban era began. Nick Saban will simply sit back and let his number one recruiting classes fight it out and the replacements will be at least as good as the folks they've replaced and in some cases better. That's what back to back to back to back top recruiting classes will do to a team.
In very limited play Tim Williams was second in sacks on the team, yet he couldn't get a starting job, next year he will and the results will be outstanding. So much for that being a shortcoming next season and technically, Williams is presently considered third string, behind Ryan Anderson, who will also get a chance to start. Other linebackers and defensive linemen who will vie for starting jobs are players you already know from great play in limited playing time. They include players like Johnathan Allen, Dalvin Tomlinson, DaShaun Hand, Daron Payne, Rashaan Evans, Shaun Hamilton and Keith Holcomb. In the defensive backfield, Tony Brown, Minkah Fitzpatrick, Ronnie Harrison, Jabriel Washington and Maurice Smith will all be back. Most all of these men already interceptions on their record will more than provide enough quality talent to take the place of the two departing seniors.
So the defensive unit that's losing eight of the eleven starters now suddenly doesn't look so depleted. It will return a solid experienced unit with still lots of depth behind them, just like this year's unit.
Now comes offense. Alabama has many quality quarterback options, all of which have more arm strength and a higher upside than Coker did. The quarterback battle this spring should be very spirited and in the end, Alabama will field a better quarterback that this year. Losing Henry and Drake will be a blow for sure, but each year another running back has stepped up to seamlessly replace a departing star. The upcoming on two punch of Scarbrough and Harris or Harris and Scarbrough, however that works out. Both are stars of the future and there is even more great depth coming up behind them. Star lineman Cam Robinson will return to left tackle and both guards will return. With tight end OJ Howard returning, that only leaves two positions open and J.C. Hassenauer, six feet, 297 pounds look set to fill the center position and right tackle will have lots of competition, but it looks like 6'5″ 302 pound Brandon Greene could take that spot. So the line, quarterback and running back positions all look in great shape.
But the best news could for the offense could be at receiver where the Tide only loses Richard Mullaney. There are so many future stars at receiver that it's almost an embarrassment of wealth at the position. Calvin Ridley, already a rising star, could become the next Amari Cooper. Also ArDarius Stewart is a proven playmaker, Cam Sims and so many talented folks returning, not only is this position filled with experienced players, but youngsters who will be around for a long time to come.
So while Alabama opponents and detractors will be glad to see this 27+ player group leaving at the end of the season, they won't have long to take a deep breath before realizing their replacements could be just as devastating to them. The future of the Crimson Tide is indeed bright.
Larry has been published in almost every media outlet for college sports and now primarily writes here for Touchdown Alabama. Follow Larry on Twitter for inside thoughts and game time comments at https://twitter.com/LBSportswriter