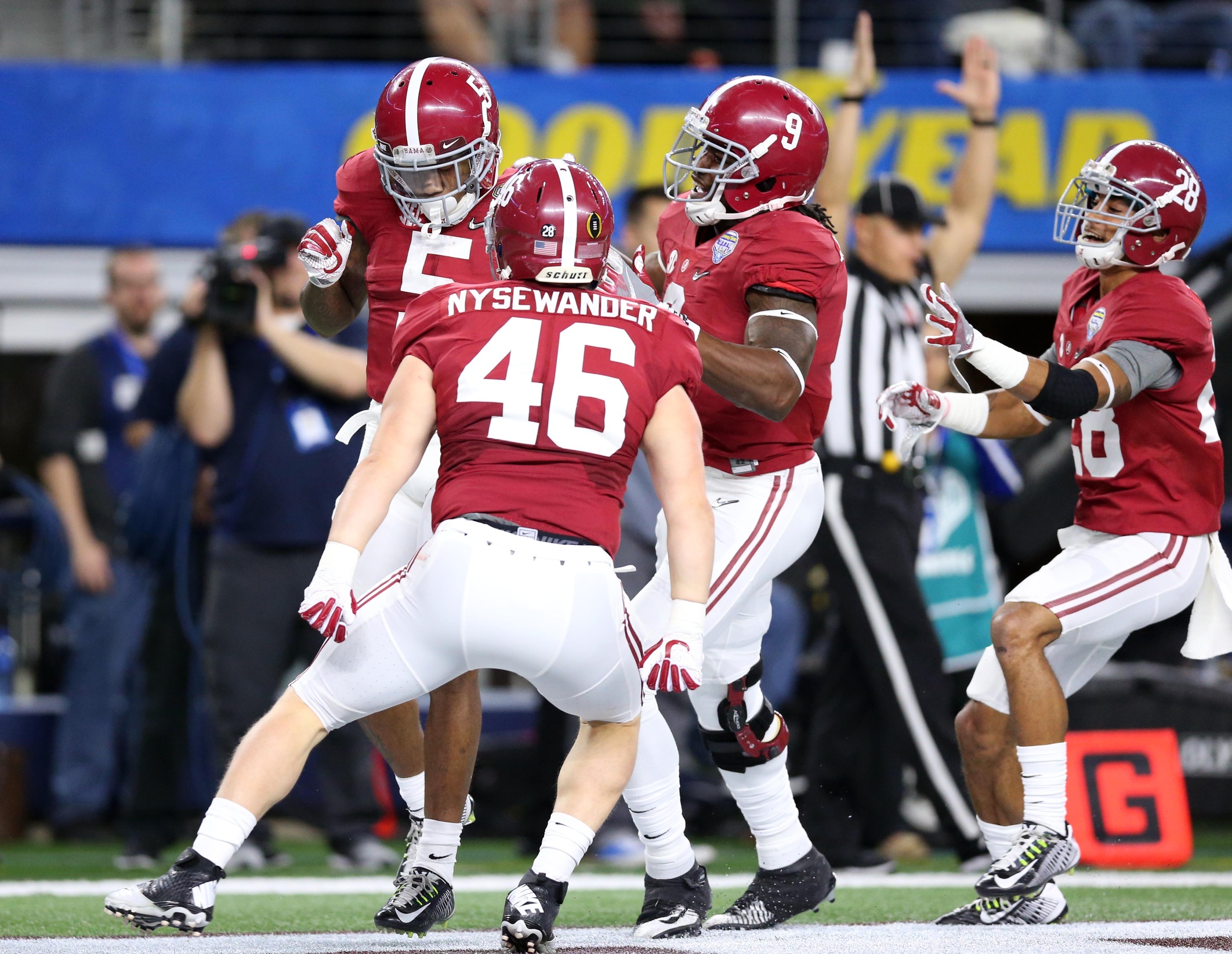 It was a night to remember not only for Alabama fans, but for two of the Tide's most electrifying players on its roster. Senior Cyrus Jones and true freshman Calvin Ridley helped vault Alabama to their fourth national title appearance in seven years and did so in thrilling fashion.
The night, fitting for celebration, did not wait for the game to end to do so. With what has become a theme seemingly this year more than others, college football players are expressing themselves through dancing after touchdowns. Now typically for a Nick Saban-run team, a more business-like approach is expected.
Not this year.
Saban has made it clear on many occasions how much he loves this team and wants them to win a championship more than any team he's ever coached. His team rewarded him by shutting out the No. 4 ranked Michigan State Spartans in the 2015 Cotton Bowl and the dancing ensued as the game was clearly in the Tide's favor.
The dance? Depending on who you ask and which era of hip hop they value more, you may get two different answers. Older hip hop heads will point to Shawty Lo's "Dey Know" in which he unveiled the popular dance in the mid 2000's. The new generation however, will say Plies' "Ritz Carlton" in which he "ran off the plug twice" is the latest trend and more than likely who they paid their respects to last night.
After an exhilarating punt return, Jones was the first to show off his dance moves. His 57-yard score caught the eye of many viewers who took to Twitter to express their admiration of his juke of the poor MSU punter at the end. Ridley decided to join the dance party after his second touchdown catch from Jake Coker of a 50-yard bomb. Filled with jubilation, his was more demonstrative than Jones'.
That juke, though #CottonBowl College Football Playoff: Cotton Bowl: Alabama vs. Michi… ESPN https://t.co/bMJZ6ey2cJ pic.twitter.com/aDzHMP19qJ

— FanSportsClips (@FanSportsClips) January 1, 2016
50 yard Bomb to Ridley #Rolltide College Football Playoff: Cotton Bowl: Alabama vs. … ESPN 2 https://t.co/wz1G305Vh9 pic.twitter.com/8yJ6tMZ7K6

— FanSportsClips (@FanSportsClips) January 1, 2016
While there is much for these two along with the rest of the Crimson Tide team, they know there's more to accomplish. After that, there will be plenty more dancing. Who knows, even Saban might join in on the fun.
Brandon Williams is an Editor and Columnist for Touchdown Alabama. You can follow him on Twitter, @BWilliamsTDAL, "Like" him on Facebook, or add him to your network on Google.