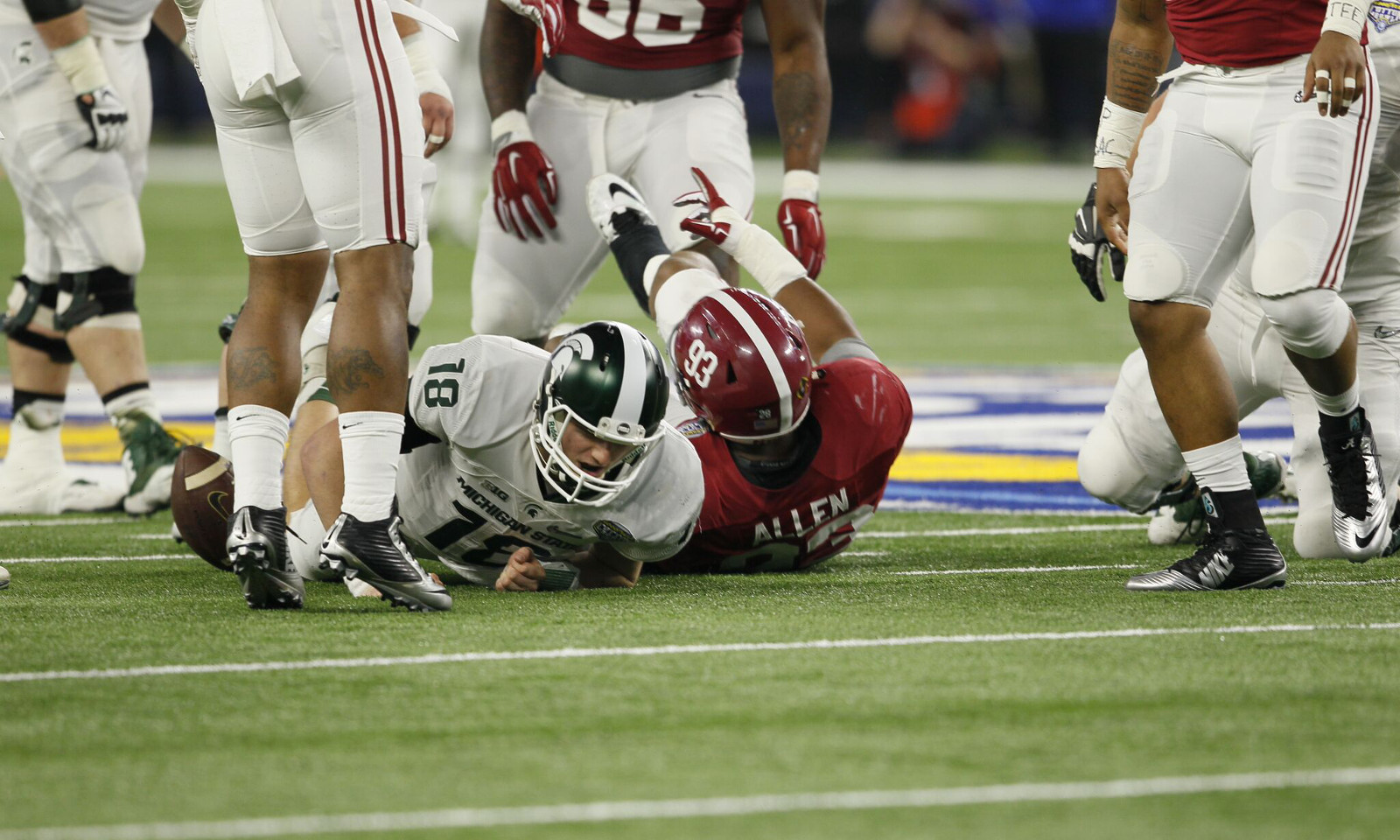 Defensive end Jonathan Allen and linebacker Tim Williams get excited when they smell blood. Both players are marquee names that brought in something Alabama's lacked in its first eight years under coach Nick Saban, a nasty pass rush.
Thirty-five was the highest number of sacks achieved by Alabama's defense, prior to the arrival of Allen and Williams to Tuscaloosa in 2013. The duo headline a defensive front that has accounted for 50 sacks, which ranks first nationally.
It is a mark that stands as the highest sack total under Saban since 2007. Allen leads the team with 12 sacks, becoming the first Crimson Tide defender since Wallace Gilberry to post at least 10 sacks. Williams falls second with 10.5 sacks. A meeting against Louisiana-Monroe in week four got him going.
An effective Alabama defense encompasses strong play against the run, following gap assignments, breaking down to make tackles and dissecting the flow of the football.
The Crimson Tide has been masterful under defensive coordinator Kirby Smart, ranking second nationally in total defense (258 ypg), first in run defense (74.0 ypg), 11th in pass defense (184.2 ypg) and third in scoring defense (14.4 ppg).
Much of its success has stemmed from from sacking quarterbacks. Affecting opposing signal callers has always been high in Saban's approach; however, he has never been a stickler for sacks.  His message of "affecting quarterbacks" is more so geared toward batting balls down, knocking them on the ground and pressing the pocket so they cannot step up and complete passes. The scheme bodes different this season, with having Allen dominate one-on-one battles in the trenches.
He and Williams combine for 22.5 of the team's 50 sacks, making both guys the first duo to reach 10-plus sacks under Saban and first since John Copeland and Eric Curry "The Bookends" in 1992. Both had 10.5 sacks during that year.
Alabama averages a little over three sacks a game.
Michigan State quarterback Connor Cook had first-hand experience as he was rocked four times, twice by Jonathan Allen. The lust for dirty jerseys and frustrated quarterbacks has even infiltrated outside linebacker Ryan Anderson.
Anderson has double his output after having just three sacks in 2014. He is third behind Allen (14.5) and Williams (12.5) in the tackles for loss department with 11.5. Eighteen interceptions, four defensive touchdowns and a plus nine turnover ratio all have resulted from this fearsome pass rush. Allen, Williams and Alabama will face Clemson on Jan. 11 for an opportunity at its 16th national title and a first for Williams and Allen.
Stephen M. Smith is a senior analyst and columnist for Touchdown Alabama Magazine. You can "like" him on Facebook or "follow" him on Twitter, via @ESPN_Future.