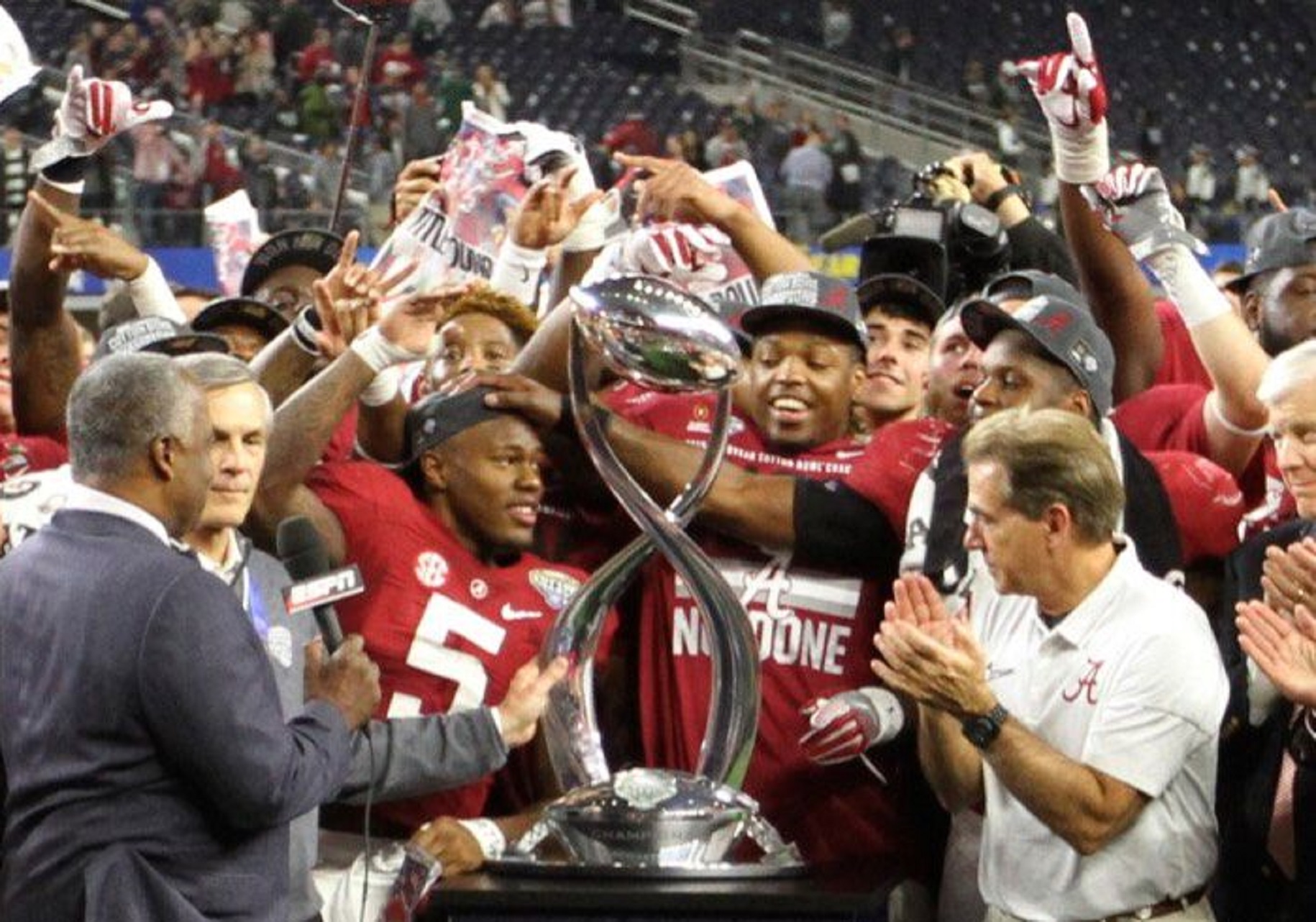 Intriguing Questions for the 2016 Season
By: Larry Burton
The season may have just ended but the questions are just beginning for the future. Here are the ones that are being asked the most.
How many players will Alabama lose off the championship team?
Well consider this. According to SEC rules 80 players may participate in each game and Alabama looks to lose about 30 of their championship players to graduation, transfers and the NFL. That's 37.5% of the total squad.
But if you're an Alabama fan, before you read this and go outside and cut your wrists, rest assured that the shelves are full of quality replacements and people who know realize that and will have Alabama as a team to watch to be in next year's playoffs.
2. How bad will losing Kirby Smart hurt the Tide?
Saban has been preparing for this eventuality for some time so not as much as you'd think. Jeremy Pruitt is an outstanding replacement, is also an excellent recruiter and game planner. The only thing that remains to be seen is if Pruitt will develop the same personal relationships with the players that Smart did. Players not only respected Kirby as their leader, but loved him as a person and were willing to go the extra mile for him.
The coach that could actually hurt Alabama the most by leaving may be Mel Tucker, who did a truly outstanding job whipping a bunch of young inexperienced defensive backs into a solid fearsome unit. Not only did he develop that talent like a master, he was good at making game time adjustments on the fly. While the young men he left behind will remember his lessons, one can only hope that Tucker's replacement will give them some new lessons to add to what they learned so well from him.
3. So who is the "heir apparent" at quarterback?
Covering the Tide as long as I have, I have learned that nothing is in concrete when it comes to answering that question. There are three to pick from as I expect Jalen Hurts to be red shirted, so listed alphabetically there's Barnett, Bateman and Cornwell to fight it out.
Some feel that Bateman may have an inside track after serving as Alabama's number two all season long this past year, but Barnett may have an upside in the total talent department. If I was being tortured, my guess would be Barnett. But remember, under that Saban era, Alabama has won three of the four national titles with rookie starting quarterbacks. So it sort of proves that Saban's system works no matter the experience of the quarterback, plus Lane Kiffin may could get a talking mule to be an adequate quarterback, so I wouldn't worry, no matter who takes the snaps.
4. Can Scarbrough fill Derrick Henry's shoes?
Can Mark Ingram fill Glen Coffee's shoes? Can Richardon fill Ingram's shoes? Can Lacy fill Richardson's shoes? Can Yeldon fill Lacy's shoes? Can Henry fill Yeldon's shoes?  It is amazing that Saban is always ready to reload that position with such quality and expect Scarbrough to work out just as well. It will be business as usual at running back in Tuscaloosa.
5. Does Alabama have a legitimate shot to repeat?
Considering that since his second year at Alabama, they have always had the potential to play in a championship game or at least be in the conversation for one.
Yes, replacing up to 30 players will make it a little of a challenge, but maybe not as big as playing the USC Trojans in the first game, Ole Miss, Arkansas and Tennessee in their home stadiums and then running through another possible SEC championship. Those games will be toughest things.
It is safe to say that Alabama will be rebuilding a bit more than other SEC teams who return more players and have been on the rise, so it won't be easy, but as history shows, it's not safe money to bet against them.
6. Will O.J. Howard come back for his senior year?
Saban meets with his junior NFL prospects on Wednesday and we will know soon after that meeting. Though he had a good first round championship game and a stellar championship game, that was really almost the entire body of highlight reel worthy work all season long.
While it may be said that some NFL teams may say he was simply buried under too much talent Alabama to have a broader supply of highlight worth work, I suspect that he would go so late in the draft that another year at Alabama would be well worth the wait in leaving. But again, we'll know in just a few days.
7. So who are next seasons "stars"?
First of all, Calvin Ridley at wide receiver already is one and should shine next season as well. Bo Scarbrough should shine at running back and Cam Robinson should be the vocal leader on the offensive line.
On defense, Tim Williams is a name everyone should get familiar with. He will hit quarterbacks all season long and make a real name for himself. As just a part time player this year, he was second in sacks.
Daron Payne should make a name for himself at nose tackle and Dalvin Tomlinson has waited patiently for his chance to shine and he will. Two youngsters will both anchor the defensive backfield, Maurice Smith and Eddie Jackson with leadership, but there could easily be another star in that group just because of the talent level in that pool.
Plus, if he stays, O.J. Howard will become a "go to" guy instead of an afterthought and both Alabama's punter, JK Scott and kicker Adam Griffith should continue to shine.
Lastly, there is a chance that a guy that was redshirted this past year or an incoming freshman just has a fantastic spring he could be a star too. Anything can happen.
8. How long will Nick Saban coach?
I'm glad that's the question and not will Nick Saban leave for (fill in the blank). Saban has made it abundantly clear that he will retire at Alabama, so the only question is now when?
His contract runs through 2022, though if he wanted an extension he'd get it. That contract will carry him through age 69 and I fully expect him to at least fulfill that time frame if his health is still good which it should be.
The next few months will tell a lot. If because of the latest championship, he is offered another extension and takes it, he may coach into his 70's.
9. So the question now becomes, how many more titles can we expect Saban to win?
Considering that on average, he wins one every other year since he's been at Alabama and he has at least seven more years on his present contract, let's just stay with the average and say three more and be conservative.
But seriously, who knows how many more titles he will win. But to think that retiring with eight titles is certainly not without merit or logical reasoning is something that is truly mind boggling.
10. Will Dabo replace Saban someday?
Will Dabo still be a hot name seven years from now? That is the real question to be asked. And seven years from now Dabo will be 53 and if he's still at Clemson after 15 years, would he want to leave? Few coaches stay on the same job for 15 years anymore. That is becoming rarer and rarer. In seven years, Dabo may or not may still be considered an elite coach. Two years after winning a national championship, Gene Chizik was fired. Things happen fast in college football.
So the answer to that question has to be, who knows? That's so far down the road that no one can predict what will happen. Remember is like dog years in football. 15 years as a head coach is a lifetime for most head coaches.
Larry has been published in almost every media outlet for college sports and now primarily writes here for Touchdown Alabama. Follow Larry on Twitter for inside thoughts and game time comments at https://twitter.com/LBSportswriter
Thanks for Sharing This Link on Your Home Page of Facebook!