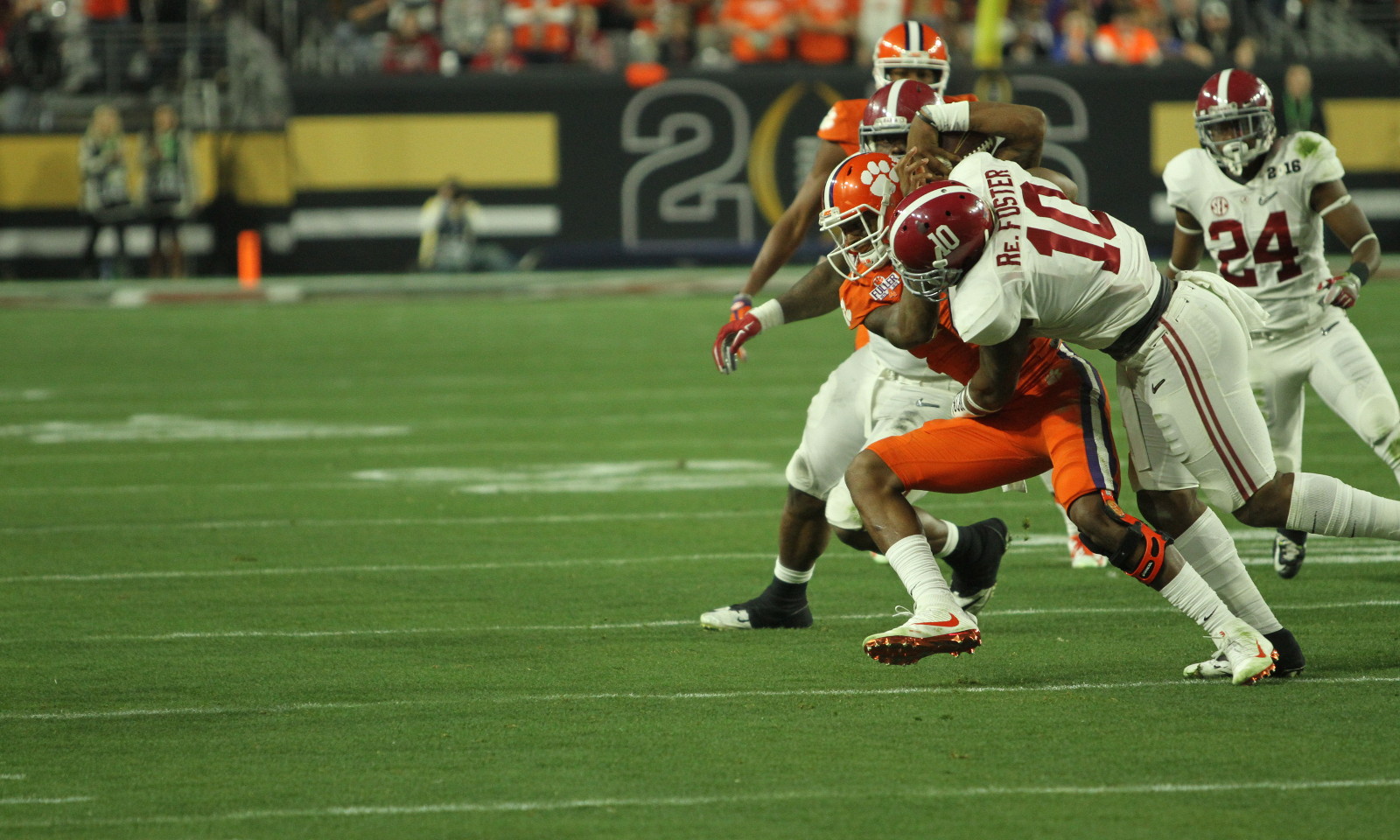 Media personnel picked Alabama to finish second in the SEC West, only to then write it off after its 37-43 loss to Ole Miss.
The Crimson Tide were projected to win only eight games via ESPN's football power index, yet head coach Nick Saban got the last laugh. He captured his fifth national title overall and fourth at Alabama in Monday's 45-40 win over Clemson.
Yours truly of TDAM has the final grades from the national title game.
Quarterback Play–Overall [B+]
A combination of Alabama's offensive line not blocking and Jacob Coker not being quick in his decision making led to five sacks; however, he did total 300-plus yards through the air.
Clemson's secondary took away freshman wide receiver Calvin Ridley, which in return opened the door for ArDarius Stewart and tight end O.J. Howard. Coker targeted Howard five times, with two passes resulting in touchdowns. Tigers' quarterback Deshaun Watson was masterful, but Coker found ways to keep Alabama afloat. Overall, he completed 16 of 25 passes for 335 yards with two scores and no turnovers.
Defensive Front–Overall [C]
Sophomore linebacker Rashaan Evans recorded Alabama's lone two sacks of Deshaun Watson. He was able to extend plays, accounting for 73 of Clemson's 145 rushing yards on 38 carries. Watson provided the same play making abilities that Johnny Manziel, Cam Newton, Tim Tebow and Nick Marshall had to beat Alabama, though he still came up short.
Linebacker Reuben Foster led the Crimson Tide's front line in tackles with nine. Senior Reggie Ragland finished with five, while defensive lineman Da'Shawn Hand had four tackles.
Defensive Secondary–Overall [D]
Safeties are more so to blame than cornerbacks for this grade in Alabama's secondary. Defensive backs Geno Matias-Smith and Eddie Jackson were late giving help on numerous plays.
Cyrus Jones, Marlon Humphrey and Minkah Fitzpatrick (star) establish solid position against Clemson's wide receivers, but late support from its safeties created windows for Watson.
Watson carved Alabama for 405 passing yards on 30 of 47 completions. He tossed four touchdown passes, with two hauled in by freshman walk-on Hunter Renfrow.
Renfrow, Jordan Leggett and Charone Peake all has success against the Crimson Tide, combining for 13 receptions for 265 yards and three touchdowns. Matias-Smith led the team in tackles with 11. Jackson recorded the game's lone turnover, an interception off Watson in the second quarter. Alabama's defensive backfield finished with five pass breakups.
Special Teams–Overall [A]
What started as Alabama's weakest link became its pathway to victory against Clemson. Adam Griffith nailed a crucial 33-yard field goal to tie the game at 24.
JK Scott did his job, dropping three of his seven punts on the 20-yard line.
He averaged 42.4 yards per boot, with a long of 52 yards.
Griffith and senior running back Kenyan Drake both had a play that defined the contest. Drake took a 95-yard kick return for a score in the fourth quarter, giving Alabama a 38-27 lead.
Griffith executed a perfect onside kick that was recovered by Marlon Humphrey. Alabama would regain the lead on a 51-yard touchdown pass from Coker to Howard.
Offensive Line–Overall [C]
Giving up five sacks is never a good thing. Clemson's defensive linemen Shaq Lawson and Kevin Dodd both affected Jacob Coker. Alabama's offensive did a better job in the second half, as Coker tossed for 335 yards and it converted nine of 18 third downs (50 percent). The Crimson Tide blocked for 473 yards, with 179 coming on the ground. It created opportunities for running back Derrick Henry to have three touchdowns.
Running Backs–Overall [A]
Derrick Henry started the game with a 50-yard touchdown in the first quarter and would tack on two more in the second and fourth period. He totaled 158 rushing yards on 38 carries, giving him 2,219 yards and 28 touchdowns on 395 attempts for the year.
Henry surpasses Alabama great Shaun Alexander (3,565) on the all-time rushing yards list with 3,591 yards. He extended his touchdown streak to 20 straight games, while posting his 10th 100-yard performance.
Wide Receivers/Tight Ends–Overall [A]
O.J. Howard finally had his breakout game and it came during the postseason.
He gained confidence in the Cotton Bowl with three catches for 59 yards against Michigan State. The junior was aggressive against Clemson, capitalizing on its mistakes in coverage. He recorded a career-high 208 receiving yards and two touchdowns on five catches. Both of his scores came in excess of 50 yards. Howard earned most valuable player honors on offense for his efforts.
ArDarius Stewart had some bright moments against Clemson's defense.
He brought in a 38-yard pass from Coker in the fourth quarter to set up a game-tying 33-yard field goal from Adam Griffith. Stewart chimed in with two catches for 63 yards.
Stephen M. Smith is a senior analyst and columnist for Touchdown Alabama Magazine. You can "like" him on Facebook or "follow" him on Twitter, via @ESPN_Future.