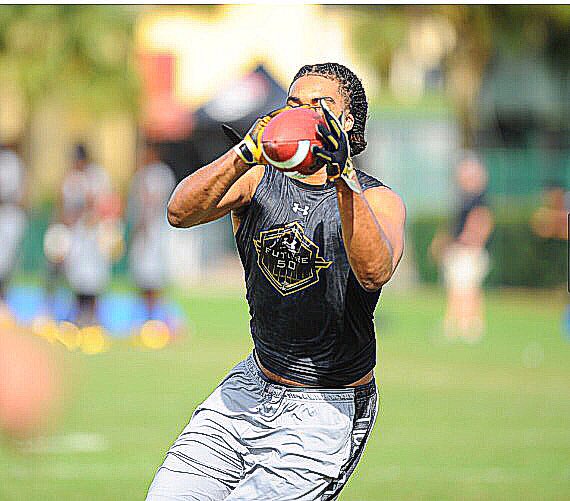 Markail Benton, a five-star linebacker out of Phenix City, Ala. lives just 45 minutes from Auburn and has been considered an Auburn lean for a majority of his recruitment. He has been on top of the Tigers board for almost three years and he has not been shy about Auburn showing him love as he was sporting Auburn gear in his longtime Twitter profile picture. But today Benton sat atop the stage in the Central High School auditorium and picked Alabama, something that some were blindsided by but in reality, this has been a trending topic this summer.
In an interview with Benton last week, he seemed to rave about Alabama, speaking of how well he fit in Jeremy Pruitt's defensive style and how he loved how Alabama develops their linebackers. Not to mention that he has Alabama's star linebacker, Reuben Foster who is a good friend of Benton's in his ear. The relationship with Foster played a much bigger role than many realize because just a few years ago, Reuben Foster was in the same boat as the 5-star linebacker. He was one of the most highly touted linebackers in the nation, like Benton and also like Markail his recruitment was a tug of war match between Auburn and Alabama with other schools in the mix. "Reuben will text me a lot and we talk. He tells me how much he loves Tuscaloosa and that his game has only developed more being there." said Benton. Although Markail Benton will not get to suit up with Reuben Foster as Foster is entering his senior year, but it can't hurt to follow in those footsteps.
At 6'2″, 240 pounds, he has the ideal frame to play inside linebacker at the next level but its his speed, athleticism and range that will allow him to do it at a high level for the Tide. Speed is something that Jeremy Pruitt knows is the key to his attacking-style defense and has let Benton know he'll thrive in it. "Coach Pruitt always tells me 'speed is the key' and he wants me to play inside on first and second down, but focus on rushing the passer on third down. That was something that intrigued me." Benton stated. He sees his role being similar to Reuben's and seemed to really enjoy the thought of that.
Benton becomes commitment number twelve for the Crimson Tide and the third commitment in the last four days. His pledge may have really made Alabama set the bar for 2017 classes thus far moving up two spots in the national rankings in one week with the additions of 4-star QB Mac Jones and 4-star JUCO offensive tackle Elliot Baker. Now with Markail Benton, it will be hard to argue that Alabama's class is the best in the country and also hard to argue that Alabama's depth at linebacker should be elite for next three to four years.
Justin Wagner is the Lead Recruiting Analyst for Touchdown Alabama Magazine. You can follow him on Twitter at @jwag718.