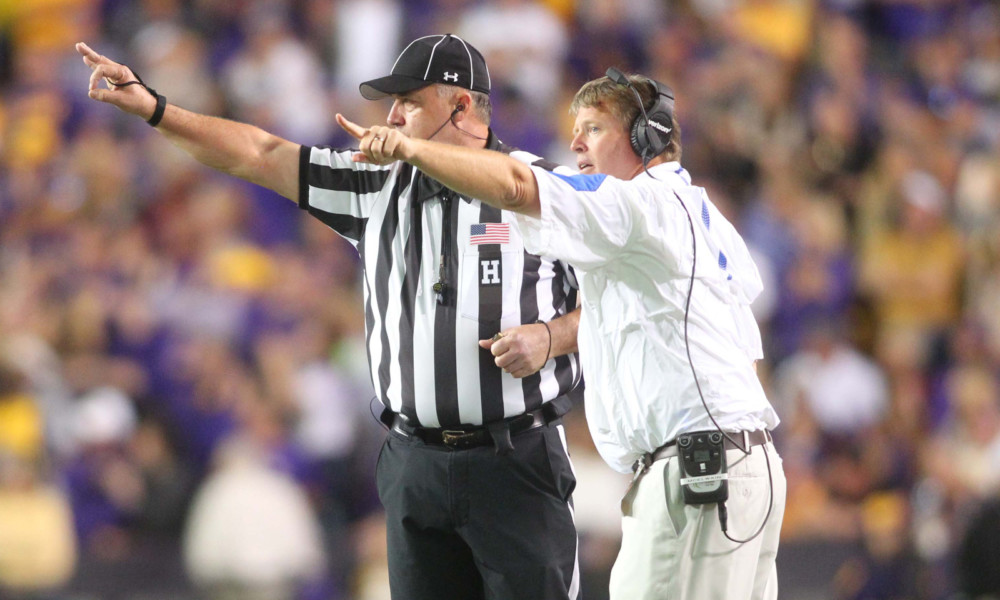 SEC Media Days kick off today at the Hyatt Regency in Hoover. You can see live updates throughout the day here that will include the best quotes, photos, tweets and more. The Monday schedule for the Internet/Radio media room is below.
11:45 – Auburn head coach Gus Malzahn                     2:40 – Florida OL David Sharpe                                  3:20 – Vanderbilt LB Zach Cunningham
11:55 – Auburn DE Carl Lawson                                      2:50 – Florida DB Marcus Maye                                   3:40 – Vanderbilt RB Ralph Webb
12:15 – Auburn WR Marcus Davis                                  3:00 – Florida LB Jarrad Davis                                     3:50 – Vanderbilt S Oren Burke
1:05 – Auburn DL Montravius Adams                 3:10 – Florida head coach Jim McElwain              4:30 – Vanderbilt head coach Derek Mason
LIVE UPDATES (all times CST)
---
4:45 – That wraps up the media availability for day one of SEC Media Days. We'll be back tomorrow with the same format for Georgia, Mississippi State, Tennessee and Texas A&M. Continue to follow all Touchdown Alabama media on Twitter.
4:37 – Mason says that they are in a much better place offensively. He also says the defense is back and ready to be great again.
He jokes that he has never made a wrong call when he picks plays and schemes. But he does say it's the players that make it happen.
4:33 – Vanderbilt head coach Derek Mason is the final interview of the day. He's on the "Media Days is the kickoff to football season" team.
3:53 – Vanderbilt safety/linebacker Oren Burke is the last player of the day. He said he's excited to be in front of all the cameras and lights to show off to the teammates.
Burke wants to voice his opinion about the past week and says that we, as a society, need to have more respect for human life.
3:47 – Vanderbilt's Ralph Webb says he sees himself as one of the best running backs in the SEC but more importantly, he plays like that. The junior back has rushed for over 2,000 yards across his two seasons in Nashville.
Webb says he has a personal yardage goal but doesn't wan to tell everyone. He says getting wins is more important.
3:25 – Alabama-native Zach Cunningham is here representing Vanderbilt. The junior linebacker led the Commodores in tackles and sacks in 2015.
Cunningham said that Nick Chubb and the Georgia offense was the toughest they faced. He says it made the biggest impact on him.
3:17 – McElwain says he feels confident with all four of the guys in the quarterback battle. He says he is really excited about the future of that position and wants to see how the veterans can help the new freshmen.
He says finding the guy to fit the system is why it's so hard to find stable solutions for the quarterback position.
3:13 – The first question to Coach McElwain is about the situation at Baylor and how he makes sure the Florida program is always making the right choice. Says he is not expert but he can constantly bring in experts to be there for the players and staff.
3:08 – Davis compliments McElwain and his staff on how they help create and mold great young men after being asked about the domestic violence surrounding college sports. Davis says it would be selfish for him to jeopardize the hard work put in by his family, teachers and coaches to get him where he is now.
3:02 – Davis calls his great 2015 season "all fine and dandy." He says last year is last year. He wants to blow away what he did last year and achieve his ultimate personal goal of making the NFL.
He said his improvement needs to come with a new controlled mindset after missing tackles and over-pursuing several plays last season.
2:59 – Florida linebacker Jarrad Davis wishes everyone in the room a good day and says this is a new process to him. He's excited to take some questions.
2:56 – Maye says Jalen Tabor is "just being Jalen" when it comes to his confident and arrogant attitude. He says Tabor will voice his opinion and be loud but he works hard. shows up when it's time.
2:52 – Florida DB Marcus Maye says he does not want teams to avoid his side of the field. He says he's there to make plays. He does like being the kind of guy that the offense has to be aware of and maybe avoid.
2:45 – Sharpe says he thinks the Florida defensive line will still be one of the best. He would know, he goes up against them every day.
He says that Alabama was "definitely" the best defensive front they faced last season.
2:40 – David Sharpe is on the microphone and says he's ready to get the season started. He says last year's mistakes and disappointments are motivation for this season.
2:17 – As we wait on the Florida players to arrive, take time to read some words thrown together about the new SEC slogan.
1:14 – Adams gets a question about the recent events of Baton Rouge, Minnesota and Dallas. He says everyone has a role and "at the end of the day, God says we're all brothers."
1:10 – Adams says he switches out of his "nice mindset" at Tiger Walk to prepare him for the games. He also says this season's expectations reminds him of the 2013 preseason talks. Adams compliments Kevin Steele's defensive scheme but he says it is similar to Will Muschamp's making adjustments easier.
1:05 – Gus Malzahn has taken the podium in the main room. Auburn senior Montravius Adams enters the room and will be the last Tiger available to the room. He opens up with a birthday shoutout for his mother.
12:18 – Davis says he does not have a favorite in the quarterback race. He says Sean White has a knack for the position and John Franklin III has a strong work ethic with a lot of talent.
12:16 – Auburn receiver Marcus Davis says he has seen change in Malzahn's coaching technique. Davis says he has been more involved and he is excited to see how well it will work.
12:13 – Follow along on Twitter with all Touchdown Alabama media in Hoover all week.
Y'all be sure to follow @Smsmith_TDALMag, @BWilliamsTDAL and @CalebTurrentine as they are LIVE from SEC Media Days in Hoover for @TDAlabama

— Justin Wagner (@jwag718) July 11, 2016
12:05 – Commissioner Sankey has finished up his opening statement in the main room and has a new slogan for the conference.
New tag line for the SEC: pic.twitter.com/GjkD1oS4hz

— Chuck Dunlap (@SEC_Chuck) July 11, 2016
11:58 – Lawson says the disappointment from last season is the team's motivation. Auburn finished the year 7-6 after a win over Memphis in the Birmingham Bowl.
11:55 – Carl Lawson takes his first question on why he stayed at Auburn instead of entering the NFL Draft. He called it a family decision based on wanting to become a better athlete and better player.
11:54 – Coach Malzahn finishes up talking about how Marcus Davis and others will fill the gap at the wide receiver position and saying that group will be a strength in the near future.
11:52 – Malzahn says the Tigers will improve on the offensive side of the ball. He says the defensive side has something to build on from last season and a "very good spring." Malzahn called his defensive front very good and says in this "line of scrimmage league", it is important to have a very good defensive front.
11:50 – Malzahn says Clemson has "one of the best, if not the best player in the country" in DeShaun Watson. Auburn opens the season with Clemson at home.
11:47 – Auburn head coach Gus Malzahn has entered the Internet room and opens with high praise of the three Auburn student-athletes that are attending Media Days this week. Malzahn's first question is about the quarterback battle. He says it is a three-man battle and it will be a matter of who gives his team the best chance to win.
11:35  – Commissioner Greg Sankey has taken the podium in the main room and SEC Media Days are officially underway.