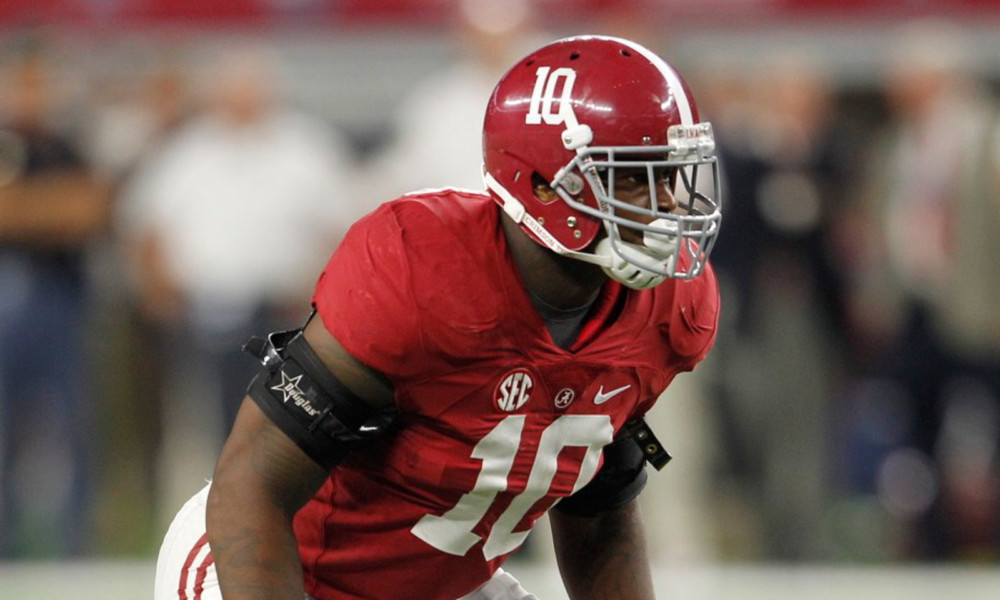 Alabama is still feeling itself out through six days of fall practice.
During its annual fan day, head coach Nick Saban and defensive coordinator Jeremy Pruitt both addressed the identity for this year's group. While Saban is all for hitting the reset button, Pruitt told the media that he wants the defense taking it one play at a time. Training with temperatures in the mid to high 90s hasn't made the process any easier, but for the players, all signs point to who can secure a spot and who is ready to help this year's unit obtain a productive season.
A number of position battles have started and one in particular, could either go deep into fall camp or be decided through a couple of regular season games. Nothing much can be based on six days; however, listed below are some of the position battles to be decided in practice.
Competition for Alabama in fall camp
5. Bo Scarbrough vs. Damien Harris: Who will be No. 1? 
Coach Saban and company have never lost its two main running backs in the same season, until earlier this year when Derrick Henry and Kenyan Drake both got selected in the NFL Draft.
Bo Scarbrough (sophomore) is projected by most media pundits to be the starter, nevertheless, he has to contend with Damien Harris. Harris, a sophomore, played in more games and had more rushing yards (157) and carries (46) than Scarbrough during the 2015 season. Harris, like Scarbrough, was a five-star prospect when he enrolled at Alabama in January of 2015.
Scarbrough possesses the size (6-foot-2, 228 pounds), potential and skill set to be the No. 1 back, but he must remain healthy first. The Tuscaloosa native encountered two knee surgeries in high school days, and is already dealing with leg cramps through the first week of fall practice.
Harris displayed his new take on showing patience to almost 80,000 fans (76,212) on A-Day, recording 114 yards rushing on 20 carries. Despite it coming against the second team defense, Alabama has four and five stars on its second and third group that could start anywhere else.
The expectation is for No. 9 to do the same thing Henry did last season, but honestly, the Tide will return to have a legitimate one, two punch in the backfield. Harris is not backing down.
4. Alabama's third option at wide receiver 
This is an easy one. Redshirt junior Robert Foster will assume the role, falling behind ArDarius Stewart and Calvin Ridley. Foster appears to be 100 percent again, after sustaining a season-ending rotator cuff injury in 2015 against Ole Miss. After starting off with a bang last year, the Monaca, Pennsylvania native is ready to prove why he was a coveted recruit in the 2013 cycle.
It's only been two years, but Lane Kiffin sees the potential in Foster. The Alabama offensive coordinator spoke very highly of him, during his presser last week at the team's annual fan day.
"Robert has a very special skill set as a far as speed and building to get on top of the coverage downfield," Kiffin said. If he's healthy, he will help not only himself but others play well."
He was one of few standouts from the Tide's open practice and has looked explosive in fall camp. The 6-foot-2, 191-pound target posted the fastest 40-time among receivers (4.34 seconds) during spring testing and is someone that can dominate in both quick and deep ball patterns.
3. Secondary: Who takes the corner spot opposite Marlon Humphrey? 
Cyrus Jones had his moments where he was late turning to face the ball, but overall, he was a solid cornerback at Alabama. With him now in the National Football League, there is open spot opposite Marlon Humphrey. The preconceived notion is Minkah Fitzpatrick, but the Tide also has Kendall Sheffield and Anthony Averett as returning players and a freshman in Shyheim Carter—who has a lot of potential. Fitzpatrick pushed both Humphrey and Tony Brown for a starting role last season, seeing time at star in Alabama's nickel defense. He recorded 45 total tackles, while leading the secondary in sacks with two. The 6-foot-1, 200-pound sophomore totaled three tackles for loss, a team-high 11 pass breakups, two interceptions, a blocked punt and three defensive touchdowns in 15 games. Even in his success, Fitzpatrick struggled on the outside against Clemson's wide receiver Hunter Renfrow in the College Football Playoff national title game.
He took a loss on a few plays, yet the match-up has prepared him for this season. He returns with more confidence and a better feel for what the coaching staff wants from him. Fitzpatrick should benefit more from the aggressive style that is Jeremy Pruitt and be able to disrupt wide outs.
2. Brandon Kennedy vs. Bradley Bozeman: Battle for right guard 
Whether Alphonse Taylor is suspended or not for the season opener against Southern California remains to be seen, but he hasn't been practicing with the first team offensive line at this point.
Redshirt freshman Brandon Kennedy and redshirt junior Bradley Bozeman have both earned reps at right guard during spring ball and thus far in fall camp. Multiple news outlets have Kennedy with the edge on its depth chart, but Bozeman has played in 24 career games. He saw action in 15 games last season as a reserve center and guard, having the size at 6-foot-5 and 319 pounds.
Bozeman was another one of those marquee names in the Tide's 2013 recruiting class. He earned more of the reps at right guard last week, but Kennedy's footwork in tight spaces makes this an interesting competition.
1. Quarterback competition: Does Saban finally take a gamble? 
Alabama doesn't need a world leader at quarterback, just someone to protect the ball and not lose games. It's the old axiom all Crimson Tide fans use, when the team doesn't have a guy with a unique skill set under center. For those who have a quarterback with an "It" factor, the idea is to play that person and create more of an advantage for the team in question.
Cooper Bateman (redshirt junior) enters his fourth season at Alabama, but is he the best option for this year's team? He has the footwork and knowledge of the playbook, yet and still, Bateman struggles with stepping up boldly and stretching the field. Starting him would pacify or medicate the issue of Alabama masking its play at quarterback, versus starting someone with a higher ceiling.
For a guy that came in highly-touted, David Cornwell (redshirt sophomore) has been a bit of a disappointment. He was thought to be the starter in spring of 2015, but an usual fall down the depth chart and foot issues this spring have him out of the competition at this point. Cornwell is the biggest guy on the roster (6-foot-5, 226 pounds), nevertheless, he has yet to rebound from the fall.
According to offensive coordinator Lane Kiffin, Blake Barnett (redshirt freshman) was really in the battle to be the starter in 2015. Well, at least until he had weight issues and inconsistent play in practices. He's finally keep some weight on him, but during Alabama's open practice last week, Saban was in Barnett's face a number of times on reads that could have been better.
Barnett would fall under the mold of former Tide quarterback AJ McCarron if he plays this season; however, Alabama has been trying to re-package Barnett as a pocket passer.
It took a gamble to get Saban to Tuscaloosa and a gamble to beat Clemson in the 2016 College Football Playoff national title game. Most people don't want to believe this, but it may take a gamble in locating the future of Tide football. For all gambles, Jalen Hurts is the answer.
The true freshman from Channelview, Texas is the total package at quarterback. He has size (6-foot-2, 210+pounds), speed (4.65 seconds, 40-time) and strength (squatting over 500 pounds).
During his fan day presser, Kiffin used the phrase "very special skill set" to describe Hurts.
The high four-star prospect was an Elite 11 quarterback and No. 9-ranked dual threat signal-caller, according to 247 Sports Composite when he enrolled in January. Hurts had the best performance of all four guys on A-Day, completing 11 of 15 passes  (73.3 percent) for 120 yards and a touchdown.
"If you come in as a mid-year freshman and you perform well, then you are going to be really good," Kiffin said on Hurts. "He's a very strong kid. One of our top lifters in strength, verticals and 40 times."
"He's just continuing to learn a new system from where he was in high school and that transition for all players is difficult, but he's handled it really well."
But Alabama's never started a true freshman quarterback. True, unless one counts Vince Sutton (1984, 1987-88) who started in 1984 prior to getting bumped over by Mike Shula. Kenneth Stabler had the same type of skill set as Hurts, but per NCAA rules, he wasn't eligible to play as a freshman in the 1960s. True freshman are getting wiser and stronger each year. The teams that have been Alabama with a dynamic quarterback have been ones who weren't afraid to roll the dice and see what these guys could do. Is Saban afraid? Will he take the gamble? Only time will tell.
Stephen M. Smith is a senior analyst and columnist for Touchdown Alabama Magazine. You can "like" him on Facebook or "follow" him on Twitter, via @Smsmith_TDALMag.