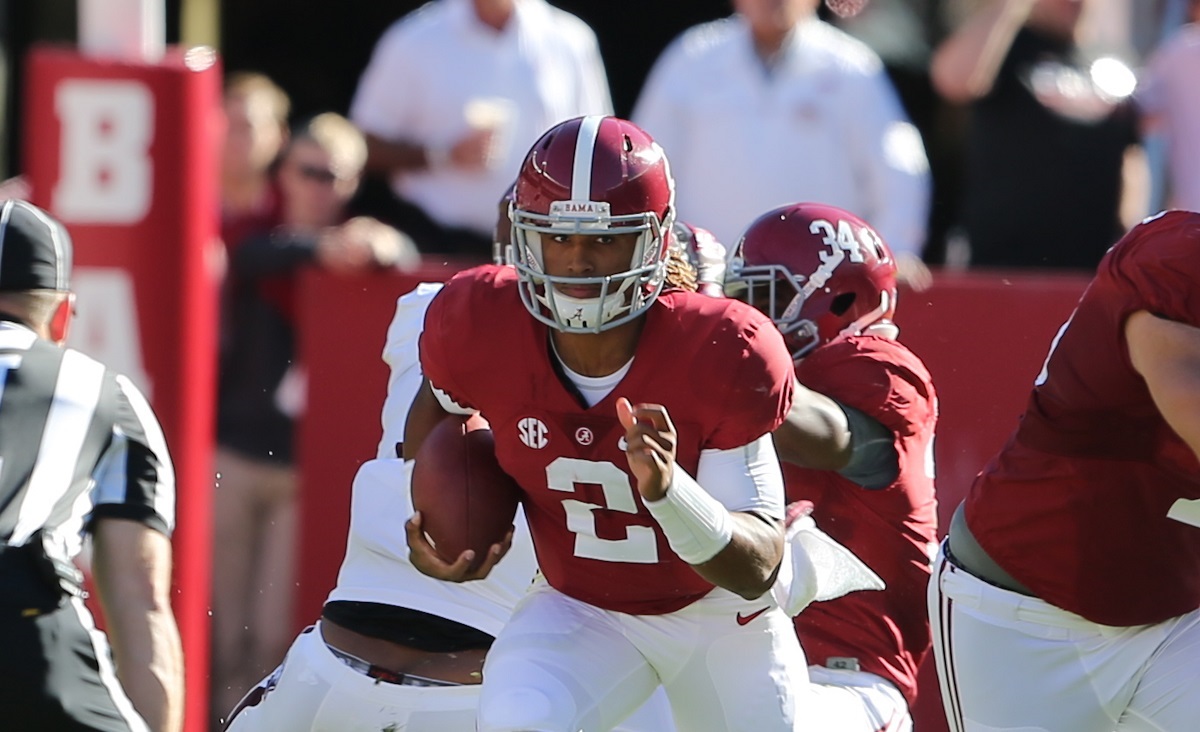 How lucky is Alabama to have a quarterback leading them to perhaps another championship appearance that still hasn't hit his peak? He's still got a lot to learn and for Alabama fans, that's good news because he's only getting better.
Though a Game Winner, Bama's Jalen Hurts Still has Much to Learn
By: Larry Burton
Alabama is on a tear through the college football season and seems destined to land back in the College Football Playoffs for the third straight year thanks in part to their freshman quarterback, Jalen Hurts. But despite his game winning heroics, the worst news for opposing teams is that he is still a work in progress.
Alabama has Lane Kiffin to thank for bringing Hurts to Alabama, even though coach Bo Davis worked on landing Hurts too. The reason the recruiting nod goes to Kiffin is that Hurts wanted to go to a school with a pro style offense that could groom his drop back passing skills and not just focus on his running abilities. Both Jalen and his father Averion Hurts, who was also his coach, felt that Kiffin could mold him as he had other quarterbacks in his career and he seems to be doing it.
Though Hurts certainly has the elusive movement in the pocket and the ability to move the chains with his feet and despite the Crimson Tide's lofty ranking and almost certain appearance in yet another championship playoff, it's obvious that Hurts still has much to learn when it comes to the passing game.
While no quarterback comes close to being perfect, Hurts has missed some wide open receivers and seems to have trouble with over throws. Saban has mentioned these in press conferences and astute observers don't have to look hard to see the errant throws that occur. But you have to remember this is a true freshman and if he's doing this well with these errors now, imagine the final product.
Hurts completion percentage has been on the rise and he's presently at 63%, but his yard per attempt is just 7.6 yards. Once Hurts gets the deep balls going, Alabama can exploit their bevy of excellent receivers and thus make teams tentative to guard for the running game.
In national rankings, out of the top 100 quarterbacks ranked in passing yards per game, Hurts is presently 73, with an average of 193.6 yards per game. The fact that he rates so low may shock a lot of Alabama fans. Some may argue that his quarterback rating is high, but his 140.10 rating has him 52 on that list and still in the lower half of the top 100. In touchdowns thrown, he's tied for 48th place with ten other players with 11.
If you're an Alabama fan therefore, you have two things to be thankful for, number one that he is this good already and putting you on track for another championship appearance and number two, that he is only going to get better.
Without being greedy, there is not much more the fans could ask for.
Larry has been published in almost every media outlet for college sports and now primarily writes here for Touchdown Alabama. Follow Larry on Twitter for inside thoughts and game time comments at https://twitter.com/LBSportswriter
THANKS FOR SHARING THE LINK TO THIS STORY ON YOUR FACEBOOK PAGE OR A FACEBOOK GROUP YOU BELONG TO, FACEBOOK RESTRICTS HOW MANY PLACES WE CAN POST IT ON, SO PLEASE SHARE!