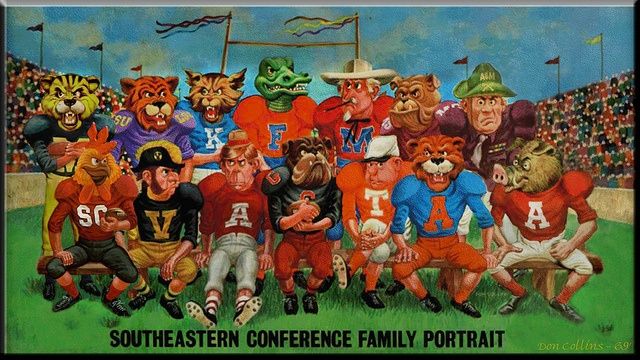 Think you know whose cookie crumbles this weekend? Compare your picks with the hottest pair of prognosticators in print and have fun doing it.
Larry's Losers in the SEC- Week 11 – 2016
By: Larry Burton
Well folks, I guess we shouldn't have taken a trip over to St. Augustine, Florida for the week to party with friends because our predicting percentages practically plummeted. Once again we missed two games this past week as Florida fell flat and Texas A&M tanked. So much for good teams winning in the important part of the season.
This two game tumble tripped us down to a season total of 68-17  and we're hanging on to an 80% correct calculation by the skin of our teeth, so we really need some more of those perfect picks we had earlier in the season. But this week has some games that have got us sweating bullets, so keep on reading and see if you agree that some of these are tough to pick.
Kentucky at Tennessee – Starting off Saturday's slate of SEC stories is the 11am kickoff at Neyland Stadium where the surprising Kentucky Kitties come a calling on the always volunteering Volunteers.
Now Mark's Cat show has had some surprising blue ribbons when he's taken this pussycat parade around the SEC so far this season and he's thinking these hillbilly huddlers can provide him with a big win and a bowl game to boot.
But Butch's bad boys have kept enough powder dry to take this tribe of Tabbies and keep his own SEC hopes alive for another week and that's just what both the pigskin pickin' pooch and I both see happening in one. Larry's loser – Kentucky
South Carolina at Florida – In the second game of pre-noon knockers, another surprising team, this time the Carolina Col. Sanders Clan comes clucking down to Gainesville to do a little mud wrestling in the Swamp with the Gators.
Since Jake Bentley has starting strutting around the chicken coop, these feathered footballer have had teams falling to these pecking pig skinners and Coach Boom figures they can peck and spur these Gators into submission too.
But McElwain's Mudpuppies got embarrassed  by an SEC West down and out and they ain't about to let an SEC East down and out complete their comeback against his gaggle of Gators and we don't think they will either. Larry's loser – South Carolina
Mississippi State at Alabama – In the last of the 11 o'clockers, Mullen's Mutts come motoring over to Titleoosa to take on the red hot Tide.
Last week this band of Bulldogs tore apart some Texans that were the number four team in the country and they plan on playing this game against big number one with the some set of snarling snappers that bested the boys from A&M.
But this team of Tiders ain't no number four for a reason and they ain't about to let no bothersome Bulldogs come in and lift their leg on their season and when this game is over the surviving Dogs will be glad to see the Magnolia State line once again. Larry's loser – Mississippi State
Vanderbilt at Missouri – At 2:30, the afternoon knockers start rocking and socking and the first up is Vanderbilt crossing the river into Missouri to take on the Tabbies on their home turf.
We hate this game because we always seem to be on the wrong side of a Missouri pick but some in Lost Wages, Nevada see a win by these Midwest maulers over these Song City Sailors and Lord knows their due to do something good this season.
But when in doubt, the pug and I lean to defense and this Captain Crunch bunch seems to crunch opposing teams with amazing regularity and if they can just get the offense to pitch in a little, we see them as the bunch to beat. Larry's loser in a mild upset – Missouri
Auburn at Georgia – The other 2:30 let's get dirty battle is the War Eagles from Auburn swooping in between the hedges of Georgia to take of the Red Clay Hounds of Kirby Smart.
Now things just haven't gone Smart's way this season and no matter how Smart he is, he's having trouble these old dogs his new tricks, but he's hoping that they'll come around this weekend and show that they've finally had some Smarts sink in.
But things have taken a turn on the plains since Gus gave the offense to a new caller and they've got the Gus bus in high gear and they don't look they intend to slow down or swerve to miss this bunch of Bulldogs in the middle of the road. Larry's loser – Georgia
Ole Miss at Texas A&M – In the first of the prime time games at 6:30, Hugh Freeze and his frozen Rebels head west to take on the Texans out in the back 40 of College Station.
This was supposed to have been a good year for these Rebels, but looking at the record books, it looks like somebody forgot to tell their opponents. They've gotten colder than my pigskin pickin' pug's belly after walking through the snow on those short legs of his.
And coach Kevin ain't about to send no hot water bottles their way this weekend and he's instructing his boys to lower the heads and give the cold shoulder to all these Rebels, right in the sternum. Larry's loser – Ole Miss
Well that's it for this week folks. Boy this has been a tough season to predict these picks. These teams run hot and cold just like me in the shower when the wife starts the dishwasher mid-bath. And this week we'll admit to being a little nervous about a pick or two this week.
So mark your own list of losers and we'll tally 'em up next week. Till then, stock up your tail gating goodies, your TV treats and get ready for a Saturday of sensational selections of fantastic football. Now I have to finish this up. I'm still trying to catch up on my sleep from staying up and watching the election returns. So happy footballing and see you next week.
LARRY HAS BEEN PUBLISHED IN ALMOST EVERY MEDIA OUTLET FOR COLLEGE SPORTS AND NOW PRIMARILY WRITES HERE FOR TOUCHDOWN ALABAMA. HE WRITES IN A COLLOQUIAL AND IRREVERENT STYLE FOR THIS SERIES OF ARTICLES. LARRY'S VIEWS AND SENSE OF HUMOR MAY OFFEND, BUT HE AIMS TO OFFEND EVERYONE EQUALLY. IF HE HASN'T INSULTED YOUR FAVORITE TEAM WITH LARRY'S LOSERS, JUST WAIT. FOLLOW LARRY ON TWITTER FOR INSIDE THOUGHTS AND GAME TIME COMMENTS AT

 HTTPS://TWITTER.COM/LBSPORTSWRITER
THANKS FOR SHARING THE LINK TO THIS STORY ON YOUR FACEBOOK PAGE