Stephen's Report
Three keys to victory for Alabama heading into CFP semifinal game vs. Washington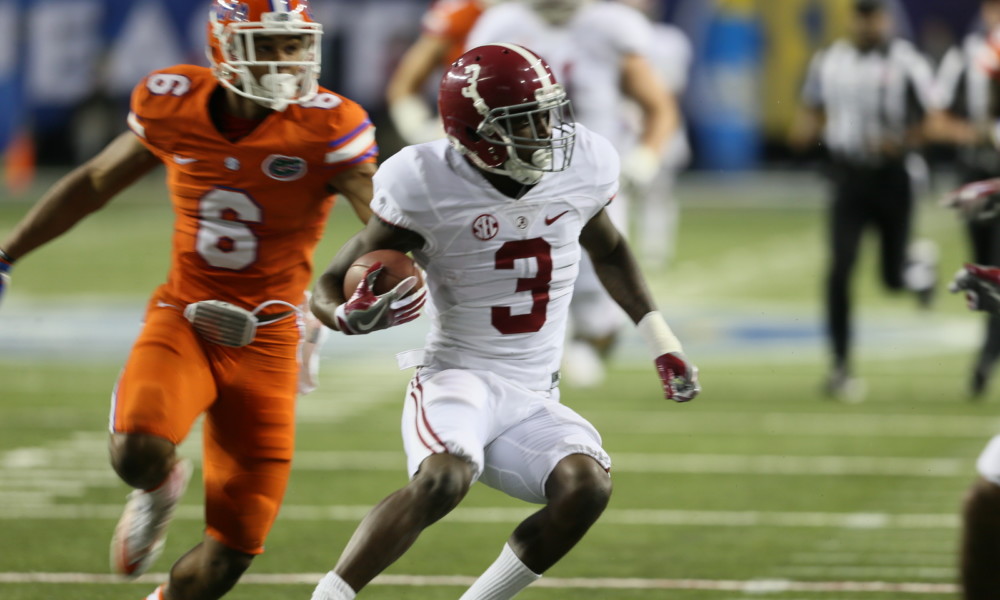 TUSCALOOSA, Ala.– Both the University of Alabama and University of Washington football programs arrived in Atlanta on Monday for one of two College Football Playoff semifinal games.
The Chick-fil-A Peach Bowl will feature two schools that competed for the 1925 national championship at the Rose Bowl (Crimson Tide won, 20-19) and two of the more story-filled coaches in college football, Nick Saban and Chris Petersen. For Alabama, it's pursuing only its second perfect season under Saban since 2009.
The Tide carries an offense that leads the Southeastern Conference in scoring (40.5 ppg) and yards (471.3 ypg), while having a freshman quarterback in Jalen Hurts turn in a record-setting year with 34 touchdowns.
Defensively, Alabama has been stellar in Jeremy Pruitt's return. Under his rule, it ranks atop the league in total defense (248 ypg), rushing defense (63.4 ypg), scoring defense (11.8 ppg) and defensive touchdowns (10).
Washington, who's coming off its first outright Pac-12 conference championship since 1991, will pose a challenge for the Tide on offense and defense. As the Georgia Dome prepares to house its final game, yours truly of Touchdown Alabama Magazine unveils Alabama keys to victory.
1. QB Jalen Hurts: Protect the ball 
Despite being responsible for 34 touchdowns, he averaged two turnovers in five of 13 games.
Inconsistent quarterback play on behalf of Southern California, Auburn, LSU, Tennessee and Texas A&M allowed Hurts' mistakes to be covered. Under defensive coordinator Pete Kwiatkowski, the Huskies have created 19 interceptions (two touchdowns) and 19 forced fumbles.
Reading through progressions, keeping both hands on the ball and communicating with receivers all will be important for Hurts, as he looks to guide Alabama to the CFP national title game.
2. Alabama's defense: Affecting QB Jake Browning 
While this is the most legendary defense Jake Browning will face all year, he will be the most consistent signal caller the Tide has faced all season. Along with having a very quick release, Browning is accurate with the ball.
He's recorded 3,280 yards with 42 touchdowns to seven interceptions.
The sophomore carries the nation's sixth-best total quarterback rating (84.2) and leads Washington to the league's second-best efficiency rating (86.0). The closets defense Browning played to Alabama was USC's.
He was limited to a 47.2 percent completion rating and threw two interceptions in the Huskies' lone defeat. Even in a 41-10 win over Colorado in the Pac-12 title game, the Buffalo's were able to frustrate Browning.
His completion rating dropped to 37.5 percent on nine of 24 connections.
Media personnel states that Browning is more athletic than what he's credit for, however, this year's Alabama defense is the most athletic under Saban. Jonathan Allen, Ryan Anderson and Tim Williams combine for 25 of the Tide's 45 sacks, which is good for third in NCAA Division I. All three players average roughly one sack a game, and Anderson leads the trio in tackles for loss (17.0). Edge rushers like Allen, Williams, Anderson and Rashaan Evans will keep Browning in the pocket, while Reuben Foster anchors the middle.
Should it consistently get to Browning (80 quarterback hurries), Alabama has a secondary that is much improved. Minkah Fitzpatrick leads the unit with five interceptions, including two returned for touchdowns.
3. Efficiency in the red zone: Touchdowns, not field goals
Red-zone scoring has been an issue at times for Alabama.
Inside an 89 percent rating lies a 61 percent for touchdowns. Whether it's been questionable play calling, poor execution or a mixture of both, there have been moments when the Tide has failed to punch in opportunities.
Against Washington, Kiffin and company must take advantage early and often.
Stephen M. Smith is a senior analyst and columnist for Touchdown Alabama Magazine. You can "like" him on Facebook or "follow" him on Twitter, via @Smsmith_TDALMag.