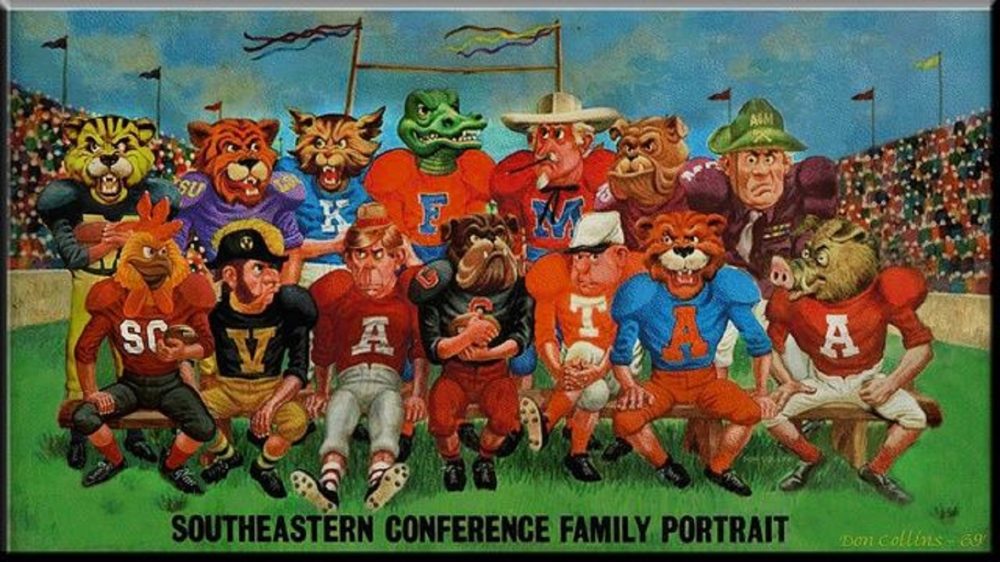 Want to match wits with the pair of prognosticators that are sometime perfect? See if you agree with this list of losers.
Larry's Losers In The SEC – Week Three – 2017
By: Larry Burton
Well folks, one thing you'll love about us is that we're honest and admit a mistake, when we miss one badly, we admit it and we sure didn't see the pecking that those Cluckers from the Carolinas laid on the miserable men from Mizzou. We also thought the Hogs would top the Toads and we knew going in that this was a long shot, but we felt it was the upset we usually miss. So for the day, we were 10-2 and for the year our total is now 21-5, not up to our usual standings, but still far ahead of everyone else in the picking process. Overall that puts us at about 81% and we feel like we're finally getting a handle on who's going to pretend and who's going to contend.
But every time we feel we have a handle on the hammerings to come, we are surprised by the squads in the SEC. So after extensive watching and re-watching of all these SEC games, the pigskin pickin' pooch Bacardi the Wonder Dog and I feel we have the makings of our first perfect pack of picks in the publication, so we'll proceed, but not until Bacardi puts on his Hairy Pugger outfit and casts a spell over college football to make all these predictions come true.
Louisiana at Texas A&M – The Rajun Cajuns come to the place where Aggie fans are still raging over the most monumental meltdown in memory. In case you missed that fiasco two weeks ago, these Aggies blew a 36 point second half lead to lose a game that should never have been lost and the fans are still upset about it and barely beating a bunch of bums from Nichols didn't exactly turn of the fire extinguishers from Sumlin's fanny.
Now these Cajuns are gonna try to catch these Aggies sleeping on these bunch of lead blowers and they think they can kick this collie while he's down.
But coach Kevin knows that one more slip up like that will be his last in catastrophe in College Station, so he's gonna pile up the points and try and cool the fire on his fanny in this one. Larry's loser- Louisiana
Tennessee at Florida – Can these sunny land salamanders start scoring on offense enough to vanquish these Vols? That is the question in this one as the Rocky Top squad shuffles into the Swamp for an SEC East game that will have some long standing implications.
Nobody wins much uglier than Tennessee so far and nobody loses so laughably as these Lizards. Now somebody has to step up and finally get to looking like a champion and not a chumpion and this is the time and this is the game to do it in.
The Vols have played two games and have at least shown that they can find the end zone while this gaggle of Gators don't seem to be able to find it frequently with a road map and seeing eye dog, so what earlier in the year we thought might be a toss up, now it looks like an easy toss in. Larry's loser – Florida
Mercer at Auburn – The bumbling Bears from Mercer meander into Auburn for a big paycheck and bigger butt whipping and they'll get both in this cupcake contest.
Auburn may be licking their lacerations from last week's battle with Clemson, but that won't stop them from letting loose on these Winnie the Pooh Poohs from Georgia.
This one won't have any entertainment value unless you also like folks pull wings off flies, but it counts as a win and Gus will count it and that makes Larry's loser – Mercer
Purdue at Missouri – The Boilermakers steam into Faurot Field and hope to catch this SEC overlooking a not so big member of the Big 10, but these Missourians aren't about to get their season slid off the rails by these coal shovelers.
Purdue has shown that they're a pretty good pack of players and they hope that they can catch these corn belt Kitties still wondering what happened last week.
But while these men play miserable against SEC squads, they sizzle on offense against squads from other sections of the country and we think that trend will continue and that makes Larry's loser – Purdue
Colorado State at Alabama – The ski country Sheep travel down to Tuscaloosa to take on the tusked ones in their own backyard and while some may consider this a cupcake classic like some of the others are playing, these Rams really roughed up an Oregon State squad and they aren't quite the joke that most may think.
But while it may not a creme puff competitor, Alabama will make them look like one as these pachyderms keep prancing toward yet another college football playoff. Larry's loser – Colorado State
LSU at Mississippi State – The Bayou Bengals go bye bye and meander on up to Mississippi to scratch up the squad from State.
Now this is usually a hard fought fight and something tells us both that this one could swing with one big play and one team catching fire.
Now a Bulldog fighting a Tiger may not seem like a fair fight, but a dog in his home yard fights a little harder. So while most think this one will be all LSU, we see a potential close game or an upset special. Still, in the end, we going with the team with the most overall talent and hottest hand. Larry's loser – Mississippi State
Samford at Georgia – Another band of bumbling Bulldogs, these boys from Birmingham, come to SEC country for a big check and a butt whipping and in this cupcake crusade.
But this is just the first of two weeks in a row of Bulldog battles as they rest up in this game before battling the Bully's from Mississippi State next week.
So while they're preparing for bigger battles next week, there's not much reason to care about this contest. Larry's loser – Samford
Kansas State at Vanderbilt – The corn state Kitties come calling on the Commodores in Song City and while most folks think this contest is all Kitty Cat, my pigskin pickin' pooch says this is gonna be a closer contest than these Cats may have counted on.
The corn belt Kitties have put up big numbers and steamrolled opponents so far, but they've just dined on cupcakes so far this season, so you don't really know how good this group really is till they tangle with real team.
And the Commodores did beat a pretty good Middle Tennessee and they are at home, so this is our upset special, the one we're either going to be the only one getting right or the one that has us scratching our heads next week wondering what were we thinking? Larry's loser – Kansas State
Kentucky at South Carolina – The Kentucky Kitties and the Carolina Cluckers are set to raise a ruckus in the coop in Carolina this Saturday and this has been the fight for last place in the SEC East in the past, but with both teams 2-0 and looking good, this has turned out to be a toss up of teams that have turned a corner.
In deciding the deadbeat to list with the losers we had to look at not just how they won each game and who they won it against and when you do that, the Blue Grass bumbler's two wins just don't look as pretty as the Clucker's contests.
So with that in mind we're going with the team who's at home and hot against better teams and that makes Larry's loser – Kentucky
Ole Miss at Cal – Despite the whirlwind of woe that is wound around the Rebels, they just keep on playing football and they're playing pretty good. This week they jump in a jet to carry them to California to battle with their brother Bears.
Now Cal is hoping that warring in their own woods will wind up with them being winners and that maybe these Rebel Bears will have a little jet lag.
But Bacardi the Wonder Dog is not worried about either and he's sure these Southern Bears will best then West coast wild Bears that'll surely make Larry's Loser – Cal
Well that's it for this week folks. If you want to see how the Bear and Land Shark finally devour the boys from California, watch this short movie by clicking here.
LARRY HAS BEEN PUBLISHED IN ALMOST EVERY MEDIA OUTLET FOR COLLEGE SPORTS AND NOW PRIMARILY WRITES HERE FOR TOUCHDOWN ALABAMA. HE WRITES IN A COLLOQUIAL AND IRREVERENT STYLE FOR THIS SERIES OF ARTICLES. LARRY'S VIEWS AND SENSE OF HUMOR MAY OFFEND, BUT HE AIMS TO OFFEND EVERYONE EQUALLY. IF HE HASN'T INSULTED YOUR FAVORITE TEAM WITH LARRY'S LOSERS, JUST WAIT. FOLLOW LARRY ON TWITTER FOR INSIDE THOUGHTS AND GAME TIME COMMENTS AT HTTPS://TWITTER.COM/LBSPORTSWRITER
THANKS FOR SHARING THE LINK TO THIS STORY ON YOUR FACEBOOK PAGE