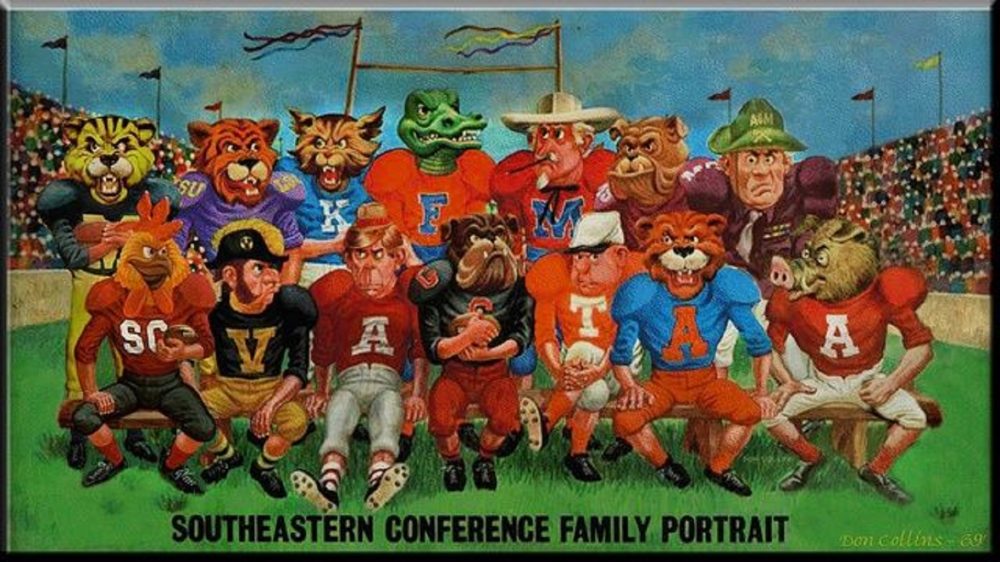 Do you think you can outpick the pair of pigskin prognosticators? Read and see if you agree or if you see the upset bug that can bite us.
Larry's Losers in the SEC – Week Seven – 2017
By: Larry Burton
LSU thy name is misery, to the football picking pair of pals here anyway. Two weeks ago you lose to Troy and cost me us a perfect week and then again this week you pick yourself up and beat a gaggle of Gators that that no one thought you would. So for two weeks we lost a pair of perfect prognostications due to those Cajun Kitties and this week we're wondering if they'll do it again.
Last week with only six games to pick, one loss hurts big and our season record now sits at 46-12, making that a solid C grade that doesn't make us happy, but still leads the other media in the dust. This week there's only seven games and some are gonna be real head scratchers so it's a good thing we were on vacation last week and not this one, because this week it's all hands on deck to try and decide these cranium cracking contests. No matter the results, it's going to be a great weekend to watch.
So let's get to it and start listing the losers in this week's warfare.
BYU at Mississippi State – Last year this one came down to the nitty and the gritty and the Mutts from Mississippi lost it in a double overtime thriller. So this shouldn't help us pick this game this year except that this year the game is in Starkvegas and not Provo, but the biggest reason not to worry about this pick is that this year BYU just sucks.
But you know, Mullen's Mutts haven't exactly inspired confidence in making us too comfortable this year. Sometimes they bite and sometimes they just bark.
But this week, since they're defending the home dirt, maybe these Dog's will do just what they're supposed to do and that will make Larry's loser – BYU
South Carolina at Tennessee – Last season the Carolina Clucker gave Coach Butch his Champions of Life Trophy by upsetting the favored Vols on the road and this year it's almost a pick 'em once again as the boys in Vegas see this one too as a real head scratcher.
Now the Hardknocksville herd are hosting the hot Henhouse crowd in their home stadium and they're hoping that this year, the home cooking will vault their Vols into the win column.
Bacardi the Wonder Dog and I have been arguing this back and forth on this one, but we even though we usually feel like being at home tips the scale in a close one, we're going with the team that has a hot hand and not just hype and that makes Larry's loser – Tennessee
Auburn at LSU – The Gus Bus bunch barrels into the Bayou Bengals bungalow this Saturday and hope to show the world that these Kitties can scratch up a pretty good defense and win with ease.
But LSU is riding high after gutting the Gators last week and they figure they've got their MOJO back now and are ready to continue to baffle the naysayers who calling their leader Coach Uh Oh instead of Coach O.
But Auburn seems to be coming around once again, we'll go with the team that looks like it's on a hot streak and that'll make Larry's loser – LSU
Vanderbilt at Ole Miss – The Sailor Boys from Singing City sail on down to Oxford this week to take on the miserable Mississippians. This season has just sort of gone from bad to worse for the boys now known as the Landsharks, but they're figuring that since sailors are scared of sharks, this could be their week.
Now the boys in Lost Wages, Nevada see this one as one leaning toward the Landsharks, but Vandy's main man Mason thinks this is the time to anchor down and open fire and if they get that offense to fire, then it could indeed be the upset special that we saw coming.
So that's how we see it and we think the boys from Nashville get off one shot too many and make Larry's loser – Ole Miss
Texas A&M at Florida – The average Aggies load up the family station wagon and head South to Florida, but they're not headed to Disney, but a stop at the Swamp for a little Gator gigging and reputation redemption.
But laying in wait are Lizzards in new duds for this game and they plan on this meaning they've dressed for success and ready to reap the rewards and send these Texans back to cow country with a concussion.
And while we see this as a close one that could come down to who makes the least mistakes, we're going with home team Gators and keeping our fingers crossed. Larry's loser – Texas A&M
Arkansas at Alabama – Alabama went Hog calling and sure enough, here come the Piggies down from Arkansas to tangle with the tusked ones in Tuscaloosa.
The West Coast wagering folks see this one as blowout royale by at least four touchdowns, but head Bovine Brett knows that they've played these pachyderms tough before and can surely do it again, so he's got his boys believing they win out over the long snout.
But Saban's used to crushing hopes and dreams and that's what he's got in store for this one. You know he's confident when you see a semi truck from a BBQ sauce plant backed up to the stadium and what a Pig roast it will be. Larry's loser – Arkansas
Missouri at Georgia – Missouri continues stumbling through the SEC schedule and this week they come out of the stupor long enough to realize they're between the hedges at the Dog pound in Georgia.
Now I'm not saying the Midwest Meowers don't have a chance, the Dogs could all come down with diarrhea just before kickoff, but short of that, they don't have much of a chance.
That chance by the way is about 2% according to gambling gurus out in the desert and when it's over, Kirby's Canines will be howling in delight along with the fans in red. Larry's loser – Missouri
Well that's it for this week folks. If LSU is the fly in our ointment again this week, I'm gonna have to go have a talk with those folks and let my pigskin pickin' pooch show those Cats why dogs rule.
You know sports fans, this is week seven and the season is already half over. I just feel like crying. Why does everything great have to end so fast? We need about three perfect weeks to get back into our usual stellar range and with the head scratchers in this week's woes, we're worried it won't be this week.
So start stashing your snacks and getting ready for the best show on earth and that has to be SEC football.
LARRY HAS BEEN PUBLISHED IN ALMOST EVERY MEDIA OUTLET FOR COLLEGE SPORTS AND NOW PRIMARILY WRITES HERE FOR TOUCHDOWN ALABAMA. HE WRITES IN A COLLOQUIAL AND IRREVERENT STYLE FOR THIS SERIES OF ARTICLES. LARRY'S VIEWS AND SENSE OF HUMOR MAY OFFEND, BUT HE AIMS TO OFFEND EVERYONE EQUALLY. IF HE HASN'T INSULTED YOUR FAVORITE TEAM WITH LARRY'S LOSERS, JUST WAIT. FOLLOW LARRY ON TWITTER FOR INSIDE THOUGHTS AND GAME TIME COMMENTS AT HTTPS://TWITTER.COM/LBSPORTSWRITER
THANKS FOR SHARING THE LINK TO THIS STORY ON YOUR FACEBOOK PAGE